Storm Forecast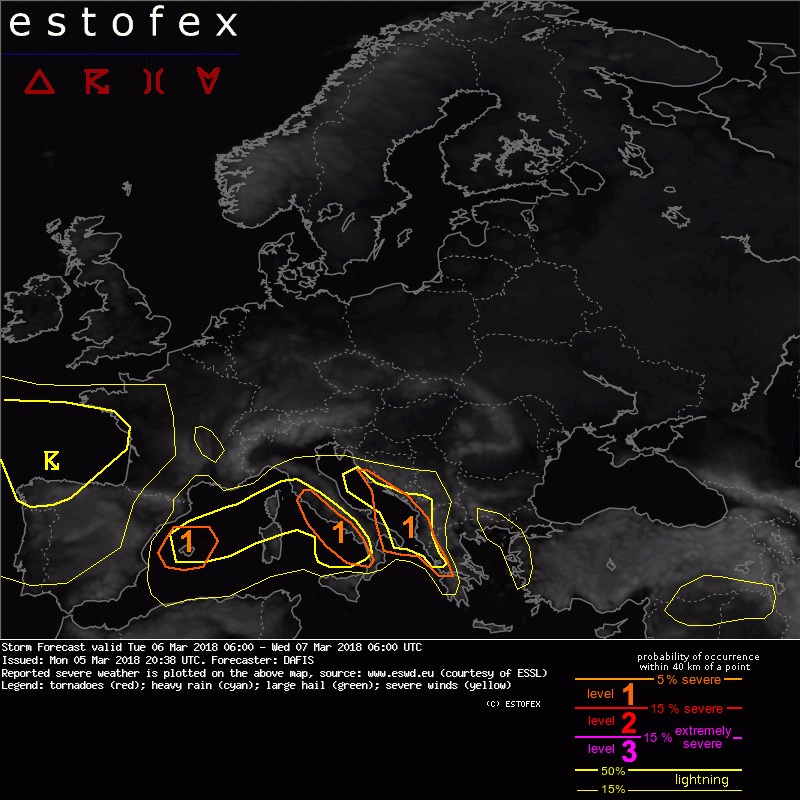 Storm Forecast
Valid: Tue 06 Mar 2018 06:00 to Wed 07 Mar 2018 06:00 UTC
Issued: Mon 05 Mar 2018 20:38
Forecaster: DAFIS
A level 1 was issued for W Italy mainly for excessive precipitation and waterspouts.

A level 1 was issued for W Balkans mainly for large hail, severe wind gusts, excessive precipitation, and tornadoes.

A level 1 was issued for the Balearic Isles mainly for large amounts of small hail.

SYNOPSIS

A wide low-pressure system covers the largest part of Europe, with multiple centers below 995 hPa. At 500 hPa we can clearly notice a long-wave trough approaching from NW, found over the Bay of Biscay in the afternoon of Tuesday, resulting in steep lapse rates and widespread instability. Unstable air masses are also found in South Italy and SW Balkans, where we expect widespread lightning activity and severe weather events, below a strong jet-streak. Rather stable conditions will prevail in North and East Europe.

DISCUSSION

.... Italy and W Balkans ....

There is a disagreement between ECMWF and GFS regarding the amount of CAPE available above the Tyrrhenian Sea on Tuesday, mostly due to the different vertical temperature profiles in the models. Nevertheless, storms in this area will be able to produce excessive rainfall given the saturated vertical profiles in forecast soundings. The strong SW flow in the middle levels will create 15-20 m/s DLS and some organized DMC will take place in the morning and early afternoon on Tuesday. In the afternoon, waterspouts may also form near the west coasts of Italy, as decreasing geopotentials and the weakening low-level wind field will create a favorable environment for waterspouts.

As a cold front will be crossing the Ionian and S Adriatic Seas in the morning of Tuesday, the advection of very moist air masses from the south along with steep lapse rates and increasing wind speeds in the mid-levels will result in widespread DMC, probably in a form of a MCS mostly affecting Albania after 12z. Large hail up to 3cm and severe wind gusts will be the main threats. In NW Greece, Albania, Montenegro, and S Croatia training convection may result in excessive precipitation events with up to 100 mm in less than 18 hours. Looped low-level forecast hodographs and strong 0-1km shear in S Adriatic and Ionian Seas increase the threat for tornadic events near the coasts.

.... Balearic Isles ....

Some hundreds of CAPE, 20 m/s DLS and very low mid-level temperatures may result in large amounts of small hail/, or locally hailstones up to 2cm in diameter during the night of Tuesday.