Storm Forecast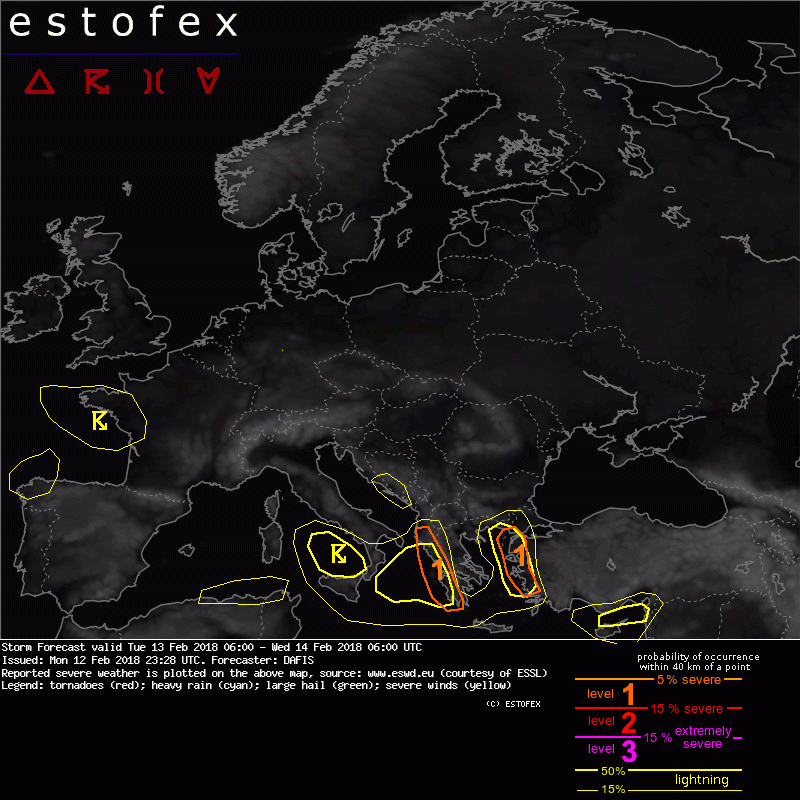 Storm Forecast
Valid: Tue 13 Feb 2018 06:00 to Wed 14 Feb 2018 06:00 UTC
Issued: Mon 12 Feb 2018 23:28
Forecaster: DAFIS
Two level 1 areas were issued for W Albania, Greece and W Turkey mainly for excessive precipitation, severe wind gusts, and large hail or large amounts of small hail.


DISCUSSION

Very cold mid-level air masses over Central Europe create unstable and some conditionally unstable environments resulting mostly in snow showers with very few lightnings. The sub-tropical jet has been curved at the leading edge of the main trough over the Mediterranean and intensifies as a ridge is forming in western parts of the continent. By the morning of Wednesday, a deep low from NE Atlantic will reach Iceland, Ireland and UK with gale force wind gusts. Moreover, on Tuesday, a short-wave trough will cross France bringing snow showers and severe non-convective wind gusts, while the cold front of a Mediterranean low will reach the west coasts of Greece and Albania and later on the Aegean Sea where we expect the most pronounced DMC activity.

As the low-pressure system over Italy gradually moves east, it seems that will undergo a rather deepening before reaching the Balkans. The cold front accompanying this low will bring moist and unstable air masses from the Ionian Sea ashore. The thermodynamics do not look impressive with only 200-400 J/kg according to ECMWF and 10-15 m/s DLS, but high vertically integrated water can lead to excessive precipitation, such as high amounts of small hail/graupel apart from excessive rainfall. The low-level wind field is strong until Wednesday morning, so severe wind gusts at the surface may well verify on Tuesday and waterspouts will form in the Ionian Sea near 06z on Wednesday.

The strong low-level SW flow as the low-pressure system resides over the Balkans during the night of Tuesday, will increase the same threats in E Aegean Sea and W Turkey. NWP models forecast a mid/low-level jet streak overlapping with about 800 J/kg CAPE quite vertically distributed. Excessive precipitation events will also be the main threat as well as severe wind gusts. Large hail is not very possible due to the lack of fat CAPE profiles and weak 0-3km shear but large amounts of small hail/graupel or locally up to 2cm may also verify. Convective activity will continue during Wednesday.