Storm Forecast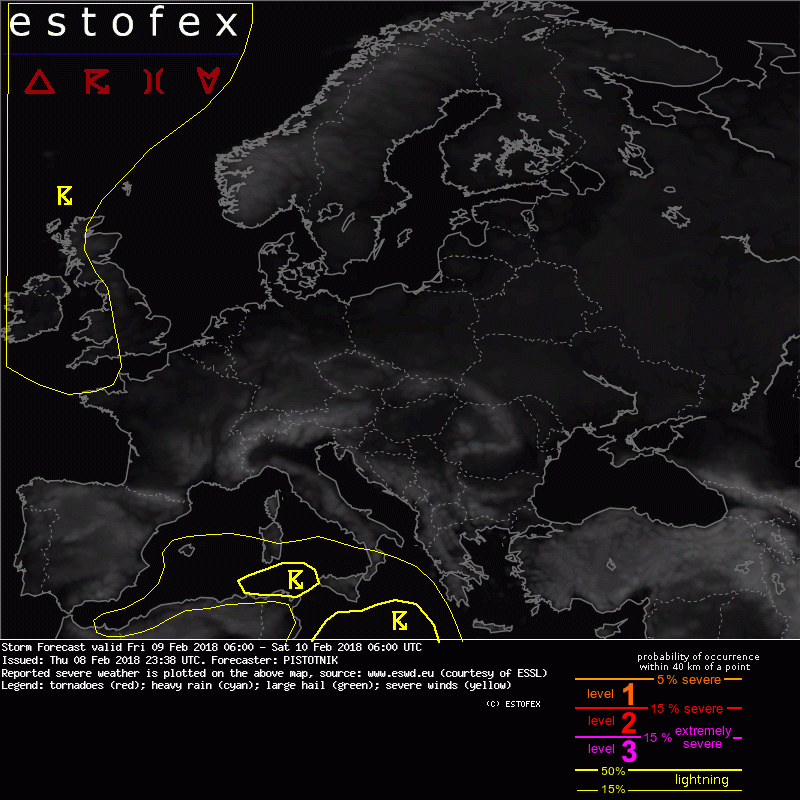 Storm Forecast
Valid: Fri 09 Feb 2018 06:00 to Sat 10 Feb 2018 06:00 UTC
Issued: Thu 08 Feb 2018 23:38
Forecaster: PISTOTNIK
No threat levels are issued.

SYNOPSIS

A large mid-level trough remains in place in the European sector, while surface pressure gradients are mostly weak. For the first time in this winter, temperatures are seasonable or even below average across most of the continent.

DISCUSSION

... Ionian Sea ...

An eastbound vorticity maximum at the periphery of the main trough will spark a surface cyclone over the Ionian Sea Friday night. Forecast models disagree with respect to its path and intensity: By the end of the forecast period, ECMWF simulates the cyclone center with a minimum pressure below 992 hPa slightly SE of Sicily, while GFS would place its less deep center more than halfway to Greece.
Heavy precipitation will occur under strong lift in the warm air advection regime at the eastern and northern flank of the cyclone and may start to affect either Sicily or W Greece Friday night, depending on which solution comes true. Thunderstorms are only expected in the cyclone center and on its back side, where vertical wind shear quickly relaxes, and will mostly stay offshore.

... other thunderstorm areas ...

Isolated to scattered storms will form where the polar air mass is heated by comparably mild sea surfaces. Weak vertical wind shear, limited CAPE and low cloud tops will likely keep these storms non-severe.