Storm Forecast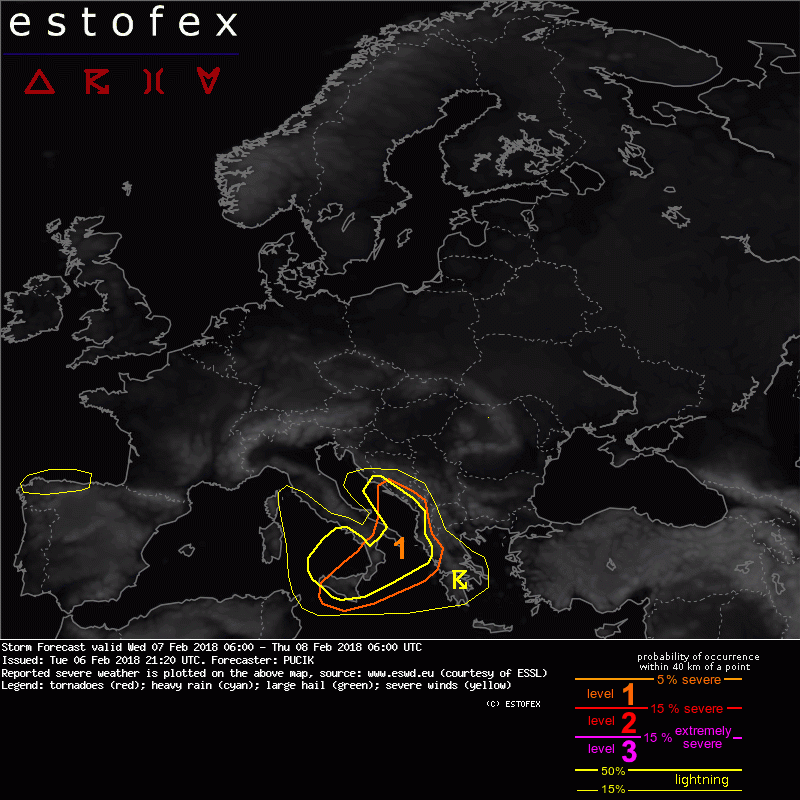 Storm Forecast
Valid: Wed 07 Feb 2018 06:00 to Thu 08 Feb 2018 06:00 UTC
Issued: Tue 06 Feb 2018 21:20
Forecaster: PUCIK
A level 1 was issued for Sicily, S Italy and the Balkans coastline mainly for large hail, excessive precipitation and to the lesser extent for tornadoes and severe wind gusts.


SYNOPSIS and DISCUSSION

A highly amplified flow pattern dominates over the eastern Atlantic and western Europe with a deep trough stretching towards N Africa. A short-wave trough, embedded in a jet-streak, has ejected from Algeria and will cross S Italy towards the Balkans during the forecast period. Synoptic-scale ascent on the forward flank of the trough, in the exit region of the jet, will support the development of several hundreds J/kg of CAPE in the environment of lapse rates exceeding 7 deg C/km and dewpoints slightly above 10 deg C. While deep-layer shear, exceeding 25 m/s, may suggest conditions very supportive of supercells, forecast soundings suggest that the bulk shear may be less as storms will be low topped. 0-3 km bulk shear will reach 10 - 15 m/s at most locations, suggesting well organised multicells and perhaps a few transient supercells. Steep lapse rates will enhance the threat of large hail in stronger storms, while excessive precipitation may occur along the Balkan coastline with several rounds of convection. Brief window for tornadogenesis in storms may exist along the coastlines, as 0-1 km shear will approach 10 m/s here.