Storm Forecast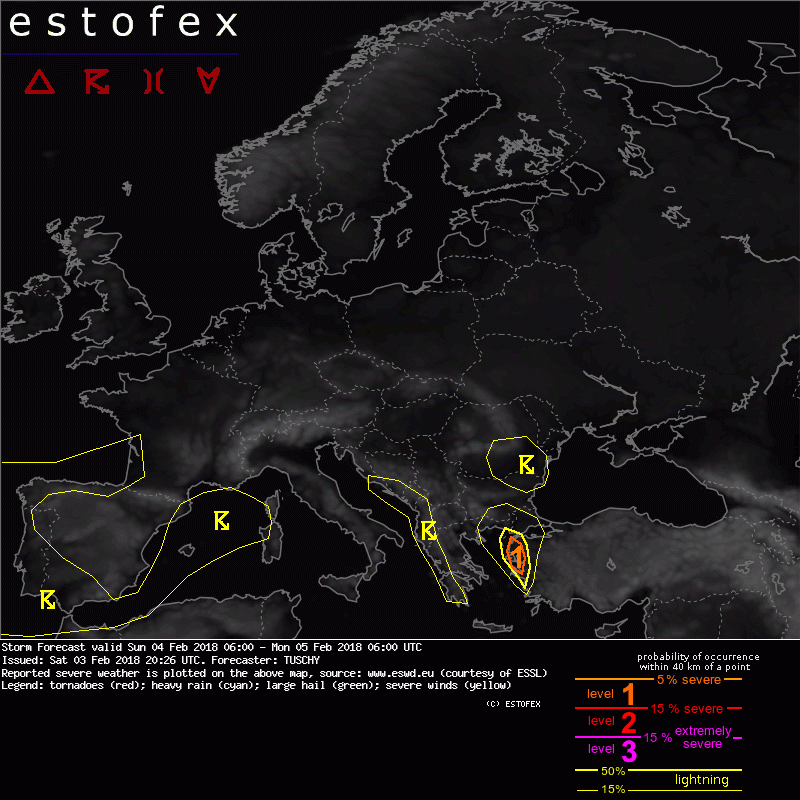 Storm Forecast
Valid: Sun 04 Feb 2018 06:00 to Mon 05 Feb 2018 06:00 UTC
Issued: Sat 03 Feb 2018 20:26
Forecaster: TUSCHY
A level 1 was issued across far W-Turkey mainly for excessive rain and a low-end tornado risk.

SYNOPSIS

A large and positively tilted upper-level trough extends from Scandinavia to the Iberian Peninsula. This pattern results in widespread advection of a dry and cold airmass far south, also affecting most parts of the Mediterranean. A broad LL vortex evolves over Spain and steers a moist marine air mass north towards NE-Spain/far SW-France. Further east, a wavy frontal zone runs from E-Europe to Greece with a prefrontal warm and moist air mass covering Turkey during the forecast.

DISCUSSION

... Far W-Turkey ...

Intense near front-parallel shear assists in a leisurely southward sagging convective cluster within the level 1 area. Excessive rain will be the main risk with an isolated tornado event possible along the coast. The risk diminishes during the night as synoptic-scale lift weakens/departs to the NE.

... Surrounding the Iberian Peninsula ...

Isolated thunderstorms evolve beneath the large-scale upper trough and hence we highlighted mainly the coastal areas. As the LL vortex consolidates betimes, the main focus for concentrated moisture advection exists towards NE-Spain. This moisture plume remains decoupled from steeper mid-level lapse rates and hence only a low-end thunderstorm risk is forecast. This seems to be an heavy snowfall event for NE-Spain and convective elements could exaggerate the final snowfall amounts. No severe risk is anticipated.