Storm Forecast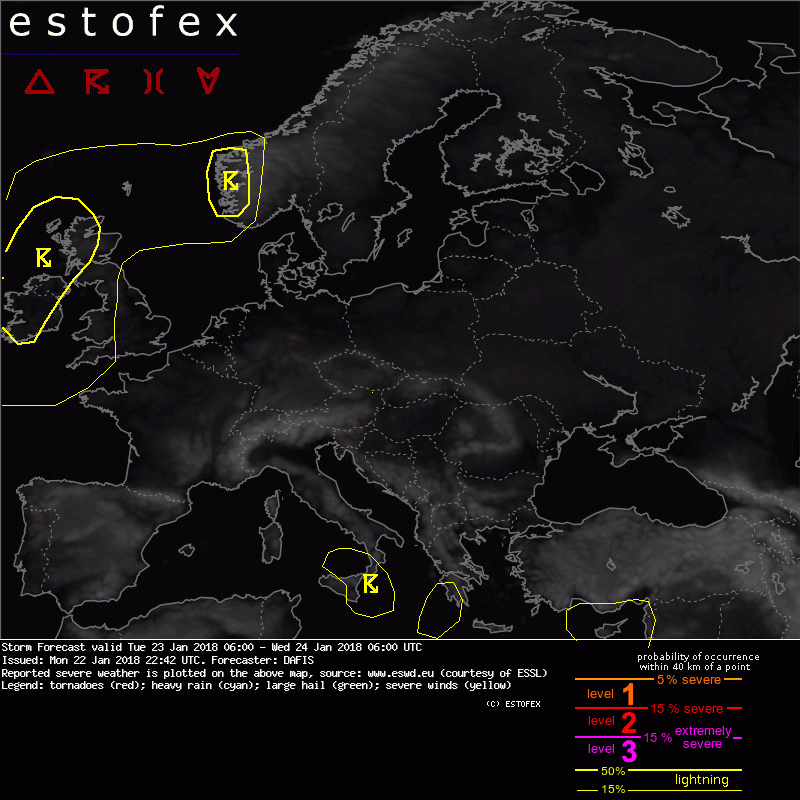 Storm Forecast
Valid: Tue 23 Jan 2018 06:00 to Wed 24 Jan 2018 06:00 UTC
Issued: Mon 22 Jan 2018 22:42
Forecaster: DAFIS
No threat levels have been issued for convective phenomena.

DISCUSSION

The long-wave trough over East Europe is slightly intensifying the next few hours by means of PVA, placed more to the south on Tuesday, towards Balkans as a short-wave trough on its left periphery runs from Central Europe towards Greece in less than a 24-hr period. In the West, a ridge has built-up, bringing warm and moist air masses up to Scandinavia. A polar air mass is expected to migrate from N Atlantic towards the Ireland, UK and Scandinavian coasts, bringing damaging winds, heavy non-convective rainfall and then a sudden temperature drop which is of our interest, since it creates some steep lapse rates aloft. Some CAPE is forecast to be formed over the aforementioned areas, resulting in swallow convection (no more than 4-5 km cloud depths) but able to create ligthnings. The jet streak ahead of the cold front will exclude this convection to be fed by DLS, so we do not expect organized convection in the cold sector of the low-pressure system between Iceland and the UK.

Some non-severe thunderstorms are still active in E Mediterranean and some new cells are expected in S Italy in the morning and in SW Greece during the night of Tuesday.