Storm Forecast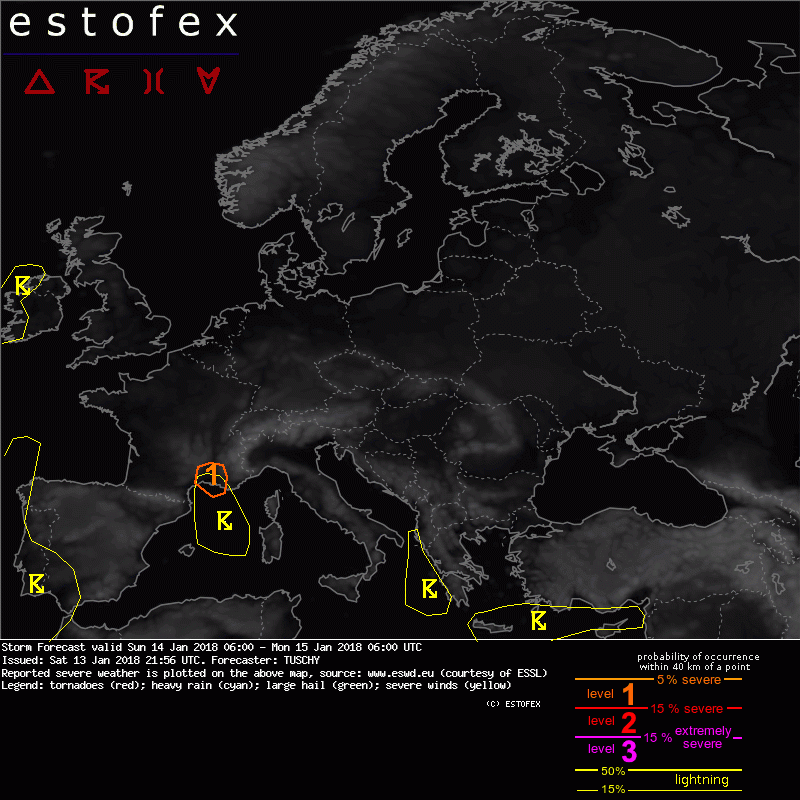 Storm Forecast
Valid: Sun 14 Jan 2018 06:00 to Mon 15 Jan 2018 06:00 UTC
Issued: Sat 13 Jan 2018 21:56
Forecaster: TUSCHY
A level 1 was issued across far S-France for excessive rainfall.


SYNOPSIS

High over low blocking pattern over E-Europe persist. A potent cold-core low over the Iberian Peninsula drops south and tries to choke off of the westerlies. During the forecast, an intense zonal flow pattern evolves over the NE-Atlantic between a 940 hPa low near Iceland and a 1040 hPa high next to the Azores. A 70 m/s mid-level jet is about to impact far NW-Europe during the end of the forecast but convective-wise no organized activity is not yet forecast.


DISCUSSION

... S-France ...

A weak low-tropospheric vortex over far SW-France drifts southeast/offshore during the forecast. Responding ageostrophic BL flow advects a slightly unstable marine air mass towards the S-CNTRL coast of France. Repeatedly onshore moving showers/thunderstorms with some backbuilding tendencies given 25 kt near BL SE-erly flow bring heavy rain to the level 1 area. The risk gradually decreases during the overnight hours.

... Rest of the lightning areas ...

Elsewhere, isolated to scattered but non-severe thunderstorm activity is forecast. A few waterspout events are possible (e.g. Crete), but ingredients don't support an elaboration of a level 1 area.

A cold front crosses Ireland beyond 00 Z but despite favorable dynamics, no organized line of convection is forecast to evolve with rather weak LL forcing. Strong postfrontal subsidence atop the slightly unstable marine air mass also limits the cold sector thunderstorm risk. Anyhow strong wind gusts are possible with any shower/isolated thunderstorm.