Storm Forecast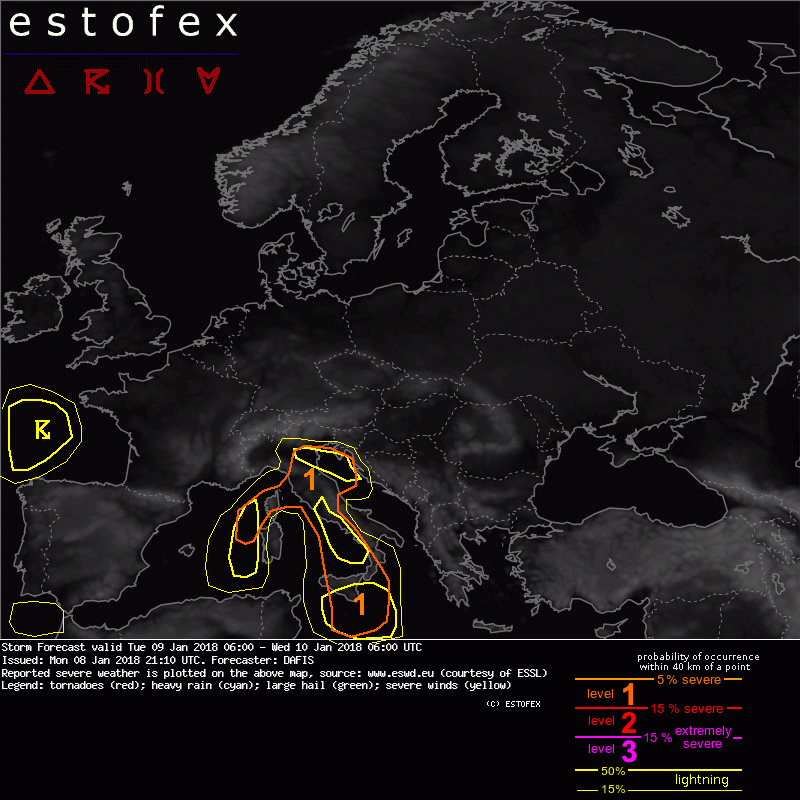 Storm Forecast
Valid: Tue 09 Jan 2018 06:00 to Wed 10 Jan 2018 06:00 UTC
Issued: Mon 08 Jan 2018 21:10
Forecaster: DAFIS
A level 1 was issued for Central Mediterranean, mostly Italy and Corsica, for excessive precipitation, severe wind gusts, tornadoes and to a lesser extent for large hail.


DISCUSSION

Air masses have split Europe into 3 main areas, with a dissipating cut-off low over the Iberian Peninsula, a strong ridge in SE Europe and a trough in northeastern parts which brings stable polar air masses mainly in Belarus, Ukraine and Russia. Another trough is approaching Ireland and the UK in the morning of Wednesday resulting in a new round of thunderstorms more to the south. Stable conditions prevail in Central Europe while in SE France and N Italy noteworthy instability along with a mid-level jet, have created strong clusters of storms which gradually move to the east.
NWP models forecast steep lapse rates above humid air masses around Italy and Corsica during the first half of Tuesday, and later also in NE Italy and Adriatic Sea as an upper-level PVA crosses the area. Strong SW low-level flow in W Italy may result in excessive precipitation, enhanced by the orography but it will be mostly non-convective. A large level 1 area has been drawn to highlight the areas where excessive convective precipitation, large hail, severe wind gusts and tornadoes are expected. Large hail is mostly expected in W Italy due to the overlap of strong DLS with some hundreds of CAPE, as well as at the coasts of Adriatic Sea and in S Sicily during the night. North Italy may also receive large amounts of small hail if CAPE values of GFS verify. Severe wind gusts are expected at the SW coasts of Italy and in Sicily. Due to dissipating low-level wind speeds and cold mid-levels (steep lapse rates, 400-600 J/kg CAPE), waterspouts may form near the coasts.