Storm Forecast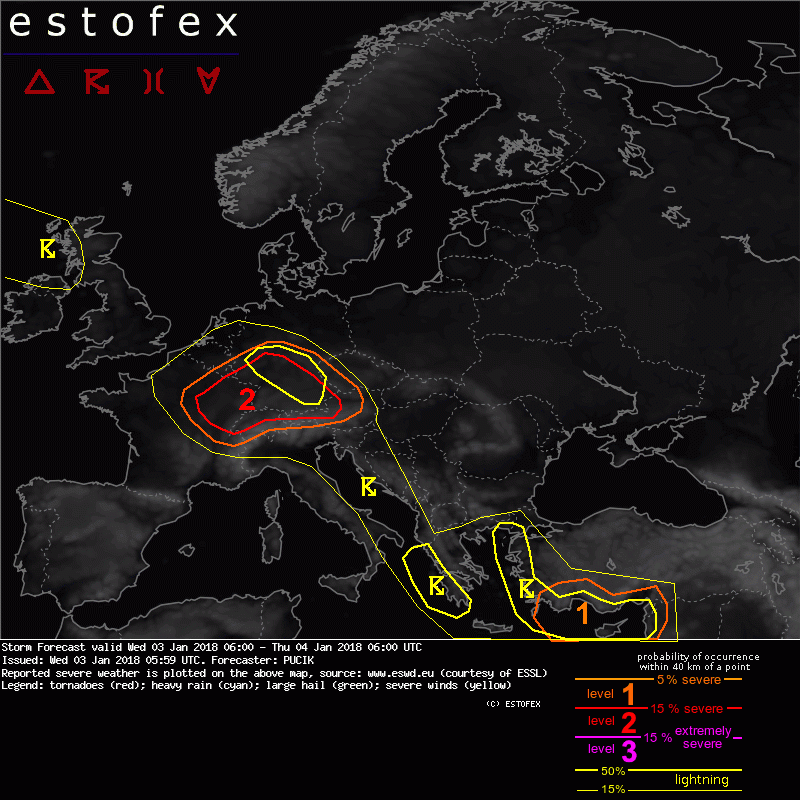 Storm Forecast
Valid: Wed 03 Jan 2018 06:00 to Thu 04 Jan 2018 06:00 UTC
Issued: Wed 03 Jan 2018 05:59
Forecaster: PUCIK
A level 2 was issued across parts of Germany, France and Switzerland mainly for severe wind gusts.

A level 1 was issued across Cyprus and S Turkey mainly for excessive precipitation.

SYNOPSIS

A dynamic situation continues over Europe as a powerful short-wave rapidly progresses from British Isles further eastwards embedded in a 80 m/s jet-streak at 300 hPa level. A strong cold front and a deep low pressure system are associated with the short-wave and will affect much of Western and Central Europe during the course of the forecast period. At the same time, a larger, but slower moving trough, centered over the Ionian Sea at 5 UTC, will progress eastward. Each of these synoptic-scale features is and will be associated with deep moist convection.

DISCUSSION

... Germany, France, NW Switzerland ...

As of 5 UTC, a strongly forced convective line has formed ahead of the fast moving short-wave and is currently located over NE France and W Germany with observed wind gusts up to 30 m/s. Line is electrified particularly at its northern flank over Germany. This is likely because of the colder equillibrium level as suggested by the model soundings. Convective line is forecast to move rapidly SE-wards and will produce widespread wind gusts over 25 m/s and perhaps isolated gusts over 32 m/s as 850 hPa windspeed approaches 35 m/s locally. Both wind gusts and convective line are forecast to weaken as line approaches the Alpine range towards 12 UTC, due to the deteriorating lower tropospheric moisture and weakening background windfield.


... Cyprus, S Turkey ...

In broad southerly flow, moist air will be advected northward over the region with scattered to widespread initiation over the steep coastlines in the region. Numerous rounds of convection are possible in the afternoon till overnight hours with a threat of excessive precipitation.