Storm Forecast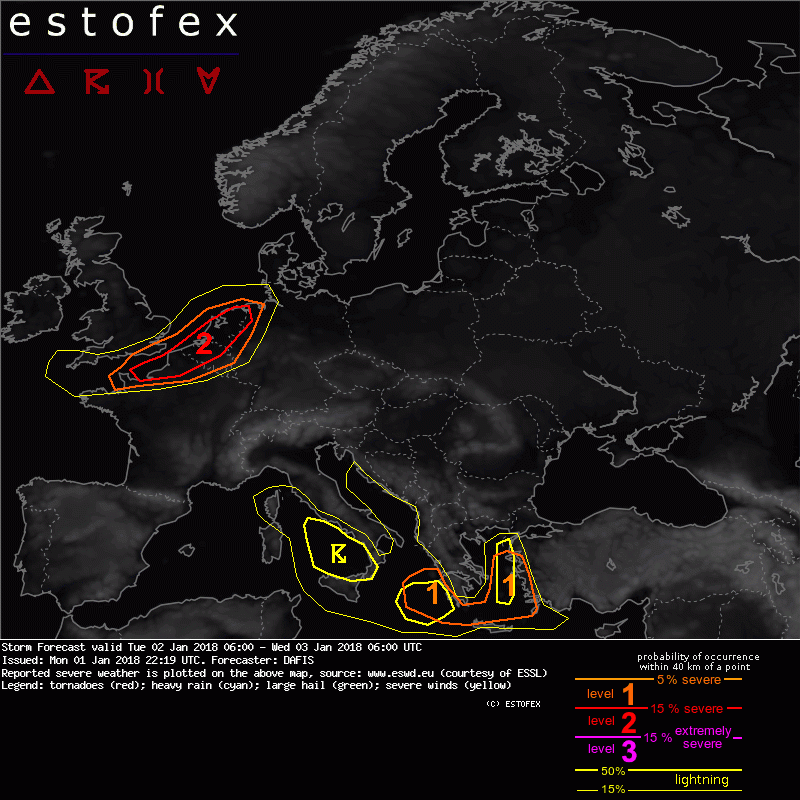 Storm Forecast
Valid: Tue 02 Jan 2018 06:00 to Wed 03 Jan 2018 06:00 UTC
Issued: Mon 01 Jan 2018 22:19
Forecaster: DAFIS
Levels 1 and 2 were issued for SE UK, N France, Benelux and NW Germany mainly for severe wind gusts.

A level 1 was issued for Greece and Turkey mainly for excessive precipitation and severe wind gusts.

DISCUSSION

A long-wave trough will cross Europe during Tuesday, bringing cold air masses from the north. The jet stream is curved at the leading edge of the trough and a strong jet streak is expected to influence the UK, and West Europe in general, at the early morning of Wednesday. At the surface, several low-pressure centers are located over Scandinavia and two more are about to form, one over Italy with an eastbound movement to Greece and the other one over Scotland moving towards Denmark by Wednesday which will result in a very strong pressure gradient, especially in the English Channel.

.... West Europe ....

Moist air masses will be advected from the Atlantic towards France and Benelux where non-convective severe wind gusts will be the main threat. NWP models forecast steep lapse rates below this jet streak where CAPE will be about 200-300 J/kg, so scattered thunderstorms may form especially near the coasts. These storms will be able to produce severe wind gusts at the surface in the range of 25-35 m/s but limited lightning activity near the cold front. A level 2 was issued for the English Channel, France and Benelux to address the severity of the wind gusts. Non-convective severe wind gusts may as well verify in areas S-SE of the level 1 area drawn.

.... Greece and Turkey ....

The long-wave trough creating a strong PVA as it moves east, with its leading edge over Italy and the Balkans, will destabilize the environment of C-SE Mediterranean. Cold air masses above warmer waters will create steep lapse rates and CAPE up to 800 J/kg according to GFS. DLS in the range of 20-25 m/s may increase the probability of some storms to become more organized and will be able to produce severe wind gusts and locally excessive precipitation, especially at the coasts of Turkey. The exact position of the surface low in the morning of Wednesday is not yet known, but it should be in the Aegean Sea stalling for several hours.