Storm Forecast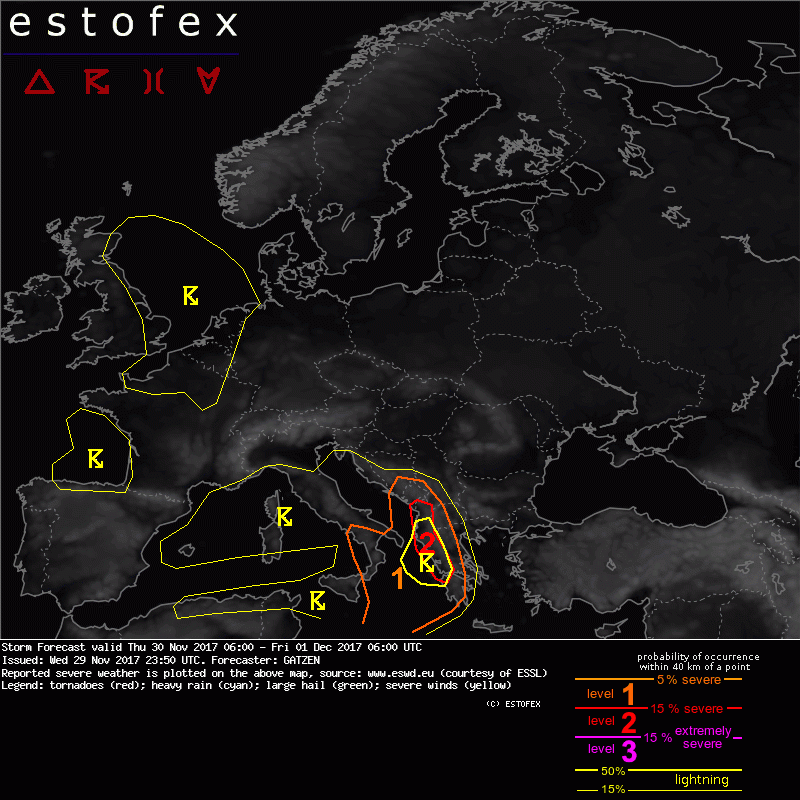 Storm Forecast
Valid: Thu 30 Nov 2017 06:00 to Fri 01 Dec 2017 06:00 UTC
Issued: Wed 29 Nov 2017 23:50
Forecaster: GATZEN
A level 2 was issued for western Greece and western Albania mainly for excessive rain.

A level 1 was issued for the Ionian Sea, southern Adriatic, south-eastern Tyrrhenian Sea and surroundings mainly for excessive rain.

SYNOPSIS

A deep long-wave trough is placed across western Europe and will expand into the west Mediterranean. Ahead of the trough, a strong south-westerly flow evolves from the southern Mediterranean towards the southern Adriatic and Greece.

DISCUSSION

Southern Adriatic and Greece

With the south-westerly flow over the south Mediterranean, humid air masses spread towards the southern Balkans and Greece. Whereas same capping exists over the Mediterranean due to an EML originating from the African Atlas, weak CIN, skinny CAPE and a rather deep warm cloud are expected across the southern Adriatic and surroundings. Front-parallel flow and a strong low-level jet can support back-building of multicells. Excessive rain is the main threat. Main reason not to issue a larger level 2 is that some of the rain is of stratiform nature given limited lapse rates.