Storm Forecast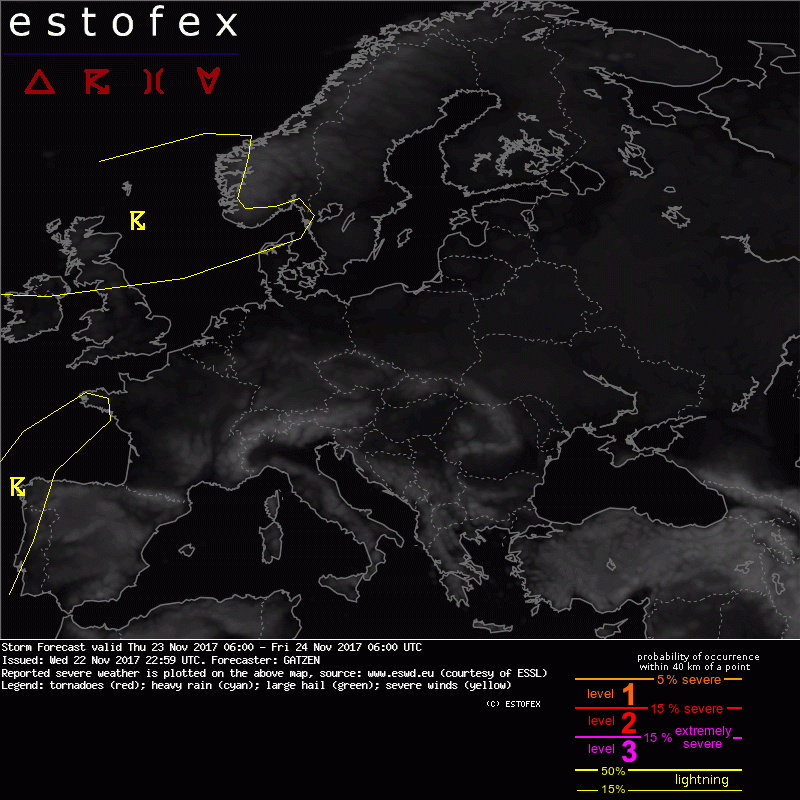 Storm Forecast
Valid: Thu 23 Nov 2017 06:00 to Fri 24 Nov 2017 06:00 UTC
Issued: Wed 22 Nov 2017 22:59
Forecaster: GATZEN
SYNOPSIS / DISCUSSION

Intense long-wave trough will only slowly move east across north-western Europe. Its strong mid-level jet will affect the southern British Isles and northern France. Despite some polar air thunderstorms over the North Sea and the British Isles, not much lightning potential is present. Along the frontal boundary over northern Bay of Biscay and northern France, a frontal wave forms late in the period. Current models do not show an overlap with steep lapse rates at the caconlically sheared flank of the mid-level jet. Activity might be quite shallow and only some thunder is forecast. However, severe wind gusts may occur locally.

Most of Europe is affected by mid-level ridging and weak lapse rates. Therefore, thunderstorms are not likely. Best potential is expected over western Portugal in a moist south-westerly flow and moist adiabatic profiles, as well as over the south Mediterranean where rich low-lvel moisture overlaps with steep lapse rates within a mid-level trough. However, CIN may limit initiation over the forecast region.