Storm Forecast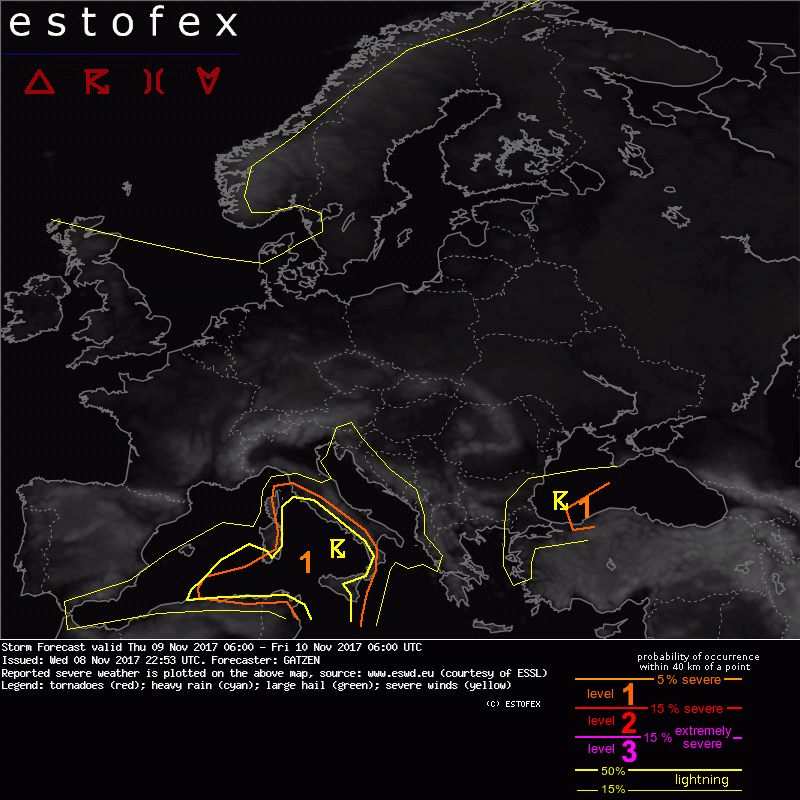 Storm Forecast
Valid: Thu 09 Nov 2017 06:00 to Fri 10 Nov 2017 06:00 UTC
Issued: Wed 08 Nov 2017 22:53
Forecaster: GATZEN
A level 1 was issued fort he Tyrrhenian Sea mainly for excessive precipitation and to a lesser extent for large hail (southern portions) and tornadoes (northern portions).

A level 1 was issued for the southern Black Sea mainly for large hail.

SYNOPSIS

High-over low pattern across Europe is associated with low geopotential across the west Mediterranean that extends into the Balkans and southeastern Europe. An intense trough will deepen across northern Europe. In between, a ridge weakens. Dry air masses have spread across most of Europe and also have entered the west Mediterranean. Better moisture is left over the central and east Mediterranean. Ahead of the approaching north-European trough, a narrow tongue of maritime moisture also advects east. However, it is not expected to overlap with steep lapse rates. In the wake of the cold front, scattered showers and thunderstorms are forecast across NW Europe. Given strong low-level vertical wind shear, a few tornadoes are not ruled out.

DISCUSSION

Tyrrhenian Sea region

Main potential for thunderstorms is expected across the central Mediterranean. At the eastern flank of the trough center, a plume of warm African air mass spreads north, causing warm air advection. Low-level moisture increases below an elevated mixed layer over the Tyrrhenian Sea, where cyclogenesis is forecast. With strong large-scale ascend and weak CIN, thunderstorms are quite likely to form, especially along the main convergence zone of the cold front that moves east during the day. With increasingly strong southerly low-level flow, training storms may form and organize along the cold front, posing a threat of excessive precipitation.

Along the southern portions, strong deep layer vertical wind shear and favourably curved hodographs may also support supercells capable of producing large hail. In the northern portions of the Tyrrhenian Sea, stable low-level air mass limits the severe threat. However, excessive rain is likely to occur and may result in extreme values locally, although partly not associated with convective storms. Furthermore, strong low-level vertical wind shear supports a threat of tornadoes with any supercells that roots to the boundary layer.

The convective line will reach Italy later in the period. Severe thunderstorms are possible along this line, with excessive rain and tornadoes and large hail with embedded supercells.

West Mediterranean

Below the troughs center, waterspouts are not ruled out in a weakly sheared and unstable air mass.

Southern Black Sea

A short-wave trough crosses the area during the afternoon. Ahead of this trough, an elevated mixed layer spreads across the Black Sea from the Turkish plateau, associated with 8 K/km mid-level lapse rates. Rich low-level moisture over the Black Sea will result in some 100 J/kg CAPE that is capped initially, but weak CIN is expected when the trough axis passes. Some thunderstorms are expected to form along the shores and over the Sea. Given deep layer vertical wind shear around 20 m/s, multicells and supercells are forecast, capable of producing large hail.