Storm Forecast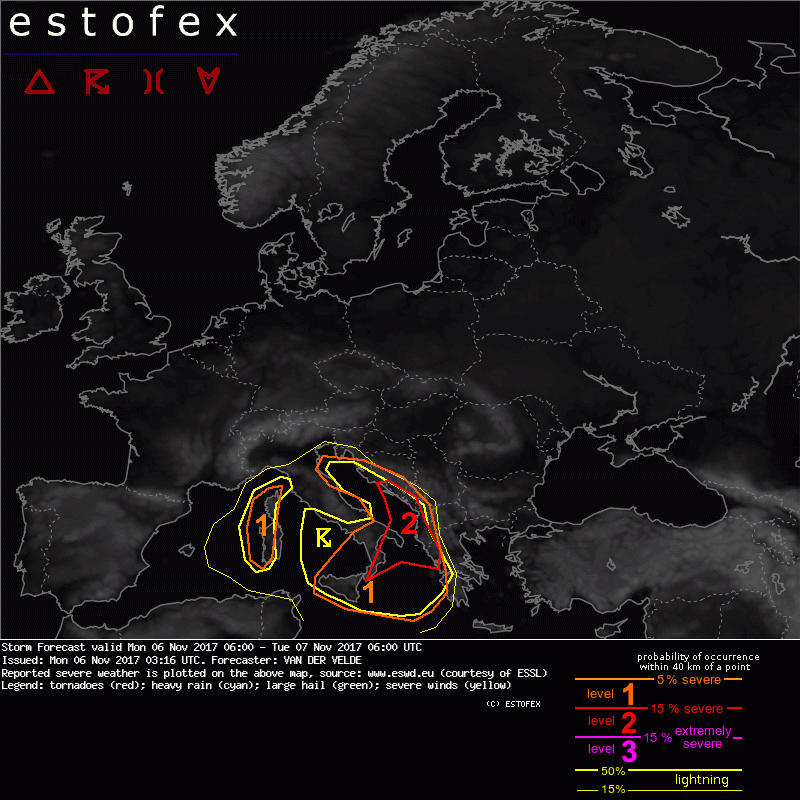 Storm Forecast
Valid: Mon 06 Nov 2017 06:00 to Tue 07 Nov 2017 06:00 UTC
Issued: Mon 06 Nov 2017 03:16
Forecaster: VAN DER VELDE
A level 2 was issued for the N/E Adriatic coastal regions mainly for excessive convective rain and tornadoes.

A level 1 was issued for S Italy mainly for excessive convective rainfall and large hail.

A level 1 was issued for Corsica and surrounding sea mainly for waterspout type tornadoes.

SYNOPSIS

A potent W Mediterranean low pressure system affects mainly Italy and the Adriatic and Ionean Seas with thunderstorm activity. A tongue of warm air spirals from Sicily into the Adriatic and westward into N Italy. The cold front moves eastwards into Sicily during the early morning, followed by SE Italy, remains stationary in the Adriatic while crawling eastward across Albania and W Greece later during the period. The cold air develops a Genua low pressure center, with strong low level vorticity just west of Corsica. CAPE will be moderate 500-1500 J/kg near SE Italy, and a few hundred J/kg across the Adriatic. The jet stream rounds the upper low between warm and cold air masses, over central Italy.

DISCUSSION

Adriatic coasts and SE Italy will see relatively weak storm motion, highly saturated air, onshore moisture lifting and training storms triggered by the cold front, and convective rain sums are likely to exceed 50 mm over a large area, with 100 mm in some places. In the Adriatic it is limited by weak CAPE.
Also SREH is enhanced over the Adriatic shore, but DLS and LLS itself are marginal. Still, isolated tornado and large hail chances exist.
The vorticity and local CAPE maximum north and west of Corsica and Sardinia could spin up some waterspouts in the steep low level temperature gradient created by cold air advection over warm sea water.