Storm Forecast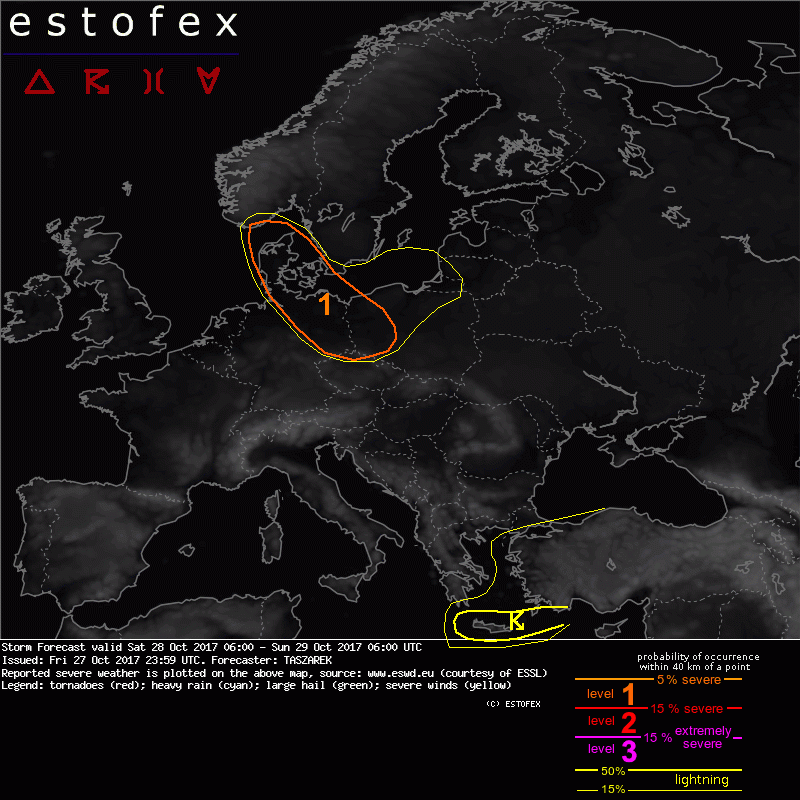 Storm Forecast
Valid: Sat 28 Oct 2017 06:00 to Sun 29 Oct 2017 06:00 UTC
Issued: Fri 27 Oct 2017 23:59
Forecaster: TASZAREK
A level 1 was issued for a belt extending from Denmark to SW Poland mainly for severe wind gusts.

SYNOPSIS and DISCUSSION

According to NWP scenarios, on Saturday a broad high will be covering W parts of Europe while a deep trough will be placed over Scandinavia and surroundings. A strong horizontal pressure contrast between these two features will result in a strong NWerly jet streak in the line from North Sea through Germany, Poland and with difluent flow up to Balkan Peninsula. Thunderstorm activity will be possible in the late evening and nighttime hours within the passage of the deep shortwave trough firstly along Denmark, NE Germany and later into W Poland. A moist marine airmass with 7-8 g/kg mixing ratios will be westerly advected ahead of the approaching cold front and within steepening lapse rates will result in a 100-200 J/kg ML CAPE. Given strong QG-lift along trough axis and support of decent 25 m/s flow at 850 hPa, a low-topped convective line capable of producing severe wind gusts cannot be ruled out. Otherwise, isolated storms and multicell clusters may produce locally heavy rain and sleet. In the end of forecast validity period storm activity should be located in SW Poland, and will continue to move further SE in the next day. During Saturday afternoon hours, isolated thunderstorm activity may develop over S Baltic and N Poland and therefore 15% lightning probability is issued for this area as well.

Another thunderstorm activity with lower severe weather threat is possible in the SE part of the domain where a passage of the upper wave, boundary layer's 9-10 g/kg mixing ratio and a moderate lapse rates will result in convection clustering into multicells in the afternoon hours. Although DLS will be enhanced up to 15-20 m/s, relatively low ML CAPE (few hundreds) and cloud tops at 7-8 km will limit severe weather potential. Some thunderstorms over marine area should remain until nighttime hours, but overall activity will drop in the late evening hours. Locally, a hail or isolated wind gust event cannot be ruled out.