Storm Forecast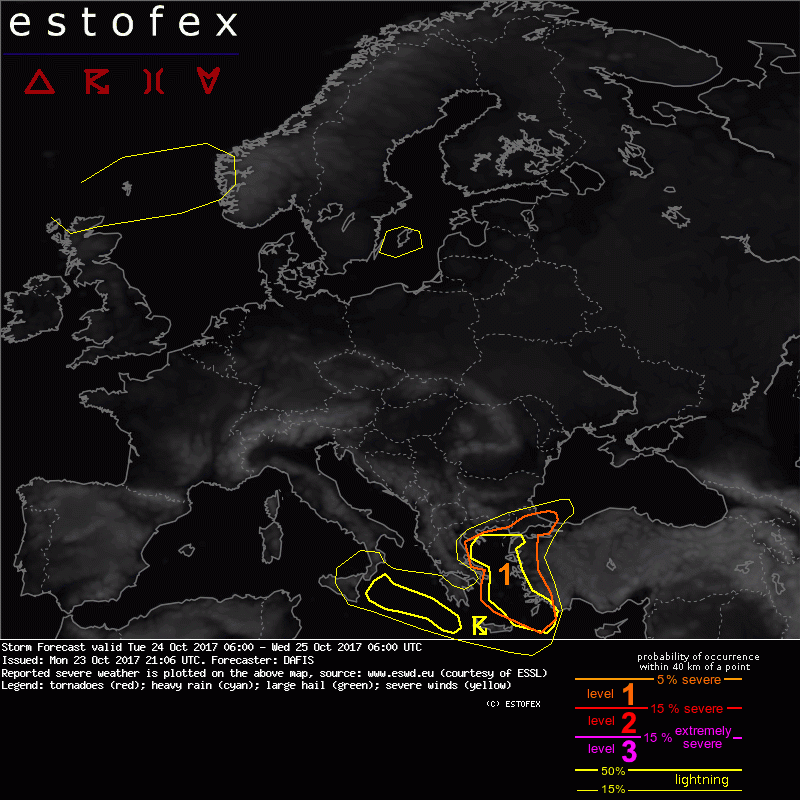 Storm Forecast
Valid: Tue 24 Oct 2017 06:00 to Wed 25 Oct 2017 06:00 UTC
Issued: Mon 23 Oct 2017 21:06
Forecaster: DAFIS
A level 1 was issued for Greece and Turkey mainly for excessive precipitation, large hail and severe wind gusts.

SYNOPSIS

A cut-off low has formed over southern Balkans, with the jet-stream wrapped around, increasing the wind shear on the periphery of the system, with a strong PV anomaly. On the west, over the Iberian Peninsula, a ridge intensifies during Tuesday and stable conditions will prevail. A stationary low-pressure system remains SW of Iceland and its cold front will reach the coasts of Norway, where some thunderstorms are expected, with graupel and gusty winds. Finally, cold air masses and high pressure affect the NE parts of the continent.

DISCUSSION

.... Greece and Turkey ....

An unseasonably cold air mass has reached the Mediterranean basin, creating steep lapse rates but DLS is rather weak over the large CAPE areas. GFS forecast up to 1200 J/kg in the Aegean Sea and SE Mediterranean. The best overlap of CAPE and shear in the morning at the west coasts of Turkey, increase the threat of severe weather events. DLS in excess of 20 m/s and high SREH0-3 create a favorable environment for supercells, able to produce large hail, severe wind gusts and training convection will result in excessive precipitation. Flash flood threat is also increased for the islands of SE Aegean, as high-resolution simulations (BOLAM, WRF, etc) show a persistent convergence zone until 12z.
During the night, storms should dissipate in Tuskey, but we expcect a new round of DMC in Greece. High PWAT values and slow moving storms can produce up to 150-200 mm in less than 6 hours.

In the morning of Tuesday, some thunderstorms will also form in SE Italy, where a low-level jet streak can increase the LLS and within the strongest cells, tornadoes can form, but this scenario is valid only over sea. Storms will gradually move to the south later.

Waterspouts are expected everywhere below this cold mid-level air mass, especially in S Ionian Sea, where low-level flow is weak.