Storm Forecast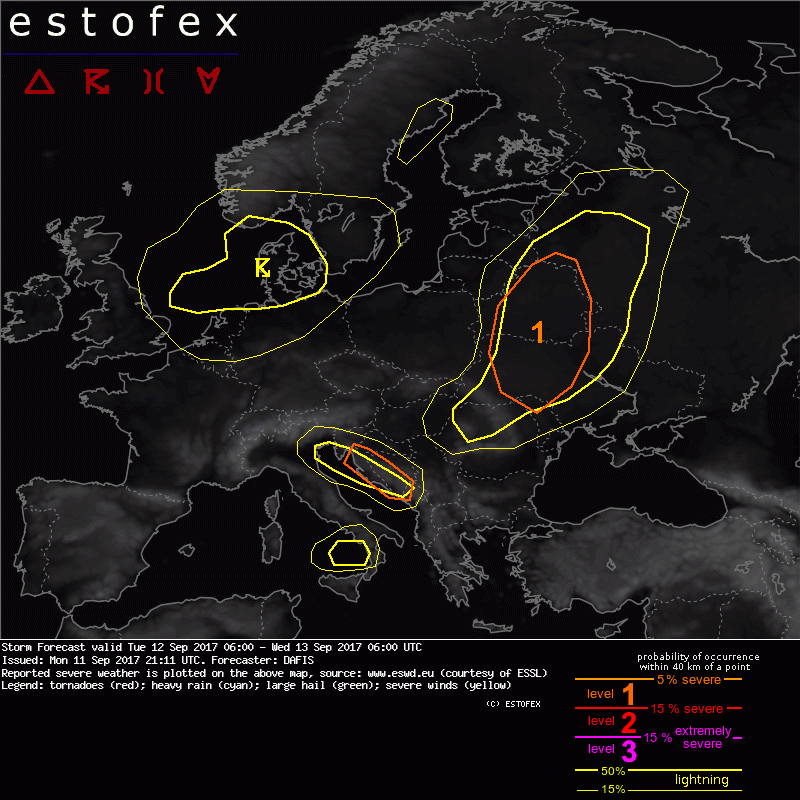 Storm Forecast
Valid: Tue 12 Sep 2017 06:00 to Wed 13 Sep 2017 06:00 UTC
Issued: Mon 11 Sep 2017 21:11
Forecaster: DAFIS
A level 1 was issued for Moldova, Ukraine and Belarus mainly for excessive rainfall, severe wind gusts and large hail.

A level 1 was issued for Croatia, Montenegro, Bosnia and Herzegovina mainly for excessive rainfall and severe wind gusts.

SYNOPSIS

A long-wave trough with an axis from North Sea towards Central Europe, is surrounded by several short-wave dsturbances. A short-wave trough over Balkans is moving NE, while another one is approaching Italy in the afternoon of Tuesday. At the surface, a high pressure system is established in the West Mediterannean basin and several lows at the northern parts of the continent. A quasi-stationary front is extended from Hungary towards NW Russia, where we expect the most active thunderstorms. DMC events are also expected at the eastern parts of the Adriatic Sea.

DISCUSSION

.... Moldova, Ukraine and Belarus ....

An elongated stationary front will gradually propagate more to the north during Tuesday, providing lift to unstable air masses. Latest observations show a moist air mass between N Romania and NW Russia, where several convergence zones in the afternoon will result in DMC. Moreover, in Moldova and Ukraine, GFS shows a tongue of very moist air mass to move onshore from the Black Sea, overlapping with steep mid-level lapse rates. Diurnal heating will provide additional lift and storms will experience DLS up to 20 m/s, so some MCS may evolve or even supercells if 0-3km shear exceeds 10-15 m/s as models predict. Storms will be able to produce excessive precipitation and locally severe wind gusts or/and large hail as fat CAPE profiles will create strong updrafts inside this highly sheared environment. Storms will continue to move NE during the night but threat level will be limited.

.... Croatia, Montenegro, Bosnia and Herzegovina ....

As the current low over Italy looses its structure and vanishes, another low is expected to be formed in NW Italy in response to the wake of the long-wave trough. There will be an unobstructed low level flow from the Adriatic Sea, bringing moist air masses over the continental parts of NW Balkans. Local convergence zones created by steep orography, will provide enough lift for these air masses. Storms could become MCS or supercells as DLS exceeds 20 m/s and 0-3km shear 15 m/s. The main threats will be heavy rainfall near the coasts, especially for the more elevated areas, and severe wind gusts within the stongest cells. Waterspouts and tornadoes are well expected throughout the day.