Storm Forecast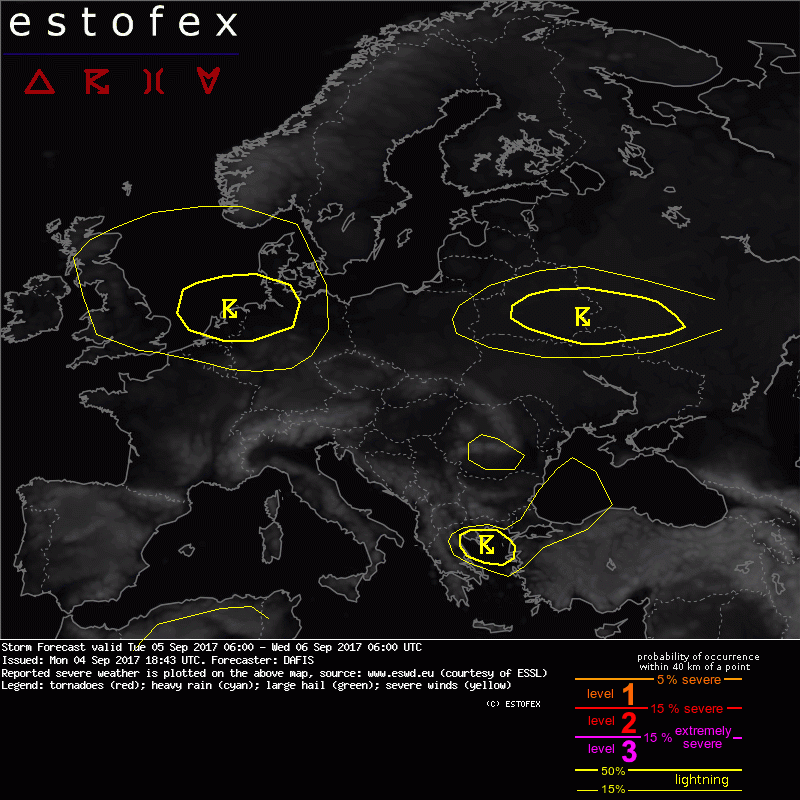 Storm Forecast
Valid: Tue 05 Sep 2017 06:00 to Wed 06 Sep 2017 06:00 UTC
Issued: Mon 04 Sep 2017 18:43
Forecaster: DAFIS
No threat levels have been issued.

SYNOPSIS and DISCUSSION

A large middle-level cut-off low is placed over E Europe with several embedded short-wave troughs, destabilizing the area, but the lack of low-level moisture limits the convective activity more to the Belarus W Russia. An occluded front is expected to feed several pulsating thunderstorms throughout the day but thermodynamics look not promising for any severe weather event.
Another more vigorous short-wave trough approaches from the Atlantic, associated with a cyclonic vortex near the surface in the UK. Weak lapse rates and meager moisture content also limits the convective activity. A small short-wave trough reaches the north coasts of Africa where very steep lapse rates overlap with some decent amounts of low-level moisture advected from the north and we also expect several diurnally driven storms in Algeria. The best chances for somehow better organized convection, is expected in Greece in the afternoon of Tuesday, where some hundreds of CAPE overlap with 10-18 m/s bulk shear 0-6km. An isolated severe wind gust event is possible given the rather dry PBL and marginally large hail cannot be ruled out within stronger cells. Storms will remain offshore during the night and the early morning of Wednesday.