Storm Forecast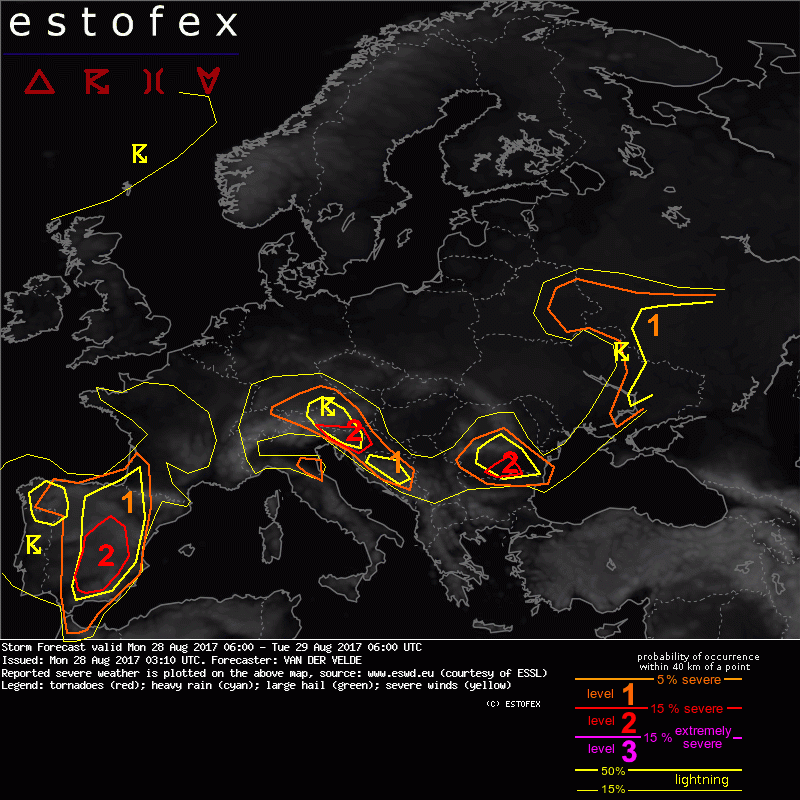 Storm Forecast
Valid: Mon 28 Aug 2017 06:00 to Tue 29 Aug 2017 06:00 UTC
Issued: Mon 28 Aug 2017 03:10
Forecaster: VAN DER VELDE
A level 2 was issued for central and southern Spain mainly for large hail and severe wind gusts.

A level 2 was issued for Slovenia and surroundings mainly for large hail and for isolated excessive convective rainfall.

A level 2 was issued for southern Romania / northern Bulgaria mainly for large hail.

A level 1 was issued for eastern Belarus and southwestern Russia mainly for large hail and tornado chances.

A level 1 was issued for parts of Spain, France, Germany, Austria, Italy, Romania, Croatia, Bosnia-Herzegovina, Bulgaria and Ukraine mainly for large hail.

SYNOPSIS

Three low pressure systems dominate the map. They are centered over Iceland/Norwegian Sea, Iberian Peninsula and near the Russia-Ukraine border. The cold front of the eastern European low extends over Ukraine, Romania, to the western Balkan and the Alps.It is backed by upper vorticity advection feature affecting the western Balkan and Romania after 12Z, gaining intensity. The Iberian system is an upper cold pool and thermal low that advected warm air from northern Africa, cool air from the Atlantic, creating baroclinic conditions for development. A mid level cold front passes from Portugal into Spain. GFS indicates a negatively tilted shortwave trough sweeping from southeast Spainat 18Z to northern Spain at 06Z. Lapse rates are almost unfiformly steep over the southern half of Europe (47N latitude).

DISCUSSION

...Iberian Peninsula...

Largest MLCAPE (>1000J/kg) is found over land where large mixing ratio is advected from sea, mainly over S and SE Spain. The triggering trough/cold front and vertical wind shear also seem maximized over the southern half of Spain. Deep layer shear of 20-23 m/s allows storms to convert into supercells (with large hail/gusts), especially when also low level hodographs are curved, which is indicated GFS. SREH values reach over 200-250 m2/s2 over southern Spain. Corfidi vectors suggest that a squall line with more than 25 m/s speed (and similar wind gusts) is possible.
Mainly at night, also 0-1 km shear is predicted to be enhanced to tornado-supporting levels (over 10-12 m/s) in the southeast, where however storm chances may not be as high.

...Alpine region and western Balkan...

This region experiences strong upper lift, moderate deep layer shear (15 m/s) and GFS indicates a small 1000 J/kg MLCAPE region south of the Alps, which may be an underestimation. This suggests potential for a few supercells with large hail as main threat. A little further southeast and storm motion is indicated to be slow, which would benefit excessive rainfall over Bosnia. GFS produces a convective artifact there, which could mean good chances for an MCS.

...southern Romania...

Large SREH develops during the evening near the RO-BG border, supporting significant supercells with possibly large hail. However, this is past the maximum of CAPE and the onset of stabilizing northern flow over eastern Romania.

...Russia, Belarus, Ukraine...

In particular of interest is the overlap zone of 20 m/s deep layer shear and the warm sector (500 J/kg MLCAPE) around the occlusion point, where also 10-15 m/s 0-1 km shear can enhance tornadogenesis if supercells form.