Storm Forecast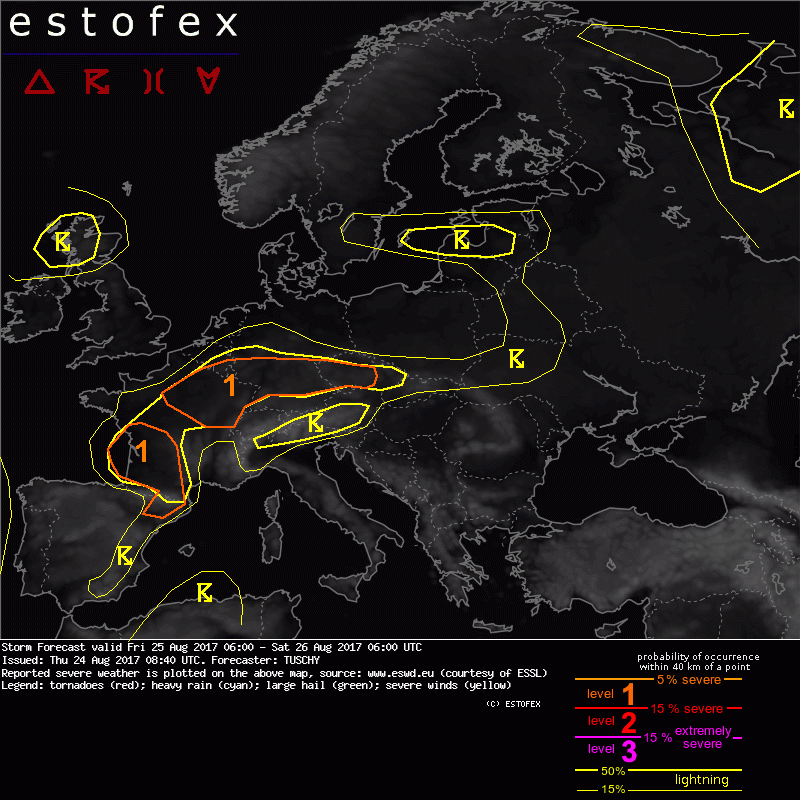 Storm Forecast
Valid: Fri 25 Aug 2017 06:00 to Sat 26 Aug 2017 06:00 UTC
Issued: Thu 24 Aug 2017 08:40
Forecaster: TUSCHY
A level 1 was issued for parts of CNTRL-/E-France, Germany, NE-Spain and parts of the Czech Republic mainly for large hail, excessive rain and an isolated tornado threat. A spatiotemporal confined enhanced severe wind gust threat is possible.

A level 1 was issued for SW-France mainly for large hail and excessive rain.

SYNOPSIS

A chain of slow moving upper lows is analyzed from the far E-Atlantic over Scotland to Scandinavia. The one over the E-Atlantic drifts east and models try to unhitch this feature from the westerlies. Else, the cyclonic vortices over N-Europe reveal only slow forward motions. Over S-Europe no substantial change of the flat subtropical ridge is forecast.

Weak surface pressure gradients prevail during the forecast. Main thunderstorm activity occurs along a wavy front, which extends from Spain to France and Germany before merging into an eastbound moving cold front over Poland.

DISCUSSION

... France to Germany and NE-Spain ...

The focus for DMC activity remains along a northbound creeping warm front over CNTRL-France. Maximized BL moisture near the front offsets meager mid-level lapse rates and a confined region with 800-1500 J/kg MLCAPE is forecast. Diabatic heating is a bit uncertain with ongoing elevated convection during the morning hours onwards. However, with diurnal lull of activity (before noon) and hence better chances for diabatic heating beyond noon, the risk exists for intensifying thunderstorms during the afternoon and evening hours in the highlighted area ... either re-strengening convection from the forenoon hours or new development.

0-3 km and 0-6 km shear around 15 m/s are enough for organized multicells and an isolated supercell with large hail (broadening and deepening CAPE profiles) and excessive rain (high PWAT and slow storm motion) the main hazard. The wind gust and tornado risk depends on the final degree on BL mixing. With WAA regime in place and an LCL around 1km, an isolated tornado event can't be ruled out. Nowcast will dictate the highest wind gust threat, but passing 15 to locally 20 m/s speed maxima at 700 hPa along the front may support a longer-lived bowing structure with a regionally enhanced severe wind gust threat.
The activity proceeds into the night but a more elevated nature of thunderstorm activity should switch the risk back to hail and locally excessive rain.

A strong impulse ejects out of the E-Atlantic longwave trough and affects SW-France during the night. SE-erly flow from the W-Mediterranean, steep mid-level lapse rates atop, improving upper divergence, 800-1500 J/kg capped MUCAPE and 15 m/s DLS show favorable conditions for a nocturnal thunderstorm cluster between the Pyrenees and the Bay of Biscay. Isolated large hail and excessive rain will be the main hazard as this clusters lifts north during the night.

We expanded the level 1 to far NE-Spain to account for isolated thunderstorms with a large hail risk mainly for the evening and overnight hours.

... Alps...

Less BL moisture (compared to the previously mentioned regions) but steeper mid-level lapse rates result in widespread 400-800 J/kg MLCAPE during the afternoon. DLS remains in the 10 m/s range with similar values for the 1-8 km layer. Short Corfidi vectors with variable directions indicate slow and erratic moving thunderstorms with heavy rain the main threat (especially N-Italy into S-Austria). Weak forcing, absence of any front and a rather dry low-/mid-troposphere limit the expected severe risk below the level 1 threshold.

...Scotland ...

A cold-core vortex moves ashore with a rapidly steepening vertical temperature gradient forecast. Weak background shear and LLCAPE in excess of 100 J/kg assist in an isolated funnel/short-lived tornado threat.

... Parts of NW-Russia ...

A weakly sheared warm sector with low-end instability becomes activated during the day and scattered non-severe pulsating storms are forecast. This activity diminishes after sunset.