Mesoscale Discussion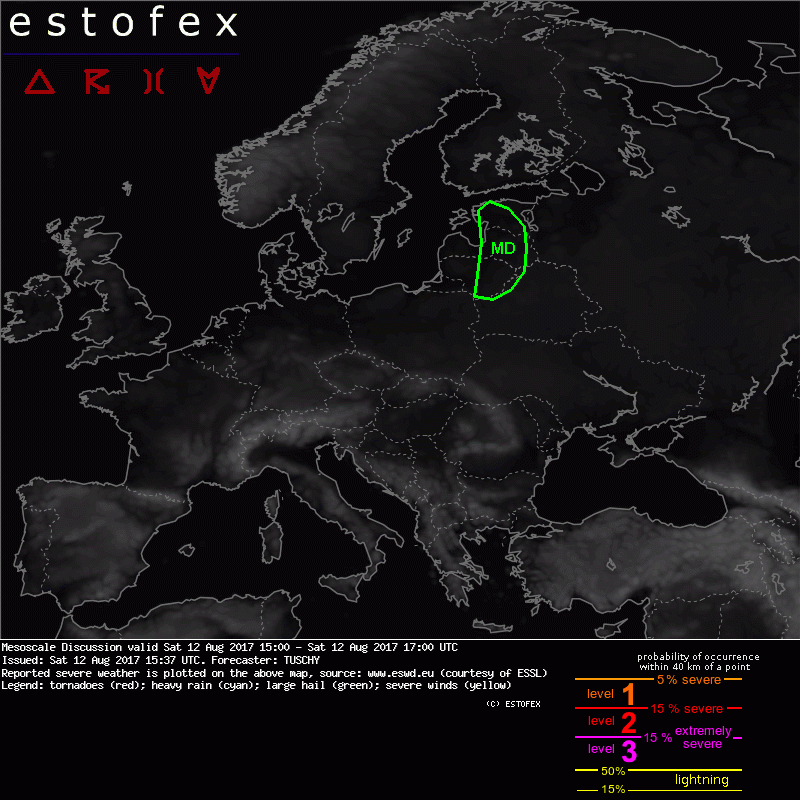 Mesoscale Discussion
Valid: Sat 12 Aug 2017 15:00 to Sat 12 Aug 2017 17:00 UTC
Issued: Sat 12 Aug 2017 15:37
Forecaster: TUSCHY
Mesoscale Discussion for E-Lithuania, Latvia and Estonia:

Latest surface data places a cold front over W-Lithuania/Latvia with a prefrontal convergence zone a bit displaced to the east. Readings to the east indicate temperatures in the lower thirties with dewpoints in the upper tens/lower twenties. This is in line with the latest numerical output, hence robust CAPE is certainly available.

Remote sensing data (HVIS) indicates explosive thunderstorm development along the convergence zone with rapidly cooling cloud temperatures and long-lived overshooting tops. Surface based convection is likely due to strong mixing and no apparent layer of low-level clouds surrounding that activity. Latest WV loop places the short-wave still far west over the far S-Baltic Sea but this feature will approach the MD area later on.

Latest radar data indicates still discrete storms, which are capable of producing all kind of severe including extreme events. Betimes, near front parallel flow supports updraft seeding with downshear convection, so growing clusters are forecast. Therefore probabilities increase of a developing cold pool and a northward pushing MCS towards E-Latvia and Estonia is well possible. Swaths of damaging wind gusts become the main risk although any discrete storm structure is still able to produce all kind of severe.

Further south and east of the MD area, a few updrafts tried to sustain for some time, but failed until now due to a very dry 450-700 hPa layer. Therefore no changes to the level 2 area over N-Belarus are needed for now.