Storm Forecast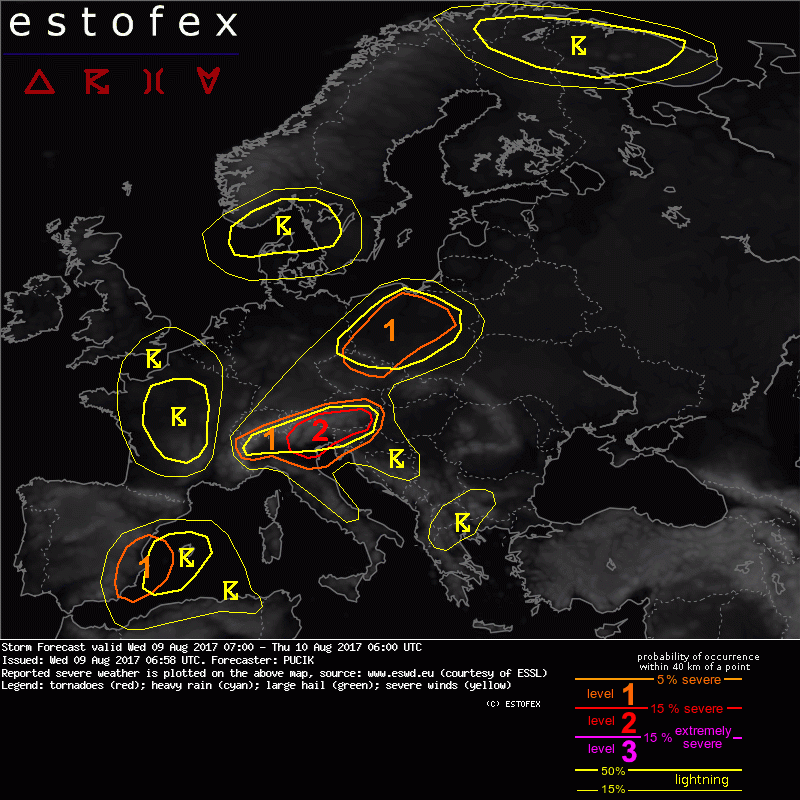 Storm Forecast
Valid: Wed 09 Aug 2017 07:00 to Thu 10 Aug 2017 06:00 UTC
Issued: Wed 09 Aug 2017 06:58
Forecaster: PUCIK
A level 2 was issued for NE Italy and S Austria mainly for large to very large hail, excessive precipitation and severe wind gusts.

A level 1 was issued for N Italy and S Switzerland mainly for large hail and excessive precipitation.

A level 1 was issued for N Czech Republic to Poland mainly for excessive precipitation and large hail.

A level 1 was issued for SE Spain mainly for large hail and severe wind gusts.

SYNOPSIS

Main macrosynoptic-scale feature is a deep trough centered over France with a strong southerly flow at its forward flank. In this strong flow, tropical airmass will be advected from the Central Mediterranean towards S Poland. This tropical airmass, originating from Sahara, is associated with a plume of steep mid-tropospheric lapse rates of more than 7 K/km between 850 and 500 hPa layer. At the same time, moisture is expected to pool along the wavy frontal boundary that will stretch from S Spain towards N Italy and Central Europe. Its warm front will quickly cross Czech Republic and Poland during the evening and night hours. Thunderstorm activity will be confined primarily along this boundary. Secondary activity is forecast in the core of the trough over France where cold-mid tropospheric temperatures will contribute to conditional instability over the area.

DISCUSSION

... N Italy into S Austria ...

00 UTC sounding measurements from Milano, Rivolto and especially S Pietro Capofiume show unstable airmass with pronounced vertical wind shear in the warm air advection regime. However, Rivolto and Capofiume both reveal also significant capping layer, which may require a lot of heating and or lift to be overcome. Some isolated thunderstorms are already ongoing over S Austria at the moment and it seems that over the Alpine range, initiation may not be an issue. Here, the most prominent threat may be excessive precipitation if storms cluster into multicells with a possibility of cell training pattern. Large hail will be possible too given the steep lapse rates and strong vertical wind shear (DLS between 20 - 25 m/s) favouring supercells. Towards the south, initiation is more uncertain, but models do reveal a convergence zone close to the N Appenines. In the environment of moderate to high CAPE and DLS around or above 25 m/s, any developing storm may turn into a supercell capable of very large hail and severe wind gusts. Thus, a Lvl 2 is issued for the area.

... N Czech Republic into Poland ...

To the north and northeast of the advancing warm front, in the evening to late night and morning hours, models simulate initiation in the pronounced WAA regime. Strong vertical wind shear will be present, also in the lower troposphere, but forecast soundings reveal that instability will be mostly elevated, strongly limiting the severe wind gust and tornado threats. Primary threat will be excessive precipitation with saturated profiles. Large hail may occur as well given the steep lapse rates and with strong vertical wind shear enabling the development of well organised DMC.

... SE Spain ...

South of the advancing trough and of the cold front, easterly surface flow will advect moist airmass inland. Combined with steep lapse rates over the continent, MLCAPE values between 1000 and 2000 J/kg are simulated by models. There is a disagreement in models regarding the degree of convective initiation, but any storm that develops may become supercell, given DLS above 25 m/s, capable of large hail and severe wind gusts. Questionable initiation precludes issuance of Lvl 2 atm. Higher storm coverage is forecast offshore, where an MCS may form overnight travelling eastwards.