Storm Forecast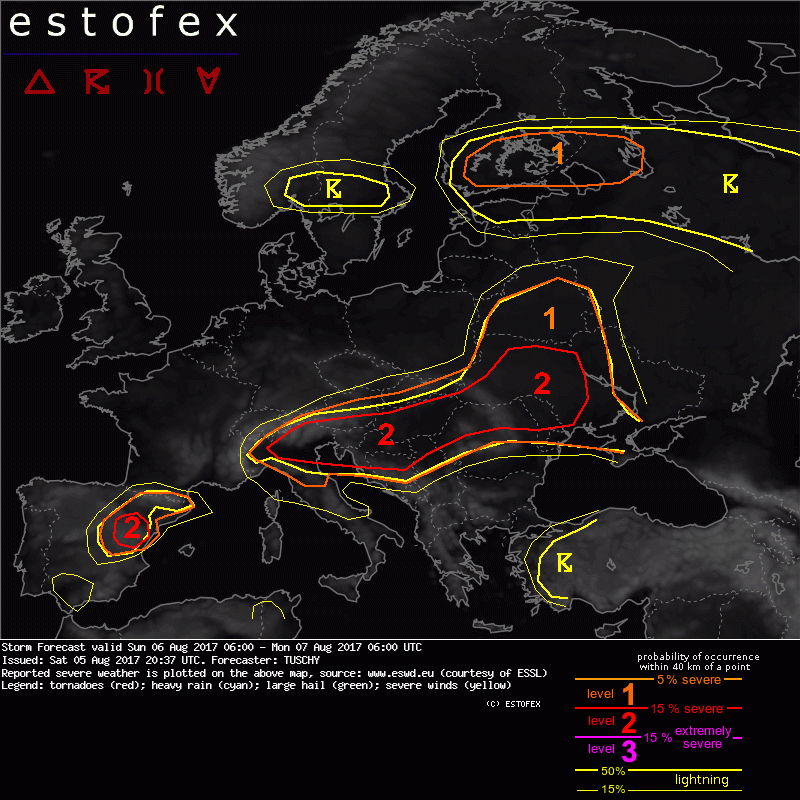 Storm Forecast
Valid: Sun 06 Aug 2017 06:00 to Mon 07 Aug 2017 06:00 UTC
Issued: Sat 05 Aug 2017 20:37
Forecaster: TUSCHY
A level 2 was issued from N-Italy to the Ukraine mainly for excessive rain, large to very large hail, severe to damaging wind gusts and a few tornado events. A strong tornado can't be excluded.

A level 1 surrounds the level 2 with similar risks but with lower probabilities.

A level 2 was issued for NE-Spain mainly for large/very large hail, excessive rain and severe wind gusts.

A level 1 surrounds the level 2 with similar risks but with lower probabilities.

A level 1 was issued for S-Finland mainly for excessive rain and an isolated tornado event.

SYNOPSIS

Two large-scale vortices over far N-Europe once again face a strong subtropical ridge over S-Europe with a tight frontal zone in-between. Along that baroclinic zone, numerous short waves travel from W to E with one impulse crossing the S-Baltic Sea during the day and another one approaching the W-Alps during the afternoon/evening hours. Both waves encompass a zone with intense mid-/ and upper-level winds for this time of year, which cover an area from Poland to W-/CNTRL Russia.

Along the surface, a broad LL vortex is placed over S-Finland with a trailing frontal boundary extending from Belarus to Hungary and far N-Spain. This front separates a moist and unstable air mass to its south from a cooler, drier and more stable air mass to its north. CAPE/shear space supports a broad area with organized convection over parts of CNTRL- / E-Europe.

DISCUSSION

... N-Italy to the Ukraine ...

This area resides ahead of the approaching short-wave from France with WV imagery drying noted in latest remote sensing data. Placement is good regarding the forecasts of the numerical guidance. Next to that PVA input from the west, a favorable placement beneath the right entrance of a strong mid-/upper level jet ensures a prolonged period with moderate to strong upper divergence over the Alps. This is reflected in the expectation of ongoing showers and thunderstorms from the previous night, but with a diurnal driven lower risk for severe before noon.

However, with ongoing diabatic heating and the approaching wave, a gradual increase of convection occurs south and along the Alps with rapid clustering forecast. Strongest convection in form of well organized multicells/isolated supercells probably occurs over N-/NE-Italy, S-Austria, Slovenia all the way to Hungary. Favorable conditions for clustering could cause a large and extensive MCS to work its way through the area of interest from W to E. 15-20 m/s DLS and 1-2 kJ/kg MLCAPE are more than adequate for organized convection, especially with initiating storms and more discrete storms along the S-fringe of the cluster and over the far N-Adriatic Sea (with less intense forcing). Large to very large hail, excessive rain and severe wind gusts are possible as well as an isolated tornado threat along the N-Adriatic Sea and surroundings with mature supercells, lowering LCLs and increasing LL shear (especially during the late afternoon and evening). A strong tornado event can't be ruled out.

Further north, over CNTRL- and E-Austria, NE-ward advecting precipitation with embedded convection may result in a few hours of intense rain. Given the wet past few days in that area, flash flooding is well possible. Hence we expanded the level areas far north.

Towards Hungary, CI is a bit more uncertain and depends on the upshear evolution, as cloud debris from the growing Alpine MCS may limit diabatic heating from W to E betimes. Anyhow, latest guidance is supportive in developing isolated to scattered thunderstorms during the afternoon hours with an increase in coverage during the evening and early night hours. A similar thermodynamic setup with less DLS (roughly 15 m/s) probably results in organized multicells with large hail, excessive rain and severe wind gusts. During the night, the MCS from the west may approach W-Hungary with a more widespread severe wind gust threat next to isolated large hail and excessive rainfall amounts. This activity gradually weakens over E-Hungary as CAPE decreases.

Also during the late afternoon/evening, explosive thunderstorm development is forecast over Croatia and surroundings with all hazards possible.

Overall, favorable upper-level conditions and enough unstable air and shear could result in a long-lived MCS event to race from NE-Italy all the way to Hungary. Swaths of severe to damaging wind gusts are possible, but no focus for a potential level 3 exists right now to upgrade.

Over the W-Ukraine and Moldova, another focus for a large MCS event arises. A pool of deep BL moisture resides beneath steep mid-level lapse rates, which converts to 1500 - 2500 J/kg MLCAPE. More displaced from the frontal zone, shear is weaker, but still in the 10-15 m/s range (0-6 km bulk shear). Weaker synoptic-scale forcing will be offset by strong BL convergence and the approaching right entrance of the upper-level jet. Scattered to widespread organized thunderstorms are forecast with large/isolated very large hail, severe to damaging wind gusts and excessive rain. As LCL heights lower betimes, the tornado risk with any discrete/mature multicell or supercell increases. Again, increasing upper divergence probably assists in the development of a large MCS (maybe matching the MCC criterium) which drifts to the E/NE. Internal dynamics (e.g. cold pool driven) may push this activity further east to what latest numerical guidance indicates. Hence the level areas were expanded far east. During the night, a gradual weakening trend is forecast as it outruns the most unstable air and exits the best upper divergence.
Again, this convection has the chance to produce torrential and flash flood producing rain, very large hail and swaths of damaging wind gusts. With ongoing uncertainties, where the final cluster will evolve, a broad level 2 will be preferred to a local upgrade.

A risk for organized multicells extends also to Belarus, although uncertainties remain with convection from the previous night, probably limiting diabatic heating. If DMC evolves, large hail, severe wind gusts and an isolated tornado event are possible.

... NE-Spain ...

A departing mid-level wave and increasing thickness with warming mid-levels most likely increase concerns in CI over the area of interest. However, an onshore surge of a deep and very moist marine air from the W-Mediterranean occurs as the thermal low over CNTRL-Spain intensifies during the day. This moist air slides beneath steep mid-level lapse rates over the mountains and brings MLCAPE in the 1-2 kJ/kg range. Despite strong capping, diabatic heating, upslope flow along the mountains and a weak short-wave during the afternoon/evening hours may support a few thunderstorms. 15-20 m/s DLS assists in rotating updrafts with large/isolated very large hail. In case of an updraft traveling east, rooting into the moist marine air mass, an isolated tornado and severe wind gust risk is possible as well. The activity continues during the night as large-scale forcing intensifies ahead of a deepening trough over the far E-Atlantic. CAPE/shear space supports an ongoing severe risk. Given the prolonged period of isolated CI and the constant favorable CAPE/shear overlap, a small level 2 was added, where confidence will be the highest.

... Parts of N-/NE-Europe ...

Beneath the upper low, scattered to widespread thunderstorms occur during the afternoon/evening. Slow storm motion increases the risk of heavy rain. Strongest updrafts may contain hail near severe limits and LLCAPE of up to 100 J/kg with numerous (probably interacting) outflow boundaries points to an isolated tornado risk. The activity diminishes after sunset.