Storm Forecast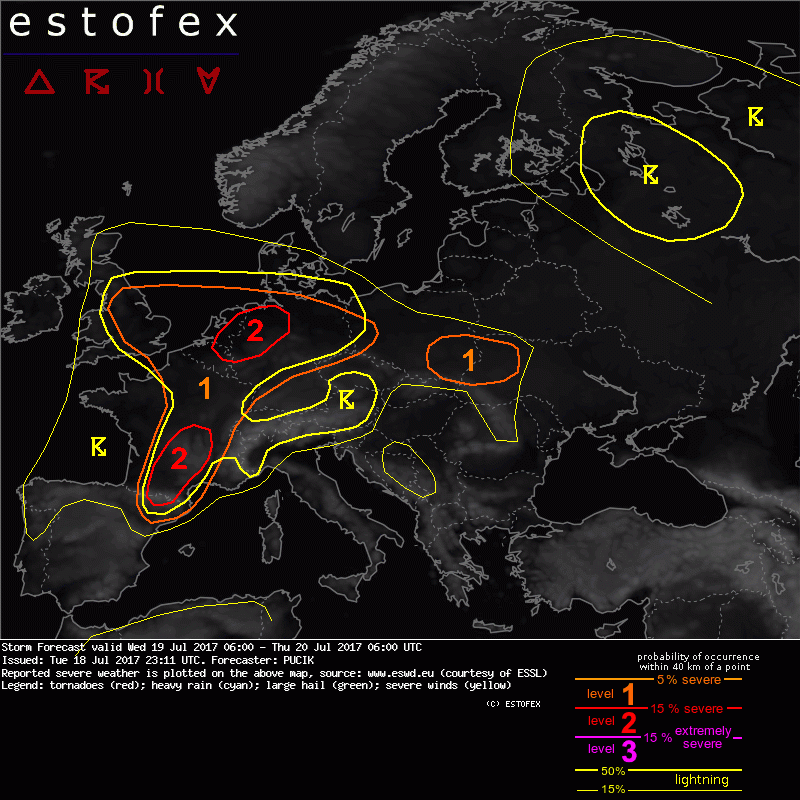 Storm Forecast
Valid: Wed 19 Jul 2017 06:00 to Thu 20 Jul 2017 06:00 UTC
Issued: Tue 18 Jul 2017 23:11
Forecaster: PUCIK
A level 2 was issued for S France mainly for severe wind gusts, large hail and excessive precipitation.

A level 2 was issued for N Belgium, Netherlands and NW Germany mainly for severe wind gusts, large hail and excessive precipitation.

A level 1 was issued for England mainly for excessive precipitation.

A level 1 was issued for Central to N France and Germany mainly for large hail, severe wind gusts and excessive precipitation.

A level 1 was issued for SE Poland and W Ukraine mainly for large hail and severe wind gusts.

SYNOPSIS

At the forward flank of the deep trough over the Atlantic, a plume of steep mid-tropospheric lapse rates has advected from Iberia over much of France, as revealed by Tuesday 12 UTC soundings. This plume will shift eastwards during the forecast period, in conjunction with the movement of the trough. While at 500 hPa, no significant short-wave trough is apparent, at 300 hPa, models indicate a pronounced trough crossing N Spain, S France and then rapidly heading N-ward towards BENELUX during the forecast period. Already at the time of writing the forecast, a large MCS is ongoing over SW France and may potentially have an impact on the development during the forecast day. Closer to the surface, a frontal boundary will cross NW Spain, W France and BENELUX during the evening and night hours. Further towards east, a large cyclonic vortex will reside over much of N Europe. A subtle short-wave, crossing S Germany and N Italy as of Tuesday 22 UTC, will continue moving slowly E-wards, reaching E Central Europe by Thursday 06 UTC. Most of the DMC activity will be confined especially to W and Central Europe, ahead of the advancing cold front, in the plume of abundant lower tropospheric moisture.

DISCUSSION

... N Spain to Central France ...

In the plume of moist airmass ahead of the cold front, moderate to high CAPE values are simulated, reaching up to 2000 J/kg over S France. At the same time, 15 to 20 m/s of DLS will promote well organised storms. Particularly over S France, where veering of wind with height will result in enhanced SRH values, hodographs seem to be supportive of supercells. Pronounced convergence zone is forecast to form over S France and as the upward motion induced by the approaching trough weakens CIN, widespread initiation is forecast. While initial cells may have isolated supercellular nature with large hail threat, rapid cell clustering, aided by the shear vectors oriented at a small angle to the boundary, will likely result in one or more MCS. Such systems will be capable of both excessive precipitation and severe wind gusts and will travel NE-wards, likely persisting late into the night hours. A lvl 2 is introduced over S France, where the highest storm coverage is forecast and the most abundant low-level moisture will be available.

... N France, BENELUX, N Germany ...

With the advection of moist airmass from SW and under the mid-tropospheric lapse rates of around 6.5 K/km, basically all models agree on the development of MLCAPE values ranging from 1000 to 2000 J/kg basically over the whole area. MLCAPE values may locally exceed 2000 J/kg especially over Holland and NW Germany, where 2 m dewpoints will likely reach 20 deg C. While degree of instability seems to be supportive of strong updrafts, DLS will range between 10 and 15 m/s, which suggests mostly multicellular storm mode. Shear may increase towards the evening hours with the approach of the trough, particularly in the lower troposphere. Isolated storms may already be ongoing in the morning and early afternoon hours and a rapid increase in coverage is forecast especially over BENELUX and NW Germany ahead and along of the advancing cold front. Storms will likely quickly cluster so that initial threat will be large hail from stronger multicells, followed by excessive rainfall and severe wind gusts from the possible MCS. Large hail threat may be more pronounced towards E, where steeper lapse rates and more isolated storm mode could support stronger updrafts. A lvl 2 is issued for the region with the highest combined risk.

... England ...

Two waves of storms are possible during the forecast period, the first one associated with a WAA regime in the morning to noon hours, followed by storms along the cold front. While instability or shear do not seem to be very supportive of highly organised storms with strong updrafts, forecast soundings reveal potential for heavy rainfall given skinny CAPE profiles with almost saturated troposphere.

... SE Poland to W Ukraine ...

In the WAA regime, along and south of the slowly advancing warm front, MLCAPE values around 1000 J/kg are forecast to develop. Around 15 m/s of DLS is simulated along the warm front, decreasing slightly southward. While conditions would look favourable for a couple of well organised storms capable of large hail and severe wind gusts, degree of thunderstorm initiation is uncertain and differs in the individual NWP outputs. Nevertheless, will keep a Lvl 1 to highlight a potential for better organised storms in the area.