Storm Forecast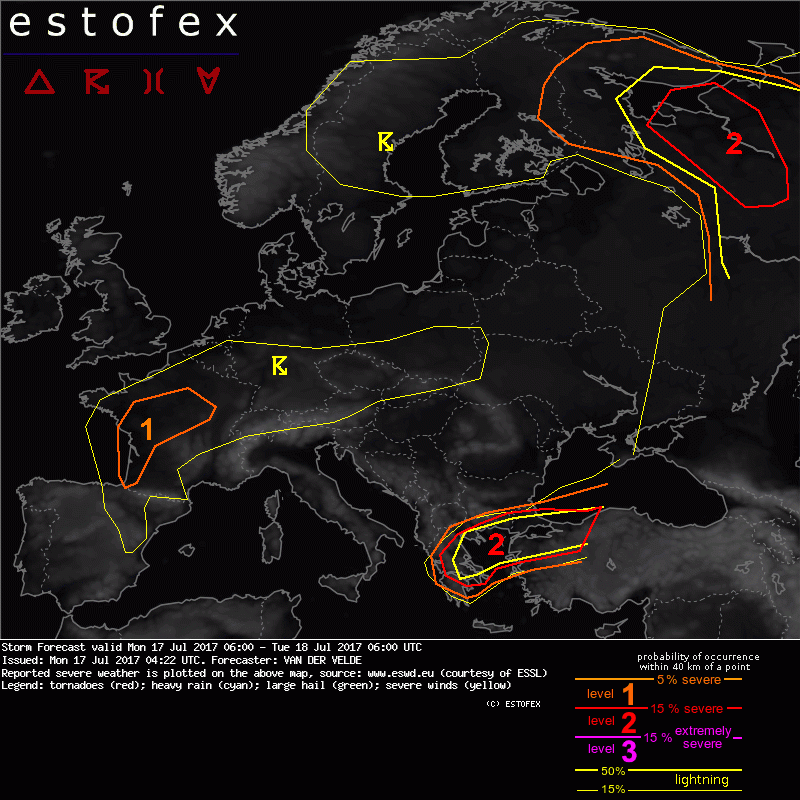 Storm Forecast
Valid: Mon 17 Jul 2017 06:00 to Tue 18 Jul 2017 06:00 UTC
Issued: Mon 17 Jul 2017 04:22
Forecaster: VAN DER VELDE
A level 2 was issued for Greece and NW Turkey mainly for excessive convective precipitation, tornadoes, large hail and severe wind gusts.

A level 2 was issued for NW Russia mainly for tornadoes, large hail and severe wind gusts.

A level 1 was issued for W France mainly for isolated severe wind gusts and/or large hail.

SYNOPSIS

An active trough affects Scandinavia and NW Russia. A long cold front from Ukraine to Kola Peninsula moves into unstable air, overlapping with strong shear. Cooler unstable air follows over N Sweden and Finland.
Cold front extends down from Ukraine also into the Greece and Turkey area, where an upper low destabilizes the air mass by strong lift ahead of it..
Over southwestern Europe, a new episode of Spanish Plume is brewing with a Biscay low developing, but being mostly capped and lacking lift, convective initiation should be limited until massive potential is released later on Tuesday by the incoming upper trough.
An other cold front pushes southward into Germany and southeastward into southern Poland, with some convective activity in modest CAPE and 5-15 m/s shear.

DISCUSSION

...Greece and NW Turkey...

Inflow of moist Black Sea air into the surface low is maintaining continuous convective activity together with strong synoptic/mesoscale lifting. The SW-erly jet stream east of the trough provides 20-30 m/s of 0-6 km shear and SREH in the range of 300-500 m2/s2. Supercells are likely and can produce the whole scala of severe weather. Greece is likely to be affected by slower moving cells, clusters or MCS which likely cause excessive convective precipitation.

...NW Russia...

Along the northern stretch of the cold front, storm motion should be rather fast and linear forcing with moderate deep layer shear supports a squall line. 0-1 km shear of 12-15 m/s supports bow echoes with severe wind gusts and also tornadoes are possible.

...France, Spain....

GFS displays a moist boundary layer in the northern half of France, and drier air over S France and much of Spain with very high cloud bases.With over 1000 J/kg MLCAPE in western France where capping is weak, isolated storms may produce large hail and severe wind gusts as delta-theta-e is over 20K. But lifting is weak so widespread initiation not likely.
A more interesting region is the Bay of Biscay, where 250 m2/s2 SREH develops, under steep lapse rates, but probably is not "effective" given the elevated nature of convection (most likely at night). Lack of focused lifting to remove the cap should prevail until later onTuesday.