Storm Forecast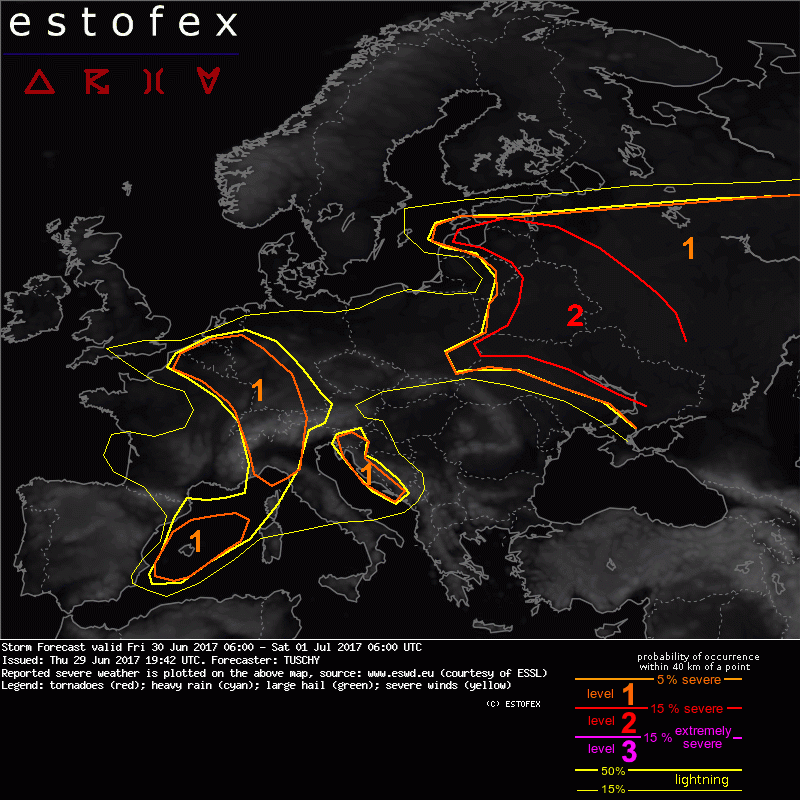 Storm Forecast
Valid: Fri 30 Jun 2017 06:00 to Sat 01 Jul 2017 06:00 UTC
Issued: Thu 29 Jun 2017 19:42
Forecaster: TUSCHY
A level 2 was issued for parts of Belarus, Ukraine and W-Russia mainly for large/very large hail, damaging wind gusts, excessive rain and a few tornadoes. The damaging wind gust threat will be maximized in SE Belarus, W/NW-Ukraine into far W-Russia.

A level 2 was issued for N-Belarus and Latvia/Estonia mainly for excessive rain (the main threat), large hail and severe wind gusts.

A level 1 surrounds the level 2 with similar risks but with less probabilities.

A level 1 was issued for the E-Adriatic Sea including Slovenia and W-Croatia mainly for large hail and excessive rain but also for isolated tornadoes.

A level 1 was issued for parts of France, Benelux, Germany and Switzerland mainly for a few excessive rain and large hail reports. An isolated tornado threat exists.

A level 1 was issued for the Balearic Islands and surroundings mainly for large hail, excessive rain and an isolated tornado event.

SYNOPSIS

An unseasonably deep and cold trough is anchored over SW-Europe with a broad downstream ridge affecting the E-Mediterranean. This ridge is characterized by high thickness values, pointing to a deep WAA regime. In fact this pattern supports a surge of hot and dry N-African air towards Greece/Turkey with H85 readings in excess of 25 °C.

This configuration causes a winter-like geopotential height gradient over the W-/CNTRL Mediterranean with mid-level winds in excess of 40 m/s. According to this textbook-style frontal zone, the strongest LL wind field is displaced to the south along the low-tropospheric frontal zone (e.g. from Sardegna to the CNTRL Adriatic Sea) while further north over N-Italy, LL-/mid-level winds relax beneath intense upper-level winds. This distribution of the vertical wind profile also affects the expected outcome of thunderstorm organization.

SW-/W- and CNTRL- Europe will be situated beneath the large double-barrel vortex and a diurnal driven thunderstorm risk is forecast. Convective-wise quiet conditions continue over N-/NE-Europe.

Regarding fronts, yesterday's cold front passage brought the plume of very moist air towards E-Europe with some residual moisture also availabe over the CNTRL-Mediterranean. A weastward trailing occlusion affects W-Europe and assists in unsettled weather conditions.

DISCUSSION

... Belarus, Ukraine to W-Russia and Latvia/Estonia ...

Main focus for widespread CI is along and ahead of the eastbound moving cold front. Uncertainties remain regarding yesterday's convection, which could outrun model expectations to the east. In addition there still exists some model discrepancies in respect of the frontal's position at 06 UTC (start of forecast).

However as the day proceeds and diabatic heating sets in, the very moist and warm air mass in the shrinking/occluding warm sector with moderate mid-level lapse rates atop yields widespread 500-1000 J/kg MLCAPE with regionally higher peaks.

As both the eastern vortex of the double-barrel low and the ridge over SE-Europe build E/NE, accompanied geopotential height gradient increase results in a rapidly eastward translating enhanced mid-level flow regime. These strong winds affect the cold front and prefrontal warm sector with 15-25 m/s DLS (increasing from N to S).

Forecast soundings show straight hodographs with large/fat CAPE profiles. Hence the cold front should see re-intensifying thunderstorms and a MCS is forecast to race east during the forecast. Also prefrontal CI is possible in a weakly capped warm sector and well organized multicells or supercells will occur in this thermodynamic and kinematic setup. The main risk will be severe/damaging wind gusts, large/isolated very large hail and excessive rain. However with slightly better curved hodographs along the warm front and better LL shear during the afternoon/evening, a few tornado reports are possible as well.
The highest risk for a severe MCS event with numerous damaging wind reports exist over SE-Belarus and the NW-Ukraine into W-Russia, where strongest frontal surge and most intense wind field overlap.

A few multicells/isolated supercells may also develop further to the SW towards SE-Poland with enhanced BL moisture and strong shear. All severe hazards inlcuding large/very large hail and severe wind gusts are possible.

Towards Latvia/Estonia, decreasing DLS and a gradually weakening MLCAPE plume lower the severe risk somewhat, but still numerous organized multicells with a severe hail/wind and rain threat are forecast. Here, the excessive rainfall risk is maximized with the inflow of a very moist/high PWAT air mass beneath the left exit of a strong LLJ to the south and with cooling mid-levels and rapidly vanishing mid/upper-level winds atop. We upgraded for the enhanced flash-flood risk!

... CNTRL-Mediterranean ...

Not much BL recovery behind the cold front was possible, so expect rather low BL moisture over the W-Mediterranean to N-Italy. Further south towards S-Italy, BL moisture is much higher along/ahead of an old / wavy front, which entered the CNTRL-Mediterranean on Thursday ... LL dewpoint readings in the lower twenties are likely.

An EML plume extends from E-Tunisia to S-Italy and Greece and partially affects the region with rich BL moisture. Forecast soundings show capped profiles with 850 hPa temperatures well above 20 °C. As the temperature decreases rapidly aloft, capped 1.5-2.5 kJ/kg MLCAPE are forecast with 20 to 35 m/s DLS available.

Main focus for CI will be an impulse, which exits the base of the main upper trough over SW-Europe and crosses Italy during the overnight hours. This could result in isolated elevated CI over CNTRL Italy and along the E-CNTRL Adriatic Sea during the night. In case of one or two storms, very large hail and severe wind gusts would be the main risk. However, longevity of this activity remains questionable as BL moisture decreases rapidly away of the warm Mediterranean and hence only a level 1 will be needed for now.

Further north (including N-Italy), the air mass remains weakly capped and thunderstorms are forecast especially during the passage of the impulse/short-wave from the afternoon onwards. Forecast soundings show a rather weak low/mid-level flow regime with intense upper-level winds. The current idea is that the risk of a few organized multicells is the highest over N-Italy into Slovenia/Croatia with large hail the main hazard. A 15-20 m/s LLJ from the SW may support a few back-building storms over the NE-Adriatic Sea, which affect Slovenia/NW Croatia. Large hail and excessive rain will be the main hazard including an isolated tornado threat.

... W-Mediterranean ...

CAPE/shear speace supports organized multicells/ a few supercells during daytime before both ingredients start to separate during the night. All kind of sever can be expected with mature storms including an isolated tornado threat for the Balearic Islands..

...E-France to Germany including Switzerland ...

Placed beneath the large mid-/upper-level vortex, a diurnal driven thunderstorm risk exists within a weakly capped and moist air mass beneath cold mid-levels. Widespread 300-800 J/kg SBCAPE evolve with enhanced LLCAPE. Scattered to widespread pulsating thunderstorms with isolated large hail and heavy rain are forecast. Slow moving and clustering storms may result in a few excessive rainfall events. In addition, an isolated funnel/tornado threat exists especially in regions with enhanced diabatic heating (maximized LLCAPE). Mesoscale convergence zones/outflow boundaries and the topography dictate the coverage of storms, which weaken after sunset.