Mesoscale Discussion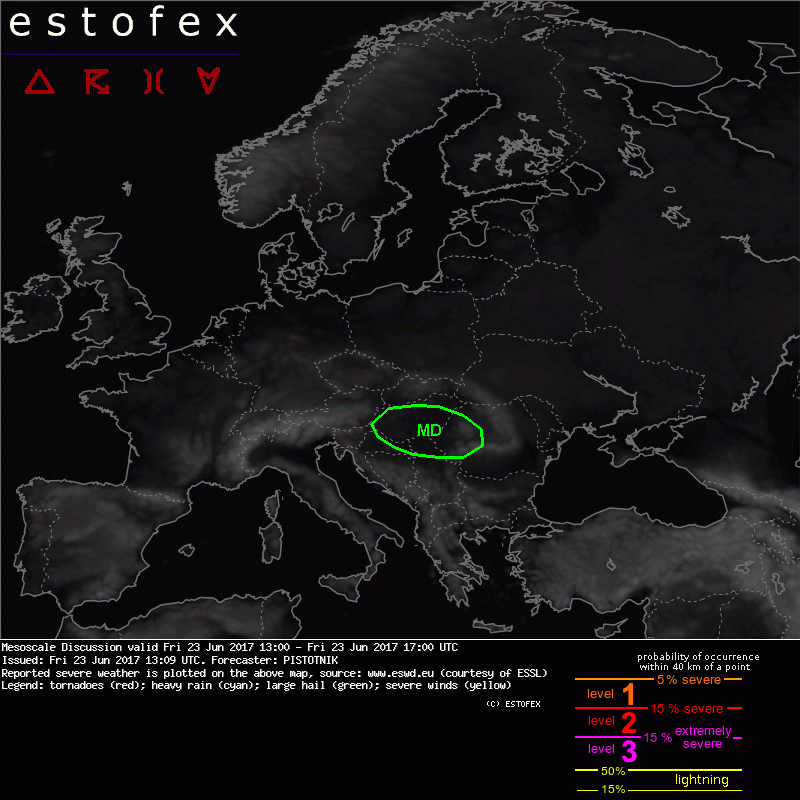 Mesoscale Discussion
Valid: Fri 23 Jun 2017 13:00 to Fri 23 Jun 2017 17:00 UTC
Issued: Fri 23 Jun 2017 13:09
Forecaster: PISTOTNIK
... Hungary, W Romania, N Serbia ...

Latest 12z soundings from Vienna and Budapest confirm an overlap of CAPE around 1500 J/kg and exceptionally strong 0-3 km shear between 20 and 25 m/s. Rather homogenous surface data indicate that these conditions are representative for much of Hungary and W Romania.
Scattered thunderstorms have initiated and quickly organized along two WNW-ESE running convergence zones. The northern zone runs across central Hungary and these storms have not grown upscale yet. Another storm that had initiated at the southern zone in SE Austria has quickly turned into a bow echo and has produced severe wind gusts (25 m/s were measured in Leibnitz and numerous wind damages were reported nearby). It is following the Hungarian/Croatian border now.
Vertical transport of momentum (the mean wind speeds are 25 m/s at 700 hPa) and strong evaporational cooling in the deeply mixed boundary layer may create severe to extreme downbursts with any storm that forms. Bowing lines are expected to be the dominant storm mode, initially small but with a potential to grow larger as soon as pronounced cold air pools form.
In case the storms stay discrete and manage to propagate off the long and straight hodographs, they will likely turn supercellular, and large hail becomes another risk. The tornado threat is limited by high cloud bases.