Extended Forecast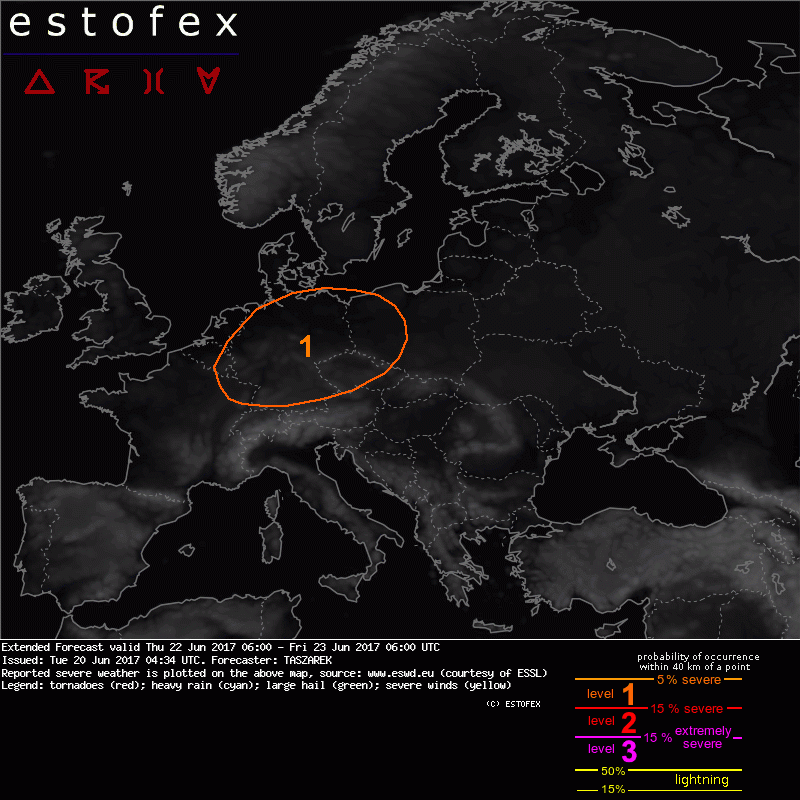 Extended Forecast
Valid: Thu 22 Jun 2017 06:00 to Fri 23 Jun 2017 06:00 UTC
Issued: Tue 20 Jun 2017 04:34
Forecaster: TASZAREK
This extended forecast was issued to highlight a risk for a possible severe weather outbreak over CNTRL Europe including tornadoes, very large hail, damaging wind gusts and excessive precipitation.

An upgrade to level 2 is likely.

SYNOPSIS

A broad jet streak extends from British Isles, through CNTRL Europe up to Ukraine. It borders cool polar airmasses at the north from ridge with a highly unstable tropical airmass at the south. A strong 700 hPa westerly flow provides an extensive overlap with an unstable airmass over France, Benelux, Germany, Czech Republic and Poland. Current NWP scenarios indicate a passage of the trough with a low-level jet around 15-18 UTC over Germany.

DISCUSSION

A very steep lapse rates (> 7 K/km) originating from NW Africa starts to overlap with a rich boundary layer's moisture (~ 12-14 g/kg) that results from an intense evapotranspiration and moisture pooling taking place over W Europe since Monday. Such lapse rates are confirmed by the 00 UTC strongly capped sounding (20 June) from Brest that samples mid-level environment which on Thursday will likely shift to CNTRL Europe. Actual surface moisture over W France (03 UTC, ~ 15- 16 dew points) that on Thursday will move eastwards also line up with a current GFS expectations.

The aforementioned combination of lapse rate and low-level moisture will create on Thursday a healthy 2000-3000 J/kg ML CAPE stretching from E France up to E Germany, with a local maxima exceeding even 3500 J/kg (France, W Germany). Current NWP scenarios indicate that a broad area over Germany will be overlapped by a jet streak resulting in 15-20 m/s DLS and a high values of a CAPESHEAR composite.

If a current GFS prediction with a trough around 15 UTC over Germany will be fulfilled, a strong lift will support the development of convective cells that in a such thermodynamic and kinematic conditions may quickly become severe. Evolving supercells may be capable of producing large to very large hail and tornadoes given enhanced low-level shear and helicity. Due to strong westerly airflow at 700 hPa providing a broad overlap with instability areas, a risk for a well organized linear system capable of producing widespread severe wind gusts (derecho) cannot be ruled. It is possible that such system may develop over Germany and in the late afternoon hours move to Poland and/or Czech Republic.

The most important factor that should be monitored in the following model updates is the position and timing of the trough, small changes to its position may strongly influence severe weather potential and thus final forecast. Another limitation refers also to the overlap of lapse rates with moisture and the magnitude of the cap. Further details will be provided with a detailed 1-day outlook.