Mesoscale Discussion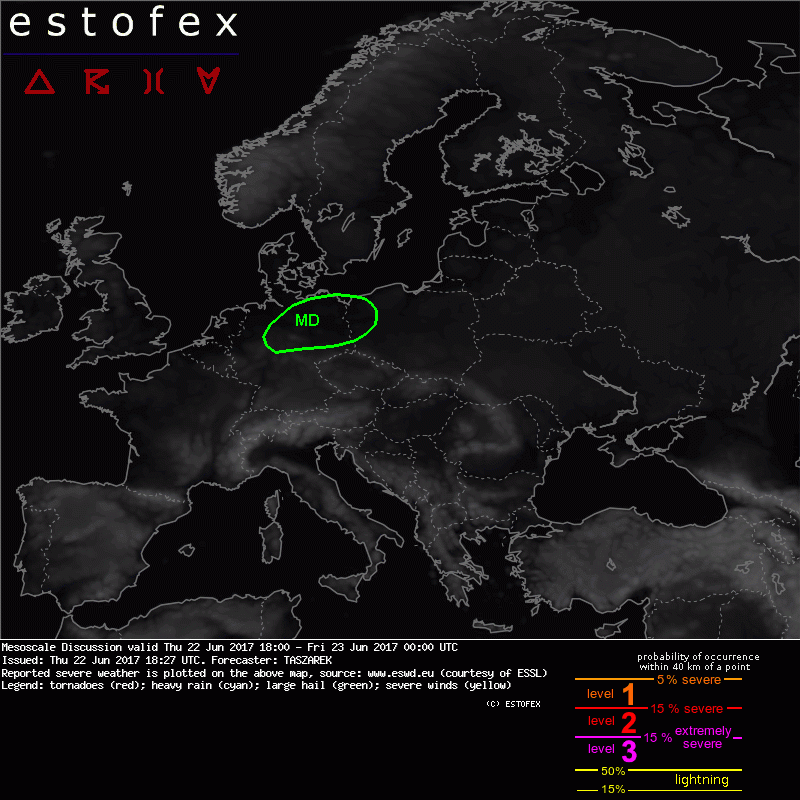 Mesoscale Discussion
Valid: Thu 22 Jun 2017 18:00 to Fri 23 Jun 2017 00:00 UTC
Issued: Thu 22 Jun 2017 18:27
Forecaster: TASZAREK
This Mesoscale Discussion was issued to highlight severe weather potential of currently moving thunderstorms in CNTRL to N Germany.

SYNOPSIS
Damaging wind gusts are possible in the following hours over N Germany and W Poland. Thunderstorms may be also capable of producing large to very large hail and tornadoes.

DISCUSSION

Current surface observations indicate a convergence zone in NW and W section of Germany with surface dew point ranging from 16 to 20. Given recen sounding profiles from Bergen and Essen this provides a decent ML CAPE ranging from 1500 to 2500 J/kg.

Surface-based storms that already developed along this convergence benefited from a strong vertical wind shear which helped them to quickly organize into supercells with a potential of producing very large hail and damaging wind gusts. Currently S winds are recorded ahead of the moving supercells that provides enhanced LL helicity and increases chances for a tornadoes in the section from Frankfurt to Hamburg. Given good kinematic environment and instability some of this supercells may be long-lived. Storms over Hamburg already organized into line with a bowing feature and potential of producing damaging winds.

Due to passage of the trough with a persistent synoptic-scale lift and strong airflow in 850-500 hPa layer it is expected that these storms will remain severe for the long time. In the following hours they will move to NE Germany and enter W Poland during nighttime hours with a possible MCS. According to NWP scenarios decent thermodynamic instability should remain over nighttime and with a QG-lift should inhibit storms from fading. It is possible that some of these storms may form a common cold pool and cluster into linear sections with a potential of producing damaging wind gusts over N Germany and W Poland.