Storm Forecast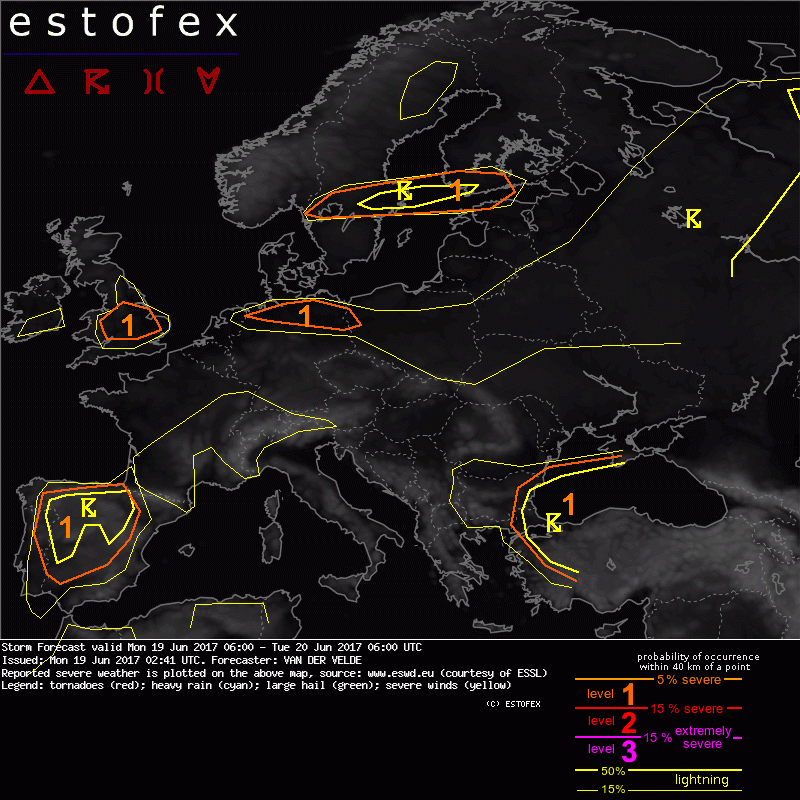 Storm Forecast
Valid: Mon 19 Jun 2017 06:00 to Tue 20 Jun 2017 06:00 UTC
Issued: Mon 19 Jun 2017 02:41
Forecaster: VAN DER VELDE
A level 1 was issued for the Iberian Peninsula mainly for isolated severe wind gusts and dry lightning.

A level 1 was issued for central Sweden to S Finland mainly for tornado chances.

A level 1 was issued for S UK and N Germany for isolated large hail chances.

A level 1 was issued for the Black Sea area mainly for excessive convective precipitation and spout-type tornadoes.


SYNOPSIS

Relatively low sea level pressure is found in France and Iberian Peninsula under the western European mid level ridge.
The Saharan Air Layer with steep low to mid level lapse rates extends over Iberian Peninsula into the Atlantic.near Ireland.
Moist BL air is found mostly over W France, S UK and N Netherlands/Germany. As a result, significant CAPE is present mainly over W France and the Iberian Peninsula. However, the air aloft is so dry that it may impede convective initiation and maintenance.
A western circulation dominates in Scandinavia and Russia. A shortwave trough passes over Sweden to southern Finland at night. Turkey, Black Sea and the southeastern Balkan are under a trough with northern flow.

DISCUSSION

...Portugal and Spain...

Very high-based convection is likely to develop again in the dry, weakly capped unstable air. A dynamical tropopause feature in GFS over Portugal can cause additional destabilization over the western part of the Peninsula. As precipitation may evaporate, draught continues and dry lightning probability remains high, continuing the high fire risk. Isolated dry microburst (severe wind gusts) may also occur..

...UK and N Germany...

Moderate 15-20 m/s 0-6 km deep layer shear from proximity to the jet stream may induce rotation in some cells that develop in a not very high CAPE environment, increasing the chances of isolated large hail. Lifting mechanisms are minimal, so initiation should be sparse and the threat marginal.

...Sweden to Finland...

The most dynamical feature on the map, a frontal wave, develops during the evening over Sweden. Modest CAPE and convective precipitation develops in the warm sector in the GFS model, which overlaps with 15 m/s 0-1 km shear under the jet stream. which suggests a tornado threat.

...Black Sea area...

Very moist airmass spins up bands of slow-moving storms around the PV anomaly which may train for long time and cause excessive precipitation and spout-type tornadoes.