Storm Forecast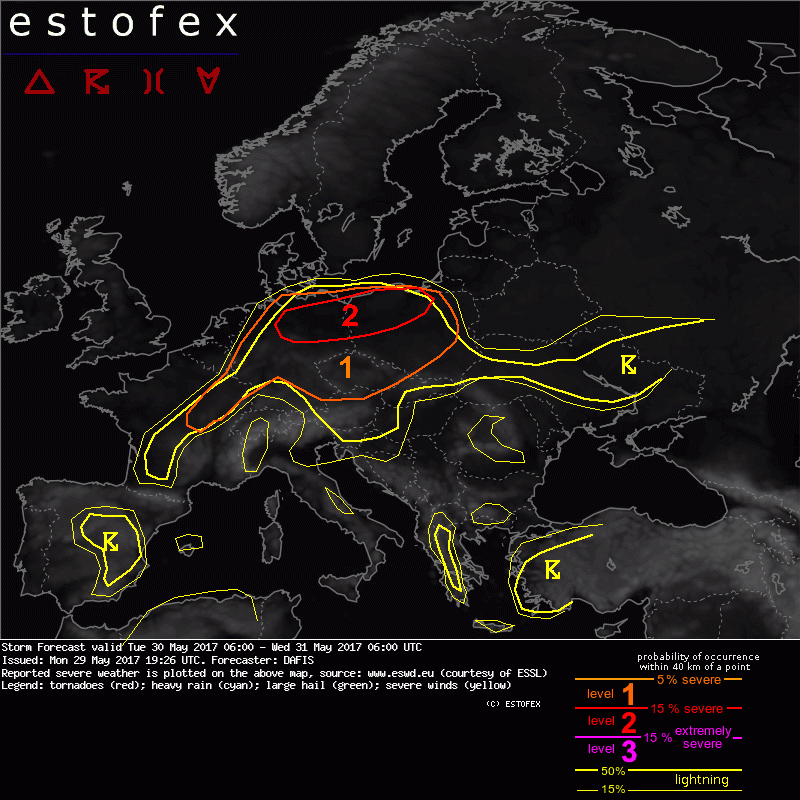 Storm Forecast
Valid: Tue 30 May 2017 06:00 to Wed 31 May 2017 06:00 UTC
Issued: Mon 29 May 2017 19:26
Forecaster: DAFIS
A level 2 was issued for Germany and Poland mainly for severe wind gusts, large hail, excessive precipitation and an isolated tornado.

A level 1 surrounds level 2 area for the same threats but with lower probability in coverage.

SYNOPSIS

As the "quasi-omega" structure over Europe struggles to prevail, several mid-level impulses from the north bring some changes to this pattern. Low geopotentials over Greece and Turkey still create steep lapse rates and several storms will continue to form during Tuesday, especially near the coasts of SW Turkey where a few excessive rainfall events may verify. Besides this threat, several waterspouts may also form in SE Aegean Sea. Two short-wave troughs, one over the UK and the other over Germany will increase the vertical wind shear, increasing the threat of severe storms over the latter area, where very humid and moist PBL is placed. At the surface a cold front is crossing France bringing fresh air masses from the Atlantic and another one resides in West Russia resulting in a LL convergence zone, provinding lift to some moist air masses. DLS remains weak over East Europe, decreasing the threat for severe thunderstorms.


DISCUSSION

.... Central Europe, Germany and Poland ....

The plume of sub-tropical air mass over the area is gradually moving eastward during Tuesday. The morning cap should not be a problem for CI after 15z as diabatic heating will provide enough lift to air masses with up to 22°C dew points according to GFS, in NE Germany and W Poland. Less moist but still unstable air masses are found also in France, Austria, Czech Rebublic, Slovakia, Hungary and Ukraine, where MLCAPE is calculated near 1.5 - 2 kJ/kg (even more by GFS). DLS is expected to be rather weak, less than 10 m/s in most areas, except from N Germany and NW Poland, where the mid/upper level vorticity lobe will bring more robust DLS values, in the range of 15-20 m/s and will create a favorable environment for storm clustering. Multicells and an isolated supercell are well possible.
Excessive precipitation threat is increased everywhere inside level 1-2 areas, mostly in France, Germany and Czech Republic, where training convection can result in flash floods. Large hail is mostly expected in E Germany, W Poland and N Czech Republic, while severe wind gusts are expected mostly inside level 2 area. Moreover, in the afternoon, LL kinematics improve for an isolated tornado risk near the borders of Poland and Germany, where dew points max out. Thunderstorm coverage should decrease after sunset but it will keep going into the night over Poland, Czech Republic and probably Austria - France.