Storm Forecast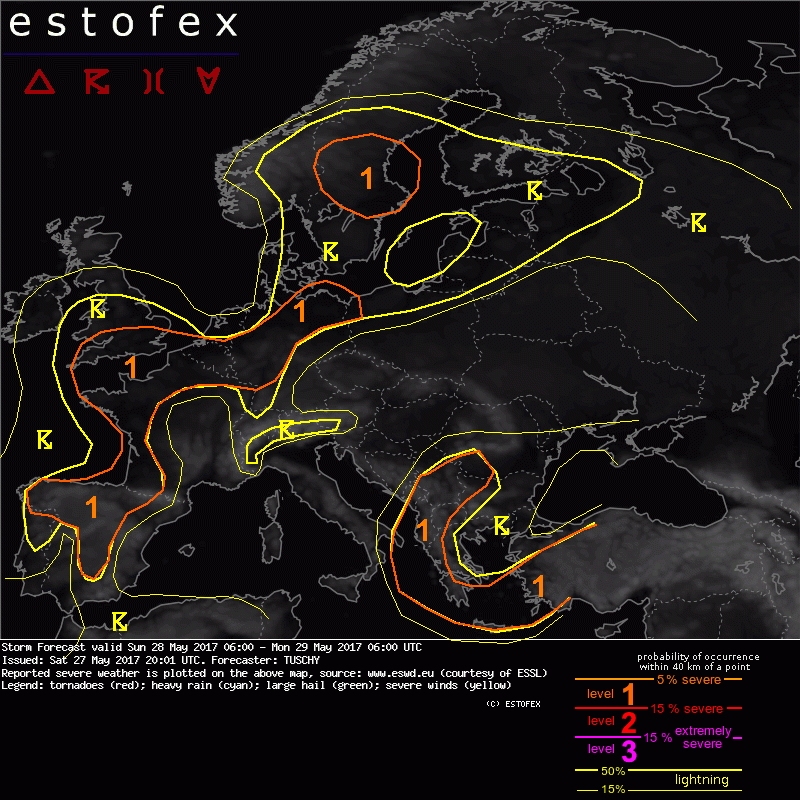 Storm Forecast
Valid: Sun 28 May 2017 06:00 to Mon 29 May 2017 06:00 UTC
Issued: Sat 27 May 2017 20:01
Forecaster: TUSCHY
A level 1 was issued for N-/W-Germany, Belgium, Luxembourg, N-France, S-UK, N-CNTRL- / NW-Spain and N-Portugal mainly for large hail, excessive rain, isolated severe wind gusts and to a lesser extent for a localized tornado threat.

A level 1 was issued for CNTRL-Sweden mainly for isolated large hail and severe wind gusts and to a lesser extent for excessive rain.

A level 1 was issued for SE-Europe mainly for isolated large hail, severe wind gusts a localized excessive rain.

SYNOPSIS

A stout ridge extends from the W-Mediterranean to CNTRL-Europe and is framed by two weakening Rossby-waves. One is centered over the far east NE-Atlantic and approaches the Bay of Biscay and Ireland while the other one is analyzed over SE Europe. The latter one is about to drop off the frontal zone but no cut off process is yet seen in model data until Monday 06 UTC.
Beside those longwave troughs, numerous more or less pronounced short-waves circle the ridge. The most prominent wave is well recognized in moisture-channel imagery. This wave is about to leave the E-North Sea to the E, crossing S-Norway/Sweden during the day and it will approach the CNTRL Baltic Sea during the evening hours. This short-wave is about to phase with another short-wave, which crosses N-Norway/Sweden during the same time-frame. Both waves evolve into a broad trough over Finland which progresses E/SE during the night.

Similar happens at lower levels, as both waves will be accompanied by surface vortices, which weaken betimes and merge into a broad LL vortex over Finland during the night. Despite a constant weakening trend of the LL pressure area over the North Sea, a frontal boundary is forecast to get pushed south towards N-France, Benelux, N-Germany and the far SE-Baltic Sea. Frontolytic processes and a re-strengthening mid/upper ridge atop (at least from France to Germany) cause this front to slow-down and become quasi-stationary within that corridor...although expexted thunderstorm activity and attendant cold pools may reinforce the frontal movement to the S/SE during the evening and overnight hours.

DISCUSSION

... NW-Spain, W- France and SW-UK ...

With the approach of a positive tilted upper trough from the W, a broad swath from Portugal to NW-France will see increasing deep layer lift and augmented mid-level winds of 20-25 m/s at 500 hPa. To pinpoint spots for CI remains a bit tough with numerous scenarios possible.

a) ... NW-France and S-UK ...

Ongoing thunderstorms from the previous night over the Bay of Biscay will start more elevated with 500-800 J/kg MUCAPE and 20 m/s DLS. Organized convection may already pose an isolated large hail threat.
Thunderstorms move to the NE and eventually onshore over NW-France during the daytime hours. There, a CAPE/shear space exists, favorable for organized DMC with 20-25 m/DLS and 800 - 1500 J/kg MLCAPE. Either expect onshore moving storms to root into the warm/moist BL air mass or expect CI onshore. Multicells/isolated supercells are possible over NW-France, which move off to the N/NE. Large hail, severe wind gusts and an isolated tornado risk is forecast with that activity. Thunderstorms weaken offshore over the English Channel with cooler LL air while crossing a sharp E-W aligned CAPE gradient. CI will be more isolated in nature, although upscale growing convection can't be ruled out with one or two clusters affecting the English Channel until sunset.

Confidence in more widespread CI increases during the night with the development of a diffuse/weak LL vortex over the W-English Channel in response to the approaching upper trough. This vortex pushes a wavy front east and a cluster of organized thunderstorms is forecast to evolve over NW-France and/or SW-UK. Forecast soundings reveal more elevated convection with MUCAPE of 1 kJ/kg and 20 m/s DLS. Also, 0-3 km shear increases to 15-20 m/s over far S-UK. Expect thunderstorms to grow upscale into a cluster of storms while crossing S-UK from WSW to ENE. Large hail will be the main risk. However, given amount of 0-3 km shear and persistent influx of moist/warm air from the S, a severe wind gust theat with a rapidly eastbound moving bowing line is possible. Weak mid-level height falls and the quasi-stationary nature of the evolving LL vortex over the W-English Channel lower the chance for a forced line of convection but indicate more of an internally organized (cold pool driven) event. Hence, the final outcome of that event depends on mesoscale impacts and nowcasting of the front's placement during the night and remains somewhat uncertain right now.

b)
... N-Spain, N-Portugal to SW-France ...

Modest BL moisture and steep mid-level lapse rates atop a quasi-stationary frontal boundary yield a CAPE/shear space supportive of organized DMC. 20-25 m/s DLS and 400-800 J/kg MLCAPE (just along the front around 1000 J/kg) indicate a good chance for organized multicells/a few supercells to erupt during the noon/afternoon hours. Similar shear conditions but with somewhat less CAPE exist towards far N-Portugal/NW-Spain, where organized multicells are possible as well. Large hail, severe wind gusts and heavy rain will be the main threat. An isolated tornado event can't be ruled out, especially along the coast of the S-Bay of Biscay. With constantly strengthening deep layer forcing, expect convection to grow upscale into a cluster of storms, which moves NE towards the SE-Bay of Biscay and SW-France. Loss of diabatic heating and increasing CIN should cause a gradual weakening trend of that cluster during the early night, although outflow-driven re-development over SW-France with 1000 J/kg MUCAPE and 20 m/s DLS may elongate the severe risk until 06 UTC on a more isolated scale.


... NE-France, Belgium, Luxembourg and N-/W-Germany ...

A leisurely southbound moving cold front becomes drapped beneath a re-strengthening mid-/upper ridge. Its placement is still uncertain and dependant on the thunderstorm activity from the previous night. However expect the front to stall somewhere within the level area. Strong confluence causes maximized moisture pooling along that boundary with mixed-layer mixing ratios in excess of 12-13 g/kg and BL dewpoints in the upper tens. Though the EML plume advects towards the area of interest, it also weakens betimes. Moderate lapse rates atop that kind of BL moisture offer 1000 - 2000 J/kg MLCAPE. Peak values are forecast over N-CNTRL France with decreasing values to the NE.

The main forcing will be the short-wave over S-Norway/Sweden, moving east and grazing far N-Germany around noon / peak heating. A combination of residual outflow boundaries from the convection of the previous night, the frontal boundary and the grazing short-wave aloft should add enough forcing for CI probably before noon. Further to the W, towards NE-France, any potential source of forcing becomes rather diffuse with more isolated CI. In general an downswing of the activity is forecast during the night as mid-level heights increase.

DLS in this area remains weak with 10 m/s or less but strengthens temporarily to 10-15 m/s towards the Baltic Sea during the passage of the wave (afternoon hours) and offers 15 m/s 0-3 km shear along the front itself.

For Beglium, Luxembourg and N-Germany, the CAPE/shear space supports strong to severe thunderstorms with a few organized multicells possible. Upscale growth into a few smaller clusters is forecast, which move to the E/SE. Large hail and excessive rain is expected with initiating and slow moving storms. A few cold pool driven clusters may be capable of producing swaths with strong to severe wind gusts. Synoptic-wise, the tornado threat should be rather low due to weak background shear, but 150 J/kg LLCAPE and potential interaction of convection with residual outflow boundaries may support an isolated tornado threat as well.

Latest guidance supports the highest risk for organized DMC over parts of Belgium and W-North Rhine Westphalia, where forecast soundings show CI with 1500-2000 J/kg MLCAPE. We thought about upgrading that part to a small level 2. However, uncertainty of where CI occurs (placement of outflow boundaries and the front itself) and potential early initiation precluded that upgrade for now. Also nocturnal passage of a wind shift adds uncertainties about air mass quality during the start of the day.

A similar threat exists over NE-France although the coverage will be less than further east. Strong CAPE offsets weak DLS and a level 1 for large hail, excessive rain and isolated severe wind gusts seems reasonable with any developing thunderstorm. The 50% lightning probability area was issued to account for a second risk of thunderstorms during the night from the W/SW.

... S-CNTRL Sweden ...

A warm /moist and unstable warm sector evolves over the area of interest during noon/afternoon. A phasing short-wave and a consolidating LL vortex approach from the W and push a cold front east during that time, scattered convective initiation is expected. DLS of 10-15 m/s and similar 0-3 km shear with 400-800 J/kg MLCAPE is enough for a few organized multicells with isolated large hail, strong to isolated severe wind gusts and a localized excessive rainfall threat. Strengthening linear forcing should support a rapid upscale growth into a cluster of storms, which moves east before weakening over the N-Baltic Sea during the night. Eastward fanning MUCAPE plume however may support embedded thunderstorms all the way to SE-Finland - by then, no severe risk is forecast.

... SE-Europe ...

Placed beneath the broad upper trough, another day with diurnal driven scattered thunderstorm activity is expected onshore during the day and offshore during the night. Weak shear precludes organized convection, so the main risk will be isolated large hail with initiation storms and locally excessive rain as thunderstorms cluster betimes. An isolated waterspout risk is possible along the coast of the E-Ionian and the Aegean Sea.

A few organized multicells are possible from Albania to SW-Romania, where 20 m/s DLS and roughly 500 J/kg MLCAPE overlap. Isolated large hail will be the main hazard.