Storm Forecast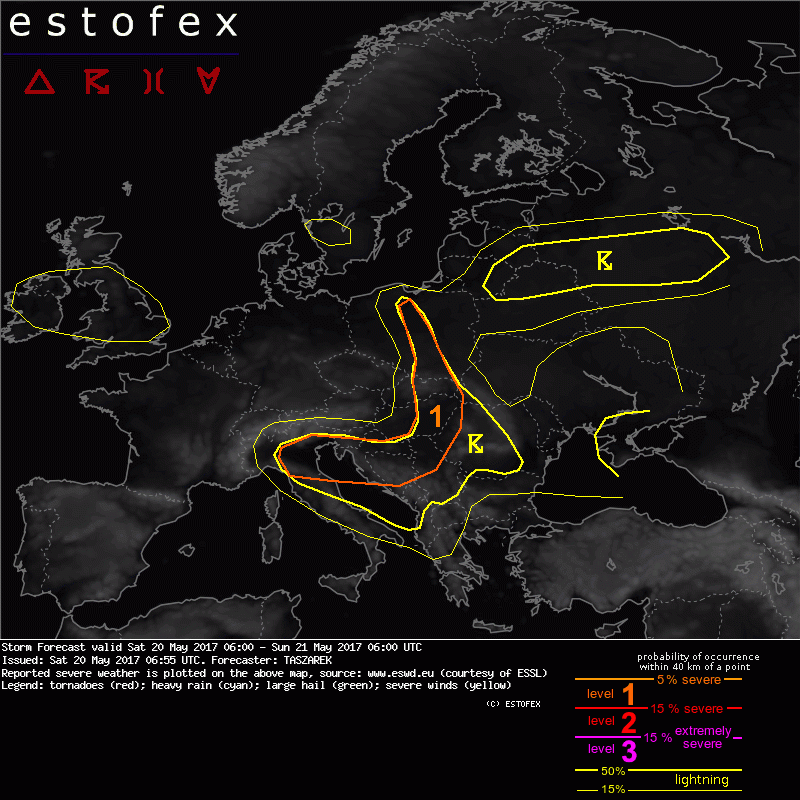 Storm Forecast
Valid: Sat 20 May 2017 06:00 to Sun 21 May 2017 06:00 UTC
Issued: Sat 20 May 2017 06:55
Forecaster: TASZAREK
A level 1 was issued for a corridor extending from N Poland, through Slovakia, Hungary, W Romania, Serbia up to Croatia and N Italy mainly for the excessive precipitation and in lesser extent for large hail and severe wind gusts.

SYNOPSIS

Europe is under influence of a shallow long-wave trough over British Isles, cut-off over Ukraine and a surface ridge covering most of SW Europe. Mid-level ridge with a warm and moist air extends from CNTRL Mediterranean up to S Scandinavia. Steep lapse rates are available over N Italy and Adriatic Sea. Rich boundary layer moisture due to evapotranspiration and moisture pooling covers corridor from N Italy, through Croatia, Hungary, Slovakia, CNTRL Poland, Lithuania, Latvia, N Belarus and parts of W Russia. Within this area along with a strong diurnal heating, a weakly sheared thunderstorm development is expected in the afternoon hours. Isolated thunderstorm activity in the cold polar airmass is also possible over British Isles within the passage of the trough, and inside the cut-off over Ukraine. Some thunderstorms are also possible in S Sweden on the edge of a ridge with a warm airmass tongue.

DISCUSSION

...corridor extending from N Poland, through Slovakia, Hungary, W Romania, Serbia up to Croatia and N Italy...

A moderate ML CAPE up to ~ 1000-1500 J/kg is developing within the strong diurnal heating enhancing low-level lapse rates and the rate of evapotranspiration. Storm should fire-up along low-level convergence zones in CNTRL Poland and Slovakia, orographic features and upper divergence over W Balkans. Given only 5-10 m/s DLS cells should develop in the form of a pulse thunderstorms clustering into weakly organized multicells. Due to very slow storm motion and an enhanced moisture profile (PW ~ 25-30), the main threat associated with this cells is a heavy rain that may locally cause flash flooding. Although storms will develop in the weakly sheared environment and lapse rates are mostly not going to be high (except N Italy), a local large hail up to 2-3cm cannot be ruled out. The same applies to severe convective wind gusts that may occur within local microburst/downbursts.