Storm Forecast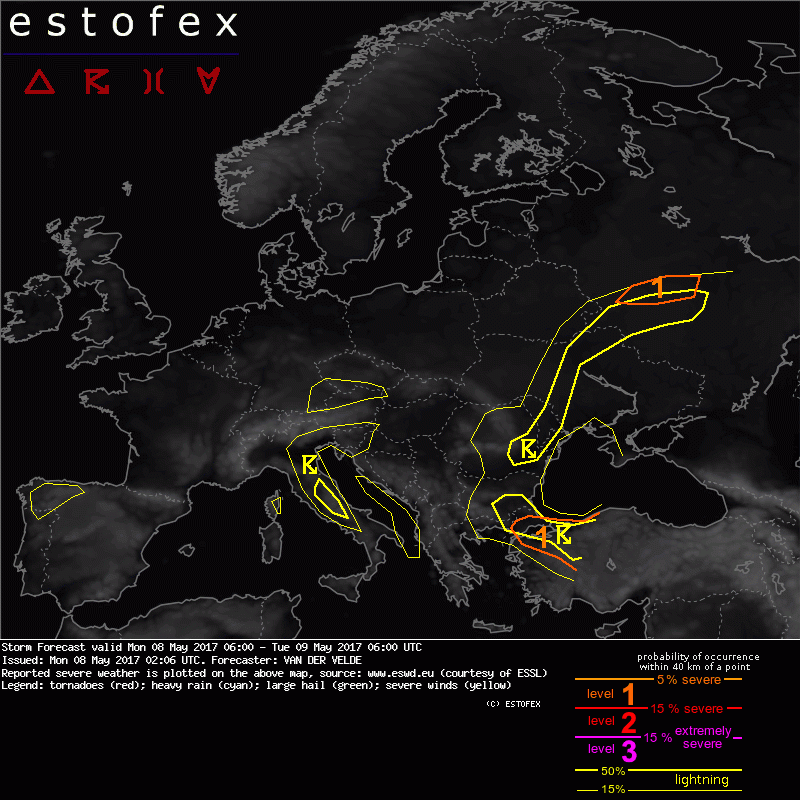 Storm Forecast
Valid: Mon 08 May 2017 06:00 to Tue 09 May 2017 06:00 UTC
Issued: Mon 08 May 2017 02:06
Forecaster: VAN DER VELDE
A level 1 was issued for an area in W Russia mainly for severe wind gusts, large hail and tornado chances.

A level 1 was issued for NW Turkey mainly for chances of severe wind gusts and tornado chances.

SYNOPSIS

Most of Europe is under the influence of a large upper trough that extends over Scandinavia into the central Mediterranean. A high is centered between Scotland and Iceland, and a prominent surface low over Ukraine and Russia. A cool northern flow at low levels results across much of Europe. Relatively warm low level air is still present over Italy and the Balkan and Turkey, as well as eastern Ukraine and adjacent Russia where a very sharp frontal zone runs through the center of the low. Two upper jets are found around the trough, one over Scandinavia into Belarus/Russia, and another rounding Italy and running over norhern Turkey. Notable upper shortwave troughs pass over central Italy and Greece/NW Turkey.

DISCUSSION

...Turkey...

GFS model predicts relatively weak MLCAPE of just 100-300 J/kg. However, the combination with an incoming shortwave trough and 30 m/s deep layer shear and strong mid level flow poses a threat of organization of convection into a linear convective system with severe wind gusts as main threat. Some enhancement of 0-3 km SREH and 0-1 km shear along N Turkey may also allow an isolated tornado to form.

...W Russia...

Weakly capped unstable air (300-700 J/kg MLCAPE) on the warm side of the front can feed a convective line over Ukraine, supported by Corfidi storm motion vectors parallel to the front. Near the occlusion over Russia, 15-25 m/s of 0-6 km shear and 15 m/s 0-1 km shear and significant helicity (>500 m2/s2 on the cold side) allow more dynamical cells with rotation if they develop on the sloping frontal surface. Large hail and a tornado is possible besides the chance of severe wind gusts.
However, besides the strong frontal boundaries, the mid/upper level forcing is weak which limits the potential of the situation.

...Bulgaria, Romania, Moldova...

Slower storm motion and absence of shear allow more precipitation-efficient storms with isolated excessive rainfall.