Storm Forecast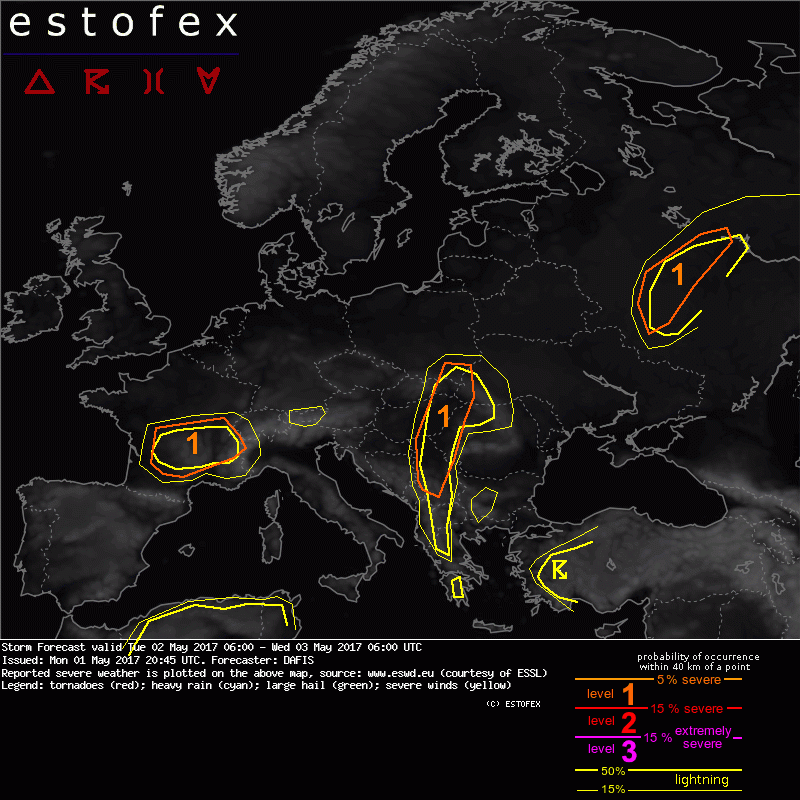 Storm Forecast
Valid: Tue 02 May 2017 06:00 to Wed 03 May 2017 06:00 UTC
Issued: Mon 01 May 2017 20:45
Forecaster: DAFIS
A level 1 was issued for France mainly for large hail and severe wind gusts.

A level 1 was issued for North Balkans mainly for excessive rainfall,large hail and severe wind gusts.

A level 1 was issued for Russia mainly for large hail, severe wind gusts and tornadoes.


SYNOPSIS

An upper-air cut off low over France - Germany and a short-wave trough in NW Russia will be the main weather features of this forecast. At the surface, frontal systems stay quite stationary, as a cold front enters Central Europe, an occlusion is found over South France and a low pressure system in NW Russia is moving NE. A dissipating cut-off low is also found in SW Turkey, where cold mid-levels lead to steep lapse rates, over moist air masses. Finally, a shortwave trough crosses Algeria and Tunisia, providing some lift and numerous thunderstorms are expected in North Africa.

DISCUSSION

.... France ....

As a jet streak is placed over southern parts of France, strong DLS is formed, overlapping with some hundreds of CAPE during the afternoon. Storms can be get organized into multicells, producing large hail and severe wind gusts. Nevertheless, hail should not exceed 2cm in diameter as high resolution models based on GFS latest runs, suggest the development of about 800-1000 J/kg.

.... North Balkans .....

Warm and moist air masses are stored in this part of the continent. Diurnally driven convection will produce numerous storms in this area, but DLS is only locally expected to exceed 10-15 m/s. The main threat will be excessive rainfall during slowly moving clusters, in Serbia and Hungary. Steep lapse rates over NW Romania create a favorable environment for large hail formation and severe wind gusts.

.... Russia ....

The vigorous low pressure system and its fronts will gradually move NE during Tuesday, but they will have plenty of time to provide lift to warm and moist LL air masses. An enlongated convergence line in NWP models is placed where level 1 is indicated on the map, below steep lapse rates and DLS in the range of 10-15 m/s. LLS and curved hodographs increase the probability of rotation of these storms, so tornadoes cannot be ruled out.