Storm Forecast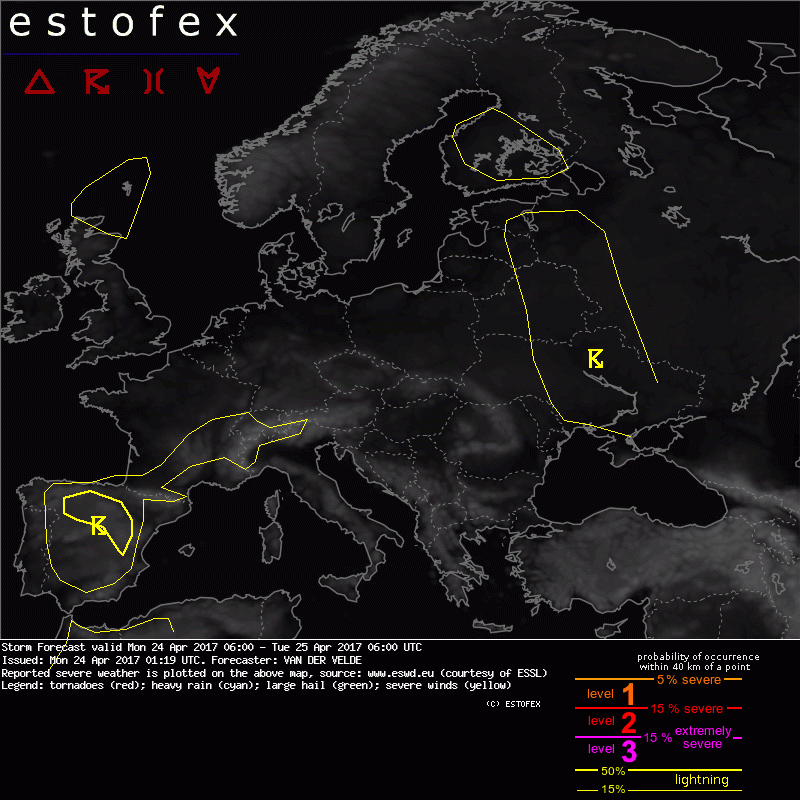 Storm Forecast
Valid: Mon 24 Apr 2017 06:00 to Tue 25 Apr 2017 06:00 UTC
Issued: Mon 24 Apr 2017 01:19
Forecaster: VAN DER VELDE
No threat levels are issued.

SYNOPSIS

A strong depression over southern Scandinavia steers cold air over the North Sea into central Europe, with a sharp cold front/wave moving into the European mainland during the evening. However, it should pass without convection. A trough in the cold air mass can trigger thundery convection near Scotland. To the east of the Scandinavian low, steep low to mid level lapse rates are left in the wake of a trough over Russia, with chances of thunder over a large area from modest, weakly capped instability with low available moisture.
Slight 300 J/kg MLCAPE builds in the warmer air over the Iberian Peninsula and isolated parts of France and Alps, with poor lifting except for a general thermal low effect over Spain combined with weak lifting from a slight upper trough passing. The LCLs are high at 1500-2000m. Deep layer shear will mostly remain below 10 m/s and while hail size <1.5 cm is possible, severe weather is unlikely.