Storm Forecast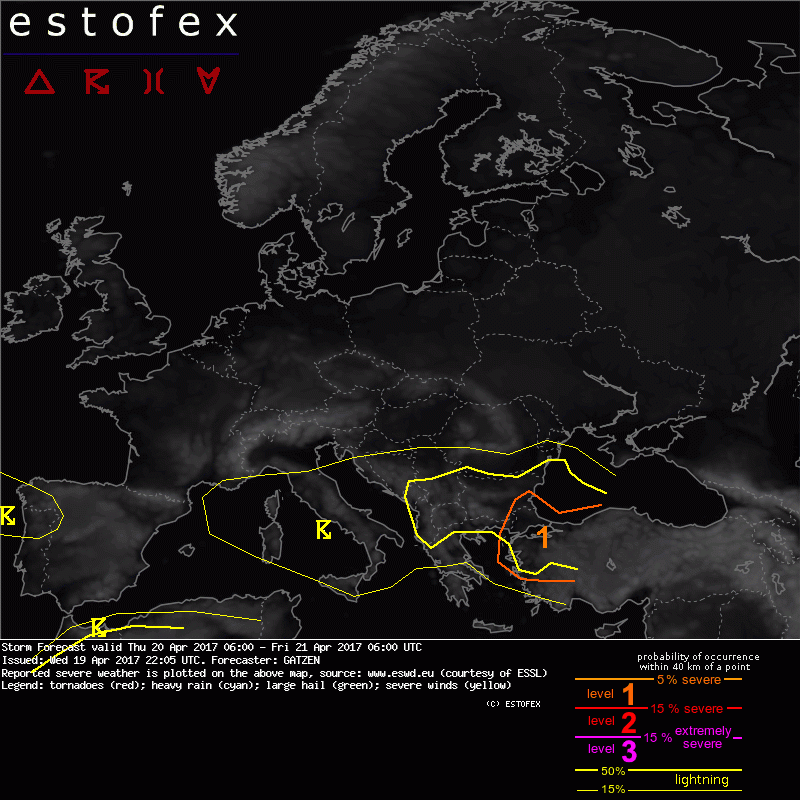 Storm Forecast
Valid: Thu 20 Apr 2017 06:00 to Fri 21 Apr 2017 06:00 UTC
Issued: Wed 19 Apr 2017 22:05
Forecaster: GATZEN
A level 1 was issued for western, northern, and central Turkey mainly for large hail and severe wind gusts and to a lesser extent tornadoes.

A level 1 was issued for east Bulgaria mainly for large hail and severe wind gusts and to a lesser extent tornadoes.

SYNOPSIS

Unseasonably cold air has spread into the Alpine region and north Mediterranean where an intense trough is centred. At its southern periphery, a strong mid-level jet extends across the south Mediterranean into Greece and Turkey. Ridging affects western Europe and expands further into Central Europe during the day. To the north, a new polar trough enters Scandinavia. Dry air masses have spread into the forecast region. Main exception is moist air over the southern and eastern Mediterranean that also advects into the Black Sea region. Dry air advection will push this moisture south-east during the day. Furthermore, some moisture is remaining over western Iberia before also pushed west by the dry European air masses. Due to steep lapse rates, CAPE is forecast especially from the Aegean to Turkey and over Portugal. But there are also chances for some storms further north within the cold air masses during the day.

DISCUSSION

Western and northern Turkey into east Bulgaria

A very strong jet streak points towards the Aegean and later into Turkey from the west. Mid-level winds will reach almost 50 m/s. A low-level south-westerly jet moves from the Aegean eastward into Turkey during the day, providing warm air advection and strong vertical wind shear. Some enhanced low-level moisture has been advected into the Aegean with southerly winds that overlaps with steep lapse rates resulting in a few 100s J/kg MLCAPE over the Aegean and later on over Turkey. Forcing is provided by low-level convergence and upslope flow as well as ahead of a cold front moving south-east during the day.

Thunderstorms are expected to develop over the western Turkish coasts that will spread east into northern and central Turkey during the day. Further storms are expected over east Bulgaria and surroundings. Strong vertical wind shear exceeding 15 m/s in the lowest 3 km and 30 m/s in the lowest 6 km will support rapid storm organization. Multicell clusters are expected to be dominant in the northern part of the risk region given limited low-level SRH, however, further south, convection will be more isolated and with favourably veering profiles, supercells are forecast.

Given the potential of some supercells, severe weather is forecast. Some large hail reports are possible as well as severe wind gusts. 10 m/s 0-1 km vertical wind shear also indicates some tornado risk. Main limiting factor is the limited moisture so that a level 1 seems to be appropriate due to the weak CAPE. Convective activity will spread further east during the period and dry air advection from the west will cause rapid decay of remaining storms.