Storm Forecast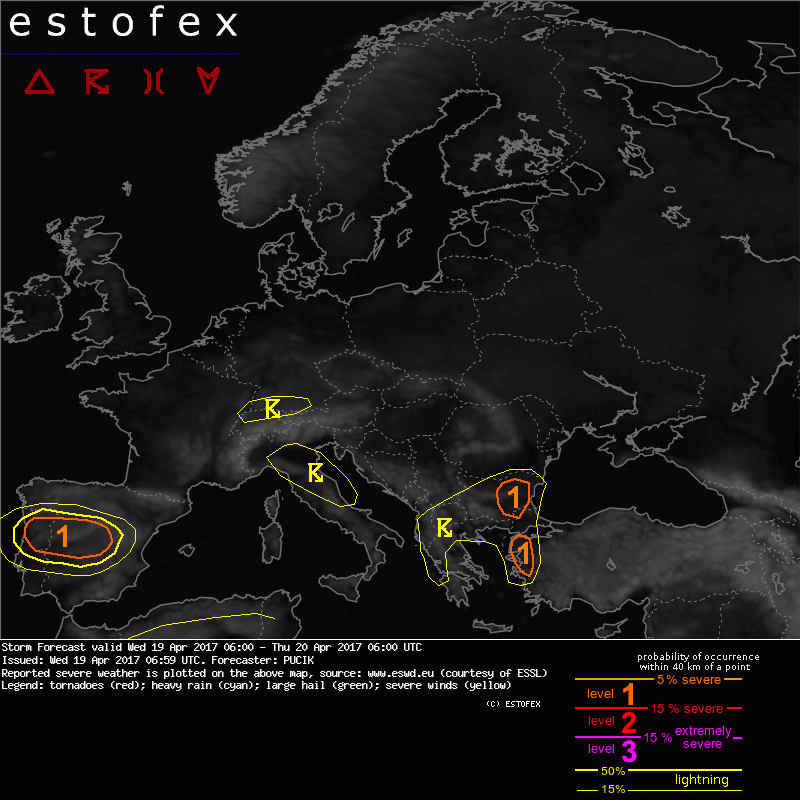 Storm Forecast
Valid: Wed 19 Apr 2017 06:00 to Thu 20 Apr 2017 06:00 UTC
Issued: Wed 19 Apr 2017 06:59
Forecaster: PUCIK
A level 1 was issued for N half of Portugal and parts of W Spain mainly for large hail and severe wind gusts.

A level 1 was issued for E Bulgaria and NW Turkey mainly for severe wind gusts and marginally large hail.

SYNOPSIS

An unseasonably deep trough is stretching from E Scandinavia and NW Russia into Central Europe with its base slowly amplifying and moving towards SE Europe. Trough is filled with very cold, arctic airmass, characterized by temperatures at 850 hPa between -5 and -12 deg C. Near the base of the trough, a jet stream is located. In its cyclonically curved exit region, surface cyclogenesis is simulated to occur over E Hungary with attendant widespread stratiform precipitation shield. Relatively meager low level moisture will likely inhibit any more pronounced tstm threat apart from a few areas in the CAA regime with very steep lapse rates (northern Alpine rim, Italy). Better low-level moisture is observed over the parts of SE Europe, ahead of an advancing cold front. Another area of interest will be Iberia, where a WAA is occuring ahead of the cold front advancing from NE. Just offshore of Portugal and NW Spain, a low at both mid and lower troposphere is located.

DISCUSSION

... Portugal to W Spain ...

Models hint on a tongue of moist airmass stretching from Portugal towards Central Spain, underneath a plume of steep lapse rates. This, in combination with surface heating, may yield MLCAPE values between 500 and 1200 J/kg. However, it is difficult to confirm the presence of this tongue of moist airmass in the surface observations, which yields an uncertainty in the forecast. Current satellite imagery reveals a stratiform rain shield with embedded thunderstorms, likely a result of a WAA regime in the lower troposphere. Convective initiation is expected south of this system and then ahead of the advancing cold front from NE. Isolated to scattered thunderstorms are expected. With the E-ly surface flow of around 5 m/s and W-ly flow at the mid-troposphere reaching 10 - 20 m/s, moderate to strong DLS will organize thunderstorms in long lived multi- or supercells. Primary threat will be large hail, given supercells as convective mode and steep lapse rates. Severe wind gusts may occur as well.

... Bulgaria, NW Turkey coastline ...

Only marginal latent instability is forecast to develop ahead of the advancing cold front owing to the lack of steep lapse rates and more abundant moisture. With strong background wind field providing for DLS above 20 m/s, any developing thunderstorm would have potential to become well organized with threats of marginally large hail and severe wind gusts. Questionable degree of coverage and of degree of instability introduce uncertainty in this forecast, but small Lvl 1 areas were introduced for the regions with the highest suspected threat. Regarding Turkish Lvl 1, a tornado may occur in case of supercellular convective mode as SRH increases to 300 m2/s2 towards the night along the coastline partly in response to a surface cyclogenesis over the Aegean Sea.