Storm Forecast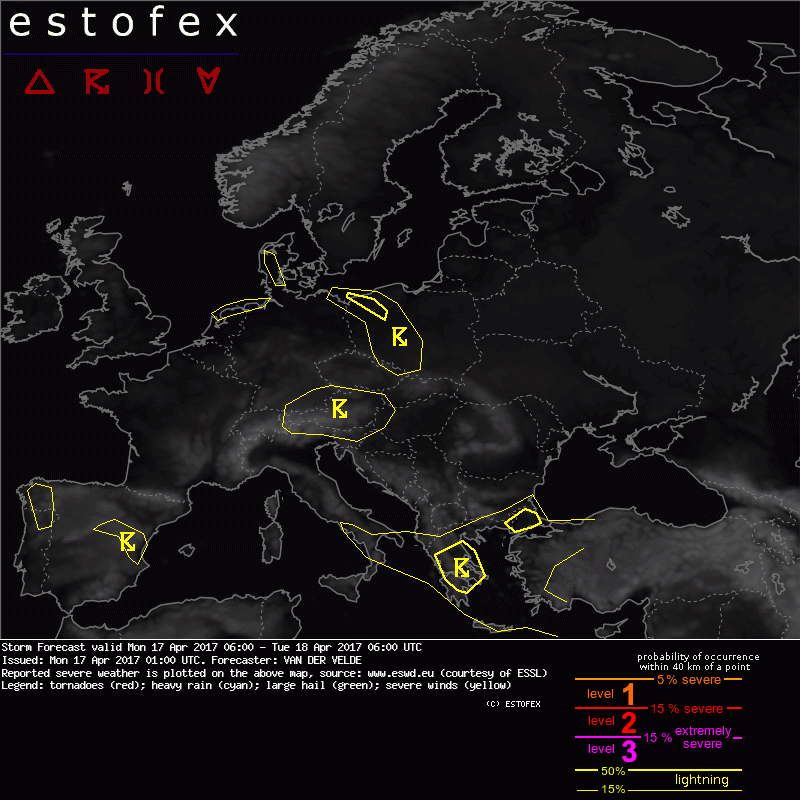 Storm Forecast
Valid: Mon 17 Apr 2017 06:00 to Tue 18 Apr 2017 06:00 UTC
Issued: Mon 17 Apr 2017 01:00
Forecaster: VAN DER VELDE
No threat levels were issued.

SYNOPSIS / DISCUSSION

A broad trough over central/eastern Europe advects cold upper air in a northwesterly flow between Iceland and the Balkan, bounded by the jet stream. Low levels are slightly warm over the Alpine region, with slightly unstable profiles as result. A disturbance developing in the left exit region of the jet over southern Germany can generate low level convergence and may trigger convection, also over Austria and perhaps just south of the Alps with better near-surface conditions, but marginal 50-150 J/kg MLCAPE (GFS model) does not suggest long-lived or powerful updrafts to proft from the 20-40 m/s deep layer shear, and even 400 m2/s2 of SREH over eastern Austria at 18Z, well beyond optimal heating time.

Chances for a spout-type tornado are present over NW Poland and NE Germany where a stationary convergence/vorticity area is present near the center of the low, with slow-moving convection and steep lapse rates into the mid levels. Another shortwave trough will come down the North Sea with convection and reach N Netherlands by approx. 21Z.

Warmer and more unstable is the Aegean area, where an important shortwave trough and surface low cause ample destabilization (500 J/kg MLCAPE) and triggering for widespread convection. However, low amount of vertical wind shear keeps threats of severe weather low.