Storm Forecast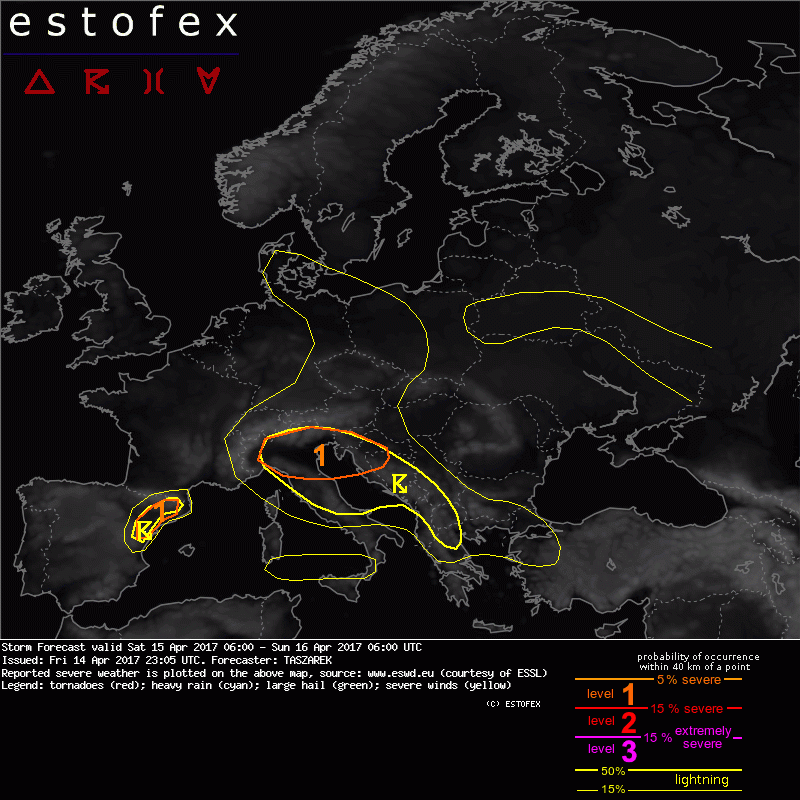 Storm Forecast
Valid: Sat 15 Apr 2017 06:00 to Sun 16 Apr 2017 06:00 UTC
Issued: Fri 14 Apr 2017 23:05
Forecaster: TASZAREK
A level 1 was issued for NE Spain mainly for the large hail, severe wind gusts and excessive precipitation.

A level 1 was issued for N Italy, and parts of Slovenia and Croatia mainly for the risk of large hail and excessive precipitation.

SYNOPSIS and DISCUSSION

Azores High overspreads over British Isles, France and Bay of Biscay. Blurred 1005-1010 hPa pressure field with low horizontal gradient overspreads S, SE and E Europe. Mid-level jet stream stretches from British Isles, through Benelux, Germany, Poland and Ukraine. An enhanced mid-level flow is also available over NE Spain. Scandinavia remains under cold arctic airmass. A wave passes through Benelux, N Germany and NW Poland during forecast period.

...CNTRL Europe...

Low-topped convection with a marginal potential for lightning is possible at the cold front and in the cold sector behind it over Denmark, E Germany, W Poland and Czech Republic. Although low-level flow is enhanced, these storms have a low severe weather potential (isolated wind gusts up to 20-25 m/s and graupel), mainly due to marginal instability. Given inconsistent NWP model scenarios regarding CI and parcel layer depth this area may have a lightning probability below 15%.

...N Italy, W Balkan Peninsula...

Convection with a higher lightning potential is possible over CNTRL Mediterranean area including Italy and W edge of Balkan Peninsula. Enhanced lapse rates up to 7 K/km overlap with 6-7 g/kg mixing ratios and result in a CAPE up to 400-600 J/kg. These storms initiate thanks to western PVA, orographic lift and local convergence zones, but due to weak vertical wind shear, have a low severe weather potential. Weak storm motion may however results in a few local excessive precipitation events, especially in the mountain areas. Low 0C isotherm elevation, enhanced lapse rates and 15 m/s of shear that may be locally available for the convective cells may result in an event with a hail up to 2-3cm. The overall severe weather threat in this area seems to be rather low and bordering level 0 and 1.

...NE Spain...

Similar situation takes place in NE Spain where within a passage of a shortwave trough, a pockets of enhanced low-level moisture and 7.5 K/km lapse rates produces CAPE up to 300-600 J/kg. Within the overlap of 20-25 m/s DLS and 10 m/s MLS, cells forming in this environment may evolve into low-topped supercells capable of producing large hail up to 2-3cm and marginally severe wind gusts. Some of the NWP model scenarios simulate also a possible excessive precipitation event in extreme SE Spain. However, similar as with CNTRL European storms, NWP model scenarios are inconsistent regarding CI and parcel layer depth.