Storm Forecast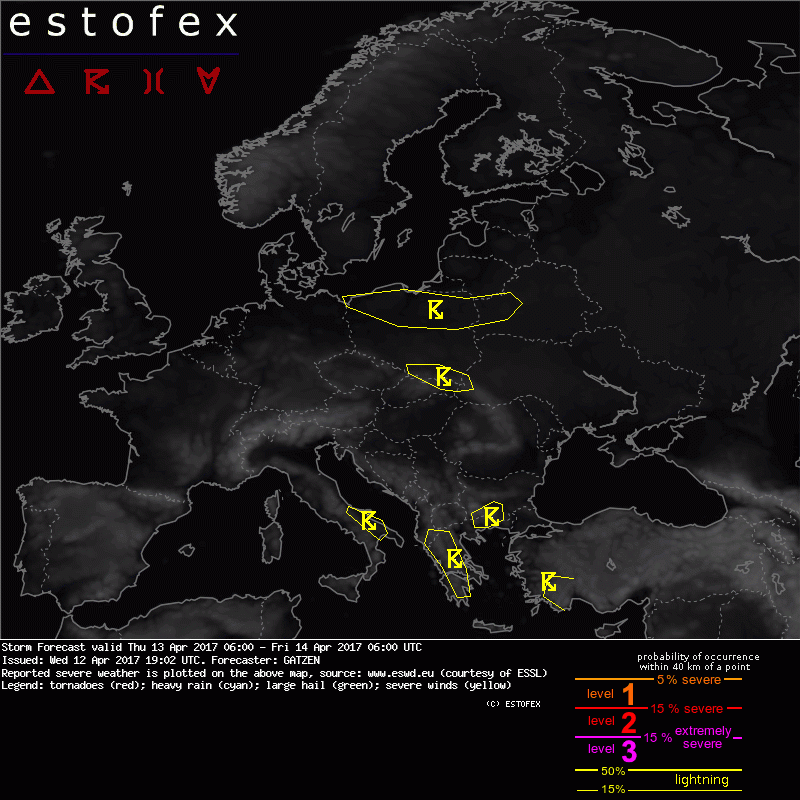 Storm Forecast
Valid: Thu 13 Apr 2017 06:00 to Fri 14 Apr 2017 06:00 UTC
Issued: Wed 12 Apr 2017 19:02
Forecaster: GATZEN
SYNOPSIS / DISCUSSION

In the wake of low geopotential extending from Scandinavia towards south-east Europe, a north-westerly flow affects the forecast region. Cold and dry air masses have spread over most of Europe, limiting storm potential.

Some low chances exist across southern Italy and the southern Balkans and Greece. On Tuesday, numerous storms have formed over this area that was affected by a weak upper trough and cold mid-level air masses. Although lapse rates are decreasing from the north as the trough moves south-east, and cold air advection will be present at low levels on Thursday, a few storms could form supported by the land-sea breeze convergence. Storms are expected to be weak given unfavourable vertical wind shear and weak forcing.

A few storms are also not completely ruled out across northern Spain. However, strong capping inversion will be present and initiation indicated by latest GFS is questionable. Again, weak vertical wind shear is expected and storms that may develop are forecast to be short-lived and weak.

Finally, a mid-level polar trough moves across central Europe and the northern Balkans. It will provide cold mid-level air and associated steepening lapse rates in response to diurnal heating. Showers are forecast. Warm EL temperatures in the southern portions due to mid-level sinking on the anticyclonically sheared flank of the mid-level jet suppress thunderstorms over the northern Balkans. Further north, EL will be much colder and some thunderstorms could form. Best potential and highest coverage is forecast over northern Poland, where weak vertical wind shear will limit storm organization. Stronger vertical wind shear (around 15 m/s in the lowest 3 km) is forecast in the frontal zone of a cold front that moves into northern Italy and the northern Balkans during the day. But given large-scale sinking, limited low-level moisture and lapse rates, thunderstorm chances are pretty weak here.