Storm Forecast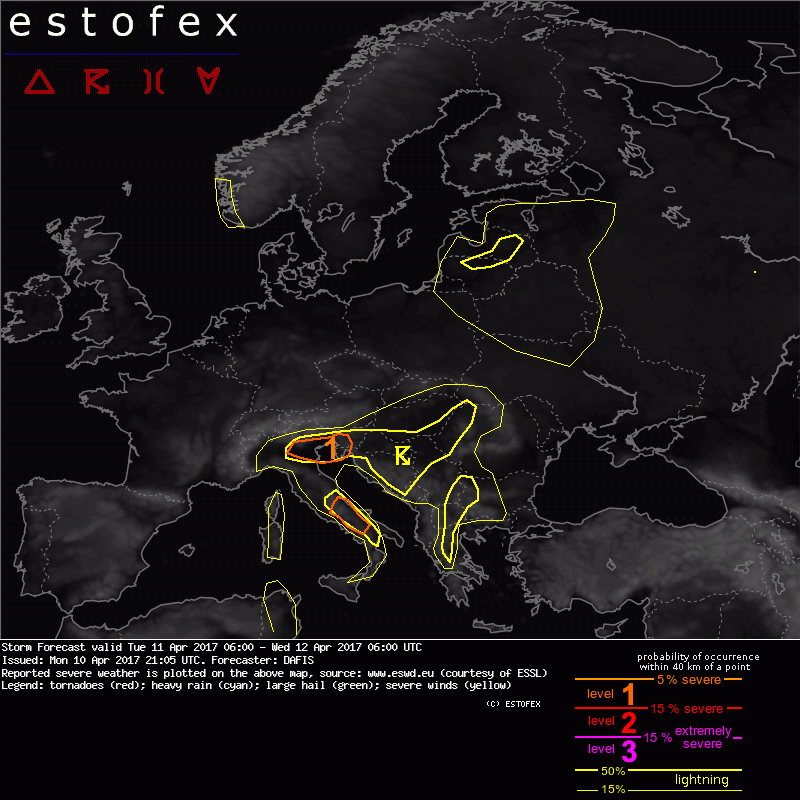 Storm Forecast
Valid: Tue 11 Apr 2017 06:00 to Wed 12 Apr 2017 06:00 UTC
Issued: Mon 10 Apr 2017 21:05
Forecaster: DAFIS
A level 1 was issued for N Italy, Slovenia and W Croatia mainly for excessive precipitation.

A level 1 was issued for C Italy mainly for large amounts of small hail.

SYNOPSIS

Low geopotentials are found above most of the European domain but the lack of moist air masses and vertical shear preclude severe phenomena. Exceptions include the two level 1 areas, and Baltic States. The low pressure system over Scandinavia will gradually move towards Russia during Tuesday and the elongated cold front makes a stall. Sporadic lightning activity can occur in the Baltic States, Belarus and Ukraine, within this very cold air mass, with some severe wind gusts.


DISCUSSION

.... N Italy, Slovenia and W Croatia ....

Even though NWP models predict both weak CAPE and vertical wind shear, air masses with high theta-e values are expected to reach inland parts of these countries from the south, Adriatic Sea. The mid-level flow seems also weak, so storms may stall for several hours, causing locally flash floods. Updrafts are expected to be weak and large hail is not forecast, only excessive rainfall as GFS calculates the effective PW up to 20mm.

.... Central Italy ....

NWP models, especially high resolution ones, forecast diurnally driven convection, where we have the overlap of steep mid-level lapse rates and SBCAPE up to 1500 J/kg (maybe less in reality but more than 1000 J/kg). Elevated areas are expected to experience small hail, locally in high amounts as the FRZ level is about 2.500m only and PW 15-20 mm.