Storm Forecast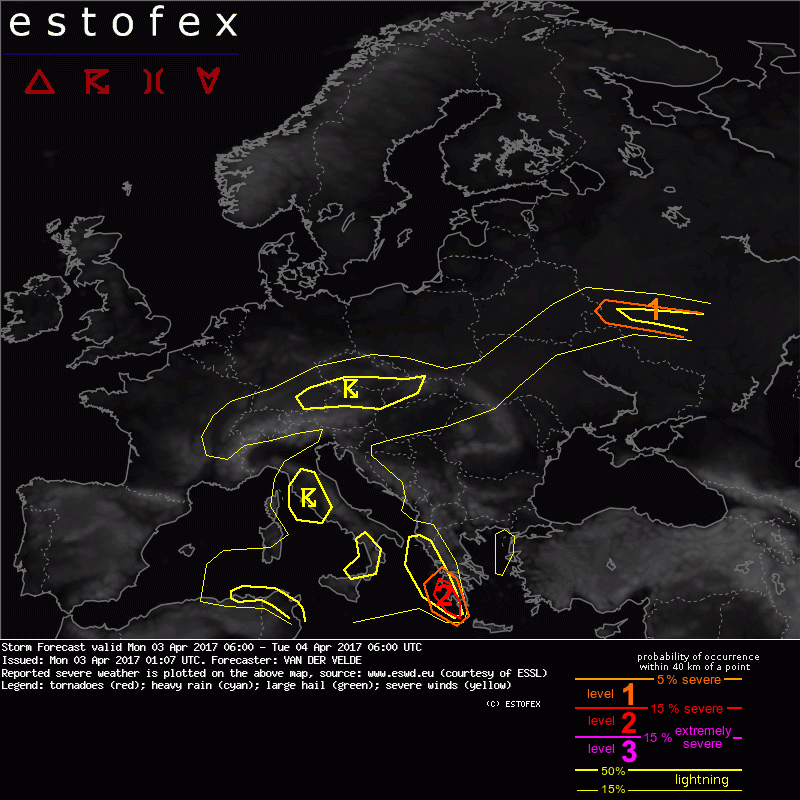 Storm Forecast
Valid: Mon 03 Apr 2017 06:00 to Tue 04 Apr 2017 06:00 UTC
Issued: Mon 03 Apr 2017 01:07
Forecaster: VAN DER VELDE
A level 2 was issued for the SW coast of Greece mainly for tornado and large hail chances.

A level 1 was issued for a region in W Russia mainly for isolated large hail and tornado chance.

SYNOPSIS

A low pressure system filled with cold air in the mid/upper levels moved into the central Mediterranean area, producing scattered areas o showers and thunderstorms. Its cold front with active thunderstorms will affect the Balkan coast during the morning. A small mid level trough is active over Germany/Czech Republic with modest CAPE north of the Alps. Another low lies over western Russia with a frontal wave where convection could develop.

DISCUSSION

...southern Greece...

The cold font is crossed by a strong jet stream which produces 30-35 m/s 0-6 km shear magnitudes. GFS hodographs show ample veering with height and 300-500 m2/s2 of 0-3 km SREH results, providing favourable conditions for supercells or embedded mesocyclones in case of linear convection. Large hail is possible as well as tornadoes since 0-1 km shear also is enhanced over 12 m/s.

...western Russia...

Modest instability in the warm sector and 15 m/s 0-6 km shear with marginal 7-10 m/s 0-1 km shear could perhaps produce some rotating updrafts with large hail or isolated tornado.

...Italy...

Small hail may accumulate under storms over elevated locations.