Storm Forecast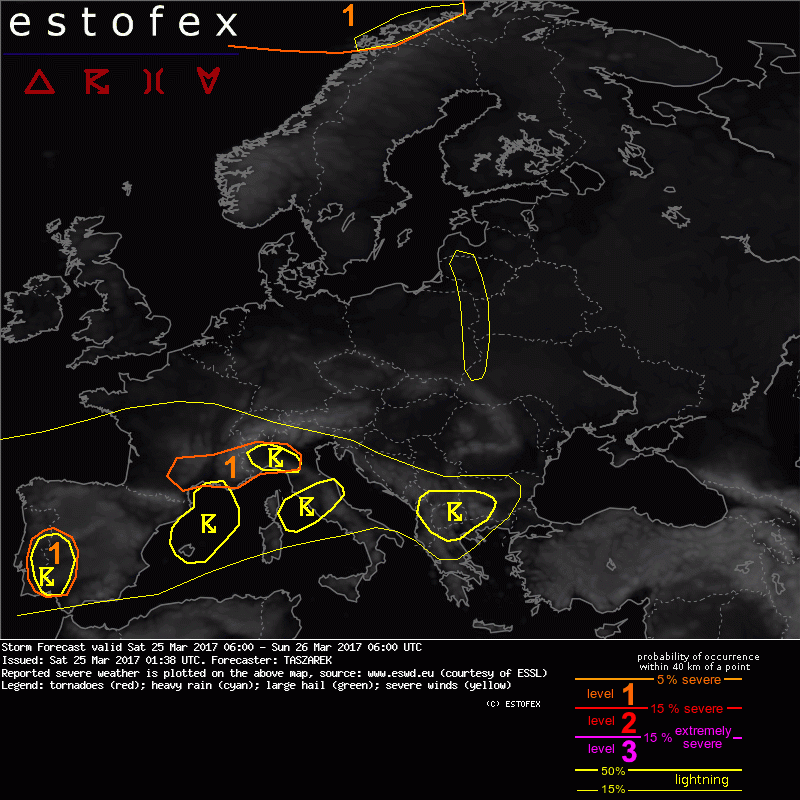 Storm Forecast
Valid: Sat 25 Mar 2017 06:00 to Sun 26 Mar 2017 06:00 UTC
Issued: Sat 25 Mar 2017 01:38
Forecaster: TASZAREK
A level 1 was issued for S Portugal and SW Spain mainly for large hail and severe wind gusts, and in lesser extent for tornadoes.

A level 1 was issued for S France mainly for severe wind gusts.

A level 1 was issued for NW Italy and SE France mainly for excessive precipitation.

A level 1 was issued for N Norway mainly for severe wind gusts.

SYNOPSIS and DISCUSSION

Broad splitting cut-off dominates over SW Europe and stretches from Azores up to Balearic Islands. Blocking high pressure system is located over British Isles. Shallow ridge plunges from Africa into E Mediterranean. Broad long-wave covers NE Europe including Baltic Countries, Finland and Russia. NWP models predict cyclogenesis over Finland and its southern movement into Ukraine with occasional lightning on its western flank. Jet streak extends from Norway through Poland up to Romania. Strong winds with high shear values entwine trough over SW Europe. Broad area of mixing ratios exceeding 7 g/kg cover most of the S Europe and overlap with steep lapse rates over S Portugal, SW Spain, W Mediterranean and S Balkans.

...S Portugal, SW Spain...

Western part of the splitting cut-off provides favourable overlap of > 7 K/km lapse rates and QG-lift on its SE flank. Within southerly low-level advection of 7-8 g/kg mixing ratios CAPE up to 300-600 J/kg builds up next to the centre of the low . Developing thunderstorms in the environment of 15-20 m/s DLS are expected by NWP models in the afternoon hours. Convection is likely to transform into multicell clusters and few supercells capable of producing severe wind gusts and large hail (given steep lapse rates). Lobes of enhanced LLS (7-8 m/s) with moderately favourable vertical veering wind profile (0-1km SRH > 100 m2/s2) also cannot rule out tornado risk.


...S France, NW Italy...

Another area with possible severe thunderstorms is associated with eastern part of the splitting cut-off over W Mediterranean. Within persistent synoptic-scale lift on its SE and E flank convection develops in the environment of > 7.5 K/km lapse rates and 5-6 g/kg mixing ratios. Resulting CAPE up to 600-800 J/kg is limited mostly to the marine areas with values dropping down to 200-400 J/kg over land surface. Given ~15 m/s MLS and marginal instability, a low-topped convection capable of producing marginally severe wind gusts may develop in the early morning hours over S France. Later on, convection and a cold front shifts into W Alps and NW Italy where superimposing orographic large-scale and convective precipitation pose a risk of excessive rain.

...N Norway...

Severe wind gusts associated with low-level jet (~ 30 m/s at 850 hPa) and shallow weak convection (CAPE ~ 100 J/kg) are expected within the passage of the shortwave trough with thin warm sector (5-6 g/kg mixing ratios) in the evening and nighttime hours. Thanks to orographic lift, low elevation of -10C isotherm, and impressive synoptic-scale lift inducing vertical stretching, occasional lightning cannot be ruled out.