Storm Forecast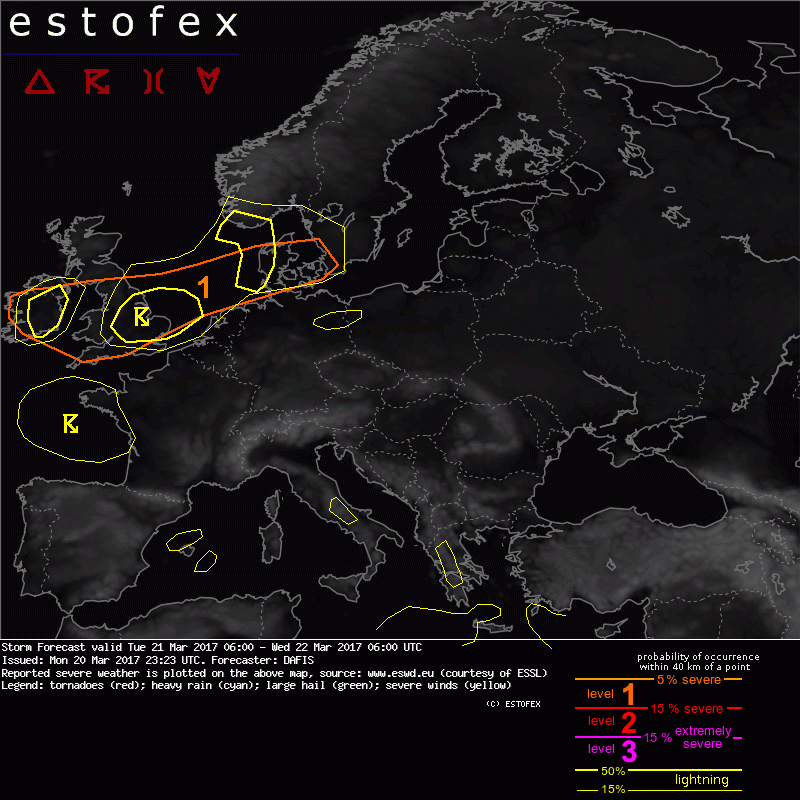 Storm Forecast
Valid: Tue 21 Mar 2017 06:00 to Wed 22 Mar 2017 06:00 UTC
Issued: Mon 20 Mar 2017 23:23
Forecaster: DAFIS
A level 1 was issued for UK, Ireland and Denmark mainly for severe wind gusts.

SYNOPSIS / DISCUSSION

A long-wave trough is approaching from NE Atlantic with several embedded short-wave troughs. At the left exit of a mid-level jet streak some hundreds of CAPE will form. Several clusters of stroms are expected between Ireland, North Sea and extreme SW Scandinavia during Tuesday and early morning of Wednesday.

The level 1 denotes the area where severe convective wind gusts may pose a threat, as low level wind field has speeds around 15-20 m/s. Furthermore, dry PBL and high delta theta-e values increase the probability of severe convective wind gusts. Activity will fade during the night around North Sea and new storms will form in the gulf of Biscay as the depression near the surface moves further to the south. A dry intrusion is visible in the forecast maps around midnight tomorrow above SW England, but NWP models forecast low CAPE values for convective events, but we cannot exclude some severe wind gusts also during the night.

In the Mediterranean basin, a cut-off low moves eastwards and several pulsating storms are expected. Modest values of mixing ratio but lack of CAPE built-up and weak DLS, exclude any severe weather event.