Storm Forecast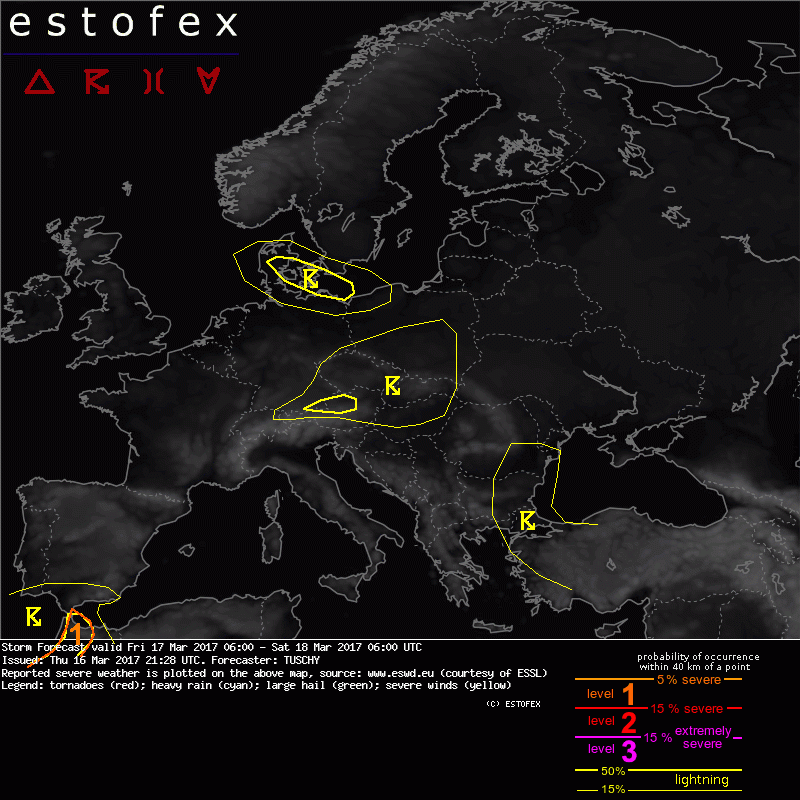 Storm Forecast
Valid: Fri 17 Mar 2017 06:00 to Sat 18 Mar 2017 06:00 UTC
Issued: Thu 16 Mar 2017 21:28
Forecaster: TUSCHY
A level 1 was issued for N-Morocco mainly for large hail and excessive rain.

SYNOPSIS

A sharp upper level trough over the North Sea advances rapidly to the SE during the forecast and acquires a negative tilt. This trough is accompanied by two gradually occluding frontal systems over E-CNTRL Europe. The trough and the fronts both result in temporal foci for thunderstorm development. An upper trough continues to impact most of N-Morocco with scattered showers/thunderstorms.


DISCUSSION

... Parts of Germany, Denmark, Poland, the Czech Republic and Austria all the way to N-Hungary ...

Numerous regions with a thunderstorm risk exist. One is centered over Denmark/far NE-Germany between noon and sunset. Cold mid-levels combined with diurnal diabatic heating cause scattered thunderstorms with graupel and gusty winds. In case of temporal line ups of showers/thunderstorms along mesoscale convergence zones, the wind gust threat may be temporarily enhanced.

During the afternoon hours, SE-ward rushing cold front ahead of the sharp upper trough may see enough dynamical input beneath the left exit region of a strong mid-level jet to compensate meager prefrontal CAPE build-up. Isolated thunderstorms evolve over the Czech Republic and SW-Poland. This activity advances rapidly to the SE. Overall the main risk will be graupel and gusty winds, but in case of a few deeper and lined-up updrafts, a severe wind gust or two can't be ruled out. The risk of isolated thunderstorms continues all the way to N-Hungary although the coverage becomes quite isolated.

Finally, a few thunderstorms may evolve along the CNTRL/E-Alps and far SE Bavaria during the late afternoon/evening. A mid-/high-level vorticity lobe interacts with the Alpine regions and enhanced BL moisture. This BL moisture results out of enhanced prefrontal westerlies, channeled between the surface front and the Alps. Adequate MLCAPE build-up for a few stronger updrafts is forecast. DLS in excess of 20 m/s would favor organized convection and we can't exclude one or two more organized storms around peak heating before CAPE vanishes. Isolated hail and gusty winds are forecast but the risk does not justify a level 1.

... N-Morocco ...

Rich BL moisture beneath steep mid-level lapse rates offers 500-1000 J/kg MLCAPE. 10-15 m/s DLS affects the CAPE plume and thunderstorms may acquire temporal organization. In general we expect numerous thunderstorms which grow upscale into clusters. Large hail and excessive rain will be the main hazard. The risk diminishes from the north as drier air spreads west.

... SE Europe ...

Isolated and short-lived thunderstorms may occur beneath a SE-ward swinging upper trough. Nothing severe is forecast.