Storm Forecast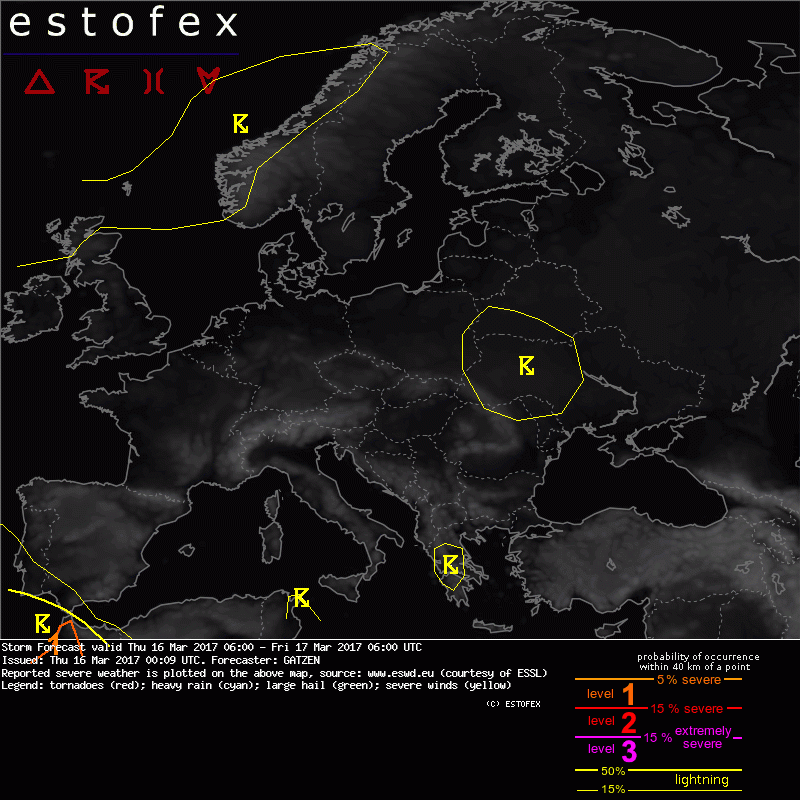 Storm Forecast
Valid: Thu 16 Mar 2017 06:00 to Fri 17 Mar 2017 06:00 UTC
Issued: Thu 16 Mar 2017 00:09
Forecaster: GATZEN
A level 1 was issued over northern Morocco mainly for large hail.

SYNOPSIS

An intense trough over the Baltic States diggs into the Black Sea on Thursday. Thunderstorms can evolve close to its center as low-level lapse rates increase strongly during the daytime, however, weak moisture limits the potential. In the wake of this trough, high geopotential can temporarily form a ridge that rapidly moves from Scandinavia across the Baltic Sea into eastern Europe. Upstream, another intense Atlantic trough crosses the British Isles and the North Sea and enters Scandinavia late in the period. Showers and thunderstorms can be expected over the sea as the trough center passes. Southern Europe is dominated by low geopotential as well, with a cut-off low south-west of Iberia and an elongated trough extending from Turkey toward Tunisia. Isolated to scattered thunderstorms are forecast over parts of the Mediterranean and northern Africa.

DISCUSSION

Northern Morocco

Ahead of the cut-off low south-west of Iberia, a moderately strong south-westerly mid-level flow affects Morocco. At lower levels, southerly winds will cause increasing warm air advection during the afternoon and evening given daytime heating over the Atlas mountains where 850 hPa temperature will rise to 15°C according to latest GFS. In the wake of the Atlas, an elevated mixed layer is expected. At the surface, a convergence zone is expected over northern Morocco with weak upslope flow towards the Atlas mountain range. CAPE up to 800 J/kg is expected with rather weak CIN close to the Atlas, so that initiation is quite likely given the low-level convergence superimposed to the upslope flow. Storms are forecast to form over the mountains and will move north or north-east. Vertical wind shear is limited and storm organization is expected to be weak. Some multicells could form in 10-15 m/s deep layer vertical wind shear. These are capable of producing large hail. Some of these storms may form clusters that spread towards southern Spain later on. Additional storms are expected of southern Spain and Portugal and the surrounding sea.