Storm Forecast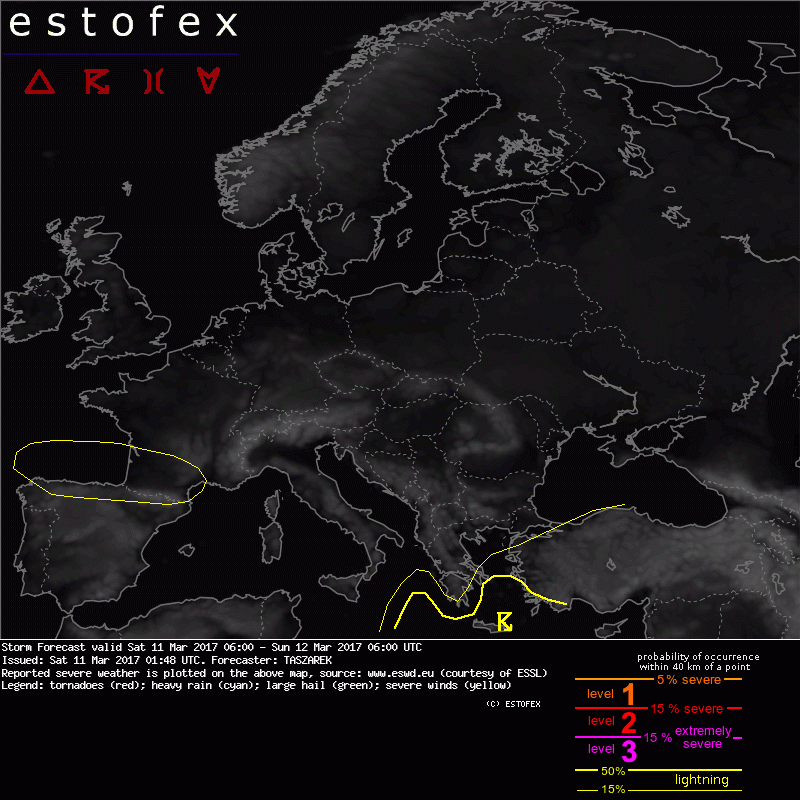 Storm Forecast
Valid: Sat 11 Mar 2017 06:00 to Sun 12 Mar 2017 06:00 UTC
Issued: Sat 11 Mar 2017 01:48
Forecaster: TASZAREK
SYNOPSIS and DISCUSSION

Large long-wave covers most of SE Europe with the main trough located SW of Turkey. Another long-wave approaches British Isles in the end of the forecast period. Weakening shortwave with weak kinematic wind field travels trough SW France/N Spain. CNTRL and E Europe is under influence of the broad high with cold and dry airmass.

PV lobe travels within shortwave over SW France and although moist boundary layer (8-9 g/kg MIXR) overlaps with steep lapse rates (> 7 K/km), only marginal CAPE up to 100-150 J/kg develops. Strong QG-lift supports CI, but weak shear decreases severe-wind and overall severe weather potential. Sporadic lightning is possible within isolated low-topped convective cells in the late afternoon hours in N Spain, and overnight in SW France.

Higher lighting activity is expected within the trough over E Mediterranean where CAPE reaches up to 600-800 J/kg thanks to polar cool mid-levels, resulting steep lapse rates and S inflow of moist low-levels (8-9 g/kg MIXR). The highest chances for severe weather with large hail and heavy rain potential exist on the E flank of the low (S Turkish coast) in warm sector where 20-25 m/s DLS and large helicity (> 250 m2/s2) is available. However, these area lies outside ESTOFEX forecast domain, and therefore no level threats are included on the map. Thunderstorm activity on the Sea of Crete and surrounding areas (N and W flank of the trough) are located outside best shear values (DLS < 10 m/s) which strongly decreases their severe weather potential. Nevertheless, due to slow storm motion and steep lapse rates local excessive precipitation and large hail incident over marine and island areas cannot be ruled out. Unidirectional shear with low SRH limits the supercell tornado risk, but given enhanced LL CAPE and weak shear waterspouts are possible.