Storm Forecast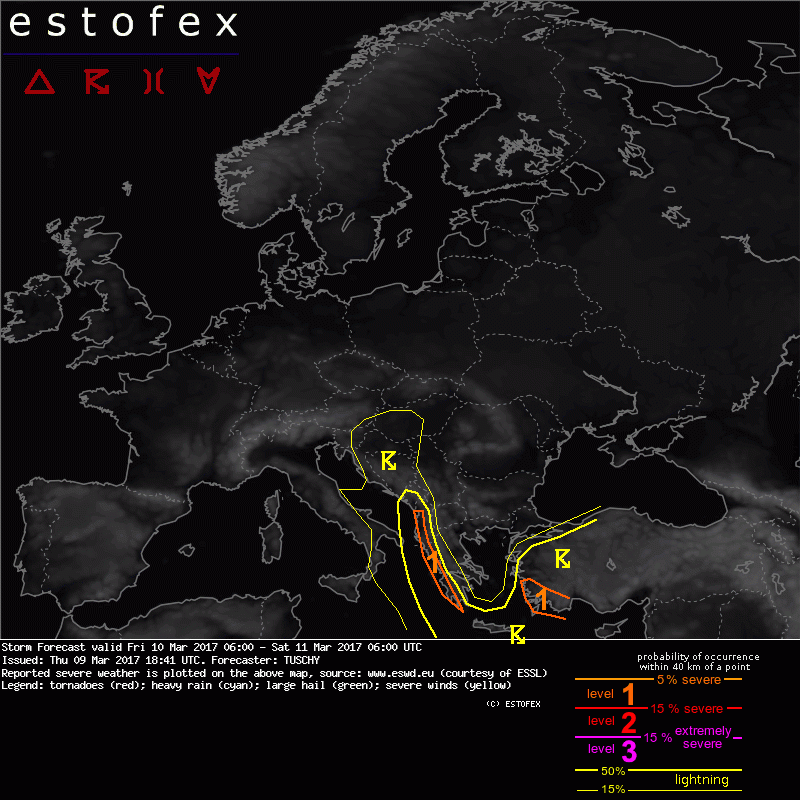 Storm Forecast
Valid: Fri 10 Mar 2017 06:00 to Sat 11 Mar 2017 06:00 UTC
Issued: Thu 09 Mar 2017 18:41
Forecaster: TUSCHY
A level 1 was issued for S-Turkey mainly for an isolated waterspout and excessive rainfall risk.

A level 1 was issued for parts of the E-Ionian Sea mainly for an isolated waterspout and large hail risk.

SYNOPSIS and DISCUSSION

An extensive ridge arches upward over SW Europe with high thickness values over Portugal and Spain as 850 hPa temperatures soar into the mid tens. Downstream of that ridge, a mid-level trough amplifies south over E-CNTRL Europe all the way to Greece. Interaction with some residual BL moisture between the Adriatic Sea and the E-Alps creates marginal conditions for thunderstorm development. Slovenia to Croatia should see adequate CAPE build-up for an isolated longer-lived thunderstorm. Strong wind gusts and graupel will be the main hazard given enhanced near BL flow. The overall unidirectional shear with low SRH limits the tornado risk.
This setup features strong dynamics and residual convection from last night may still affect parts of Hungary until 12 UTC. This activity races east and outruns better BL moisture. A rapid weakening trend is forecast before noon, but strong gusts are still possible over W/CNTRL Hungary.

A level 1 was issued for the E-Ionian Sea, where active DMC is anticipated. Favorable low-tropospheric conditions like enhanced LLCAPE and MLCAPE of ~500 J/kg support strong updrafts with isolated waterspouts and large hail.

S-Turkey was upgraded to a level 1 due to a prolonged period of onshore flow with numerous embedded thunderstorms. Augmented 0-3 km CAPE points to isolated waterspouts next to localized excessive rain due to temporal training and enhancement by upslow flow.