Storm Forecast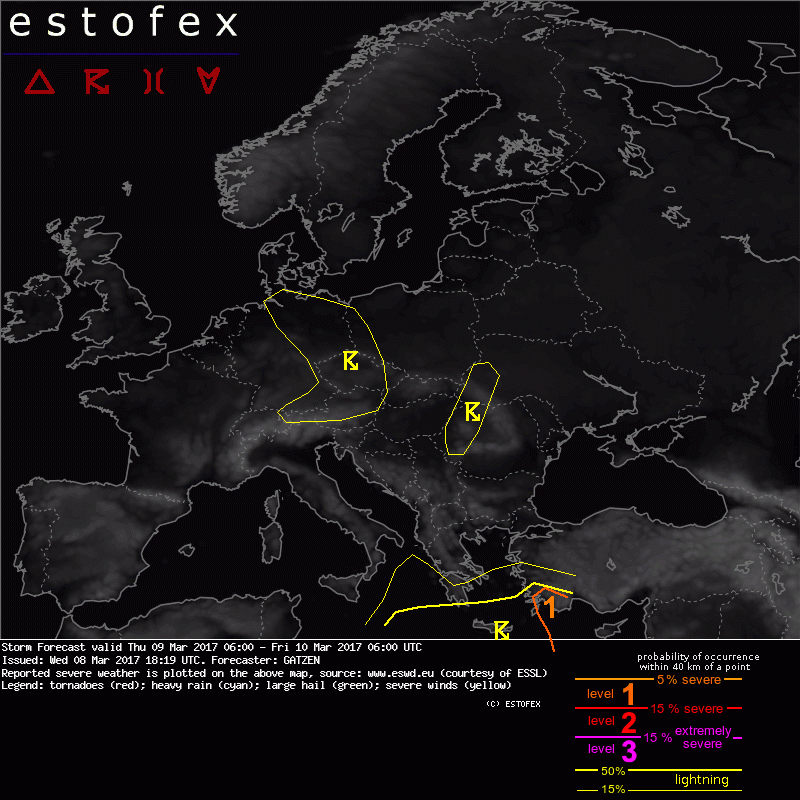 Storm Forecast
Valid: Thu 09 Mar 2017 06:00 to Fri 10 Mar 2017 06:00 UTC
Issued: Wed 08 Mar 2017 18:19
Forecaster: GATZEN
A level 1 was issued for southern Turkey mainly for excessive precipitation and to a lesser extent for tornadoes.

SYNOPSIS

Between a subtropic high across south-western Europe and a polar trough that is located over north-western Europe and Scandinavia, the active weather pattern with a strong mid-level jet extending from western Europe across the Alps into the central Mediterranean goes on. Digging short-wave troughs embedded in the polar jet enter eastern Europe on Thursday. A closed upper low that covers the east Mediterranean will be re-united with the polar flow late in the period, causing some progression towards to east.

At lower levels, dry air masses are present over most of Europe, although some moisture can be found along a convergence line from western Romania to western Ukraine. Low-level mixing ratios of more than 7 g/kg can be expected ahead of the east Mediterranean cut-off low as well as from the Bay of Biscay into France.

DISCUSSION

Southern Turkey

Ongoing severe weather is forecast over southern Turkey on Thursday morning. Ahead of the cut-off low, a moist south-easterly low-level flow overlaps with steep lapse rates ahead of a cold front. Along this frontal boundary, a convective line has already developed on Wednesday afternoon that affects southern Turkey. Decreasing lapse rates can cause some weakening of the storms overnight. However, strong lift is expected due to a mid-level front spreading east, so that lapse rates are expected to improve again. Some weak CAPE can be therefore possible over southern Turkey on Thursday morning.

Current thinking is that a frontal rain band with embedded storms will continue on Thursday morning. Given strong low-level flow and orographic lift, excessive precipitation is forecast along the shores and southern mountain ranges. Additionally, tornadoes cannot be ruled out in the morning hours given strong low-level vertical wind shear of 10 m/s or more in the lowest 1 km.

Due to the progressing trough, convective activity will soon leave the forecast region to the east. In the wake of the low-level cold front, scattered showers and thunderstorms spread east. Given weak vertical wind shear, severe weather is not likely.

Northern Germany into western Poland, Czech Republic, and eastern Austria

A digging short-wave trough enters the area on Thursday evening and rapidly amplifies into Austria on Friday morning. A strong mid-level jet is associated with this trough, and strong DCVA can be anticipated. A moist westerly flow ahead of the trough overlapping with steep lapse rates and strong low-level flow will result in a high-shear, low-CAPE environment with 0-1 km low-level vertical wind shear around 10-15 m/s.

A limiting factor according to latest GFS model output is that the main jet streak and associated mid-level front will enter Germany in the wake of the surface cold front, so that strong stretching will only affect the cold and rather dry air polar air masses. However, current thinking is that along the surface cold front showers and thunderstorms spread south-east on Thursday evening. Most storms may be non-severe, however, severe wind gusts and tornadoes are not ruled out, especially in the scenario of a convective line.